Chairman Abel Avellan says six-month interconnection and testing programme will follow launch of BlueWalker 3 prototype.
Lift-off of giant spacecraft may see slight slippage.
US startup adds more MNO partners to go-to-market ahead of 2023 debut.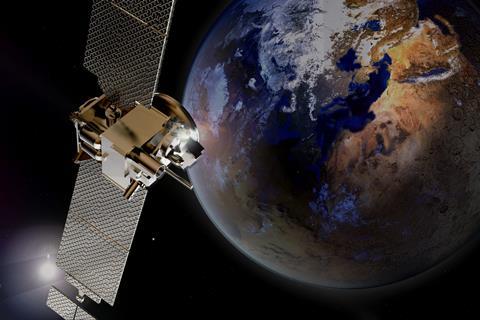 AST SpaceMobile, the Vodafone- and Rakuten-backed satcomms startup, indicated it is on course to enter trials with its network operator partners in 2022, despite a delay in the launch of its next prototype satellite.
Chairman and Chief Executive Abel Avellan said the business was making "significant progress" on production of the BlueWalker3 spacecraft, whose deployment aims to validate its promise of delivering mobile broadband connectivity direct to smartphone users when terrestrial networks are not up to the job.
The giant satellite was scheduled to lift-off from Cape Canaveral in March 2022–April 2022, but Texas-based SpaceMobile said it is now seeking to schedule a new launch window of "summer2022". The new slot will "provide additional time for BlueWalker3 testing and final launch preparation", it added. SpaceMobile gave notice of the change of plan to SpaceX, its launch provider, at the end of November 2021, as well as paying a rebooking fee.
Earlier that month, SpaceMobile had flagged the 2022 launch window was "likely" to be missed, to enable it to complete BlueWalker3 testing. It had a 1 December 2021 deadline to inform SpaceX if it wanted to change the launch's timing.
More haste, less speed
The deployment of BlueWalker3 is a key stepping stone towards the 'first phase' commercial launch of SpaceMobile's high-speed, direct-to-mobile satcomms offering. Once the satellite is in orbit, the provider has indicated it will enter a six-month integration and testing programme with its mobile network operator (MNO) launch partners in Africa (including Vodacom Group), Europe, Japan, and the USA.
" After the deployment is exercised and recorded by the cameras on board, we will be doing network integration testing with our network operators. The first thing will be to calibrate the array to transmit to the ground, and then interconnect to our operators in the USA, Europe, Japan, [and] Africa over a period [of] approximately sixmonths —not only to interconnect our network to theirs, but also to test the service for voice, text, data, and high-speed connectivity at 4G and 5G speed."

Avellan.
SpaceMobile is targeting a commercial launch of its service in 2023, with Vodafone and Vodacom in line to support the move in some initial target markets such as Ghana, Kenya, Mozambique, and Tanzania. Vodafone was an early investor in SpaceMobile, and has already been testing interoperability of its early prototypes with mobile handsets. Luke Ibbetson, Head of Research & Development and Technology Strategy at Vodafone, sits on the SpaceMobile Board of Directors.
According to SpaceMobile documentation, the deal that saw Vodafone buy shares in the provider prevents SpaceMobile from entering into tie-ups with other operators in Vodafone's own territories or Partner Markets' footprint, prior to the execution of commercial partnerships in target markets. Those commercial tie-ups will contain a "mutual exclusivity" arrangement, conditional upon "Vodafone making the SpaceMobile service available to all of its customers and certain promotional efforts, within all Vodafone markets for fiveyears commencing on the launch of a commercial service based on phase3 of the SpaceMobile service; preferential commercial terms in Vodafone PartnerMarkets; 50:50 revenue share for the SpaceMobile service in Vodafone exclusivity markets; and the procurement, building, and operating of mobile network ground stations at a mutually agreed cost by Vodafone".
SpaceMobile release timeline
Date
Development
Source: AST SpaceMobile.

Summer 2022

BlueWalker3 launch.

Q4 2022–Q3 2023

First phase deployment: 20 commercial Bluebird1 spacecraft providing coverage in 49 equatorial countries.

Q4 2023–2024

Deployment of an additional 90 satellites, bringing "full global mobile coverage".

Q4 2024–Q3 2025

Launch of an additional 58 satellites with multiple input, multiple output capability.
2023 vision
News of the delay came as SpaceMobile made a financial update for the quarter to 30 September 2021 (Q3 FY21) — which, owing to the startup's current lack of a major revenue stream, focused more on operational than financial affairs.
Avellan highlighted that the business is ramping up its manufacturing capacity towards a six-satellite-per-month output target from "mid-2023", helped by a new Midland, Texas-based "extension facility" that Avellan said was now "under contract".
The new production centre, which Avellan described as a "big, big deal" for SpaceMobile, will add to its existing site in the city, about two miles away. Both facilities will be connected by a train line, according to Avellan. The new centre will be "highly automated", he added.
The provider plans to turn its attention to manufacturing its official line of spacecraft, branded BlueBird, once it has completed integration and testing of BlueWalker3. It eventually aims to build out a constellation of about 168 satellites, giving it "global" coverage.
Beyond the new factory, SpaceMobile said it had signed a lease for what will become its Maryland Technology Center, which will be its network and satellite operations hub.
Elsewhere during the three months, the company:
Recorded operating expenses of $23.1m (£17.2m/€20.4m) — down from $25.1m in Q2, following a drop in R&D costs.
Ended the quarter with cash of $360.4m, generated from a SPAC-based listing earlier this year, alongside earlier investments from the likes of Vodafone Ventures, Rakuten, and American Tower.
Increased headcount to 509, from 454 at 30 June 2021, including 301 full-time employees.
The money bit
Commercially, SpaceMobile's plan was said to be progressing, with about 23 MNOs now signed up to offer its service, up from 20 at 30 June 2021. The latest trio to come on board include Vodacom arch-rival MTN Group, as well as Somcable in Somaliland and YTL Communications (Malaysia).
The Q3 session saw Scott Wisniewski, SpaceMobile's Chief Strategy Officer, give out a few more snippets on how its MNO agreements will end up working in practice.
The provider has previously indicated it will operate with MNOs on a 'joint go-to-market' basis, with a revenue-share business model. End customers will be able to activate the service via text message.
A "framework" of packages, which is now being discussed with MNOs, includes:
DayPasses that are pushed out to end users when they venture outside of the reach of their MNO's own network footprint.
Fixed-rate monthly add-on tariffs for MNO customers. Different packages will be marketed to consumers and "powerusers", and will automatically connect their phones to the SpaceMobile network when mobile signal is lost.
SpaceMobile plans that are "standalone" but will still be sold through MNOs — reflecting the vendor's emphasis on avoiding competition with its partner operators.
Engagements on emergency connectivity delivery following natural disasters and other use-cases.
"We have a lot of flexibility on how to monetise our service", said Wisniewski.