Vodafone's fibre JV in Ireland added 61,000 premises in 2020, taking total up to 360,000.
A 450,000 target, slated for 2018, now not expected to be reached until H2 2022.
CEO Keaney looks to EU recovery fund to help drive digital Ireland.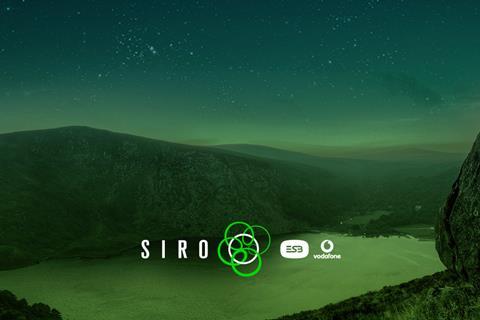 SIRO, Vodafone Ireland's wholesale fibre joint venture (JV) with the country's Electricity Supply Board (ESB), managed to pass an additional 61,000 premises with fibre during 2020. This took the number up to 360,000.
The update was provided within ESB's 2020 Annual Report, which reiterated the JV's original "phase one" aim of bringing 1Gbps broadband to 500,000 customers in 50 towns across Ireland using its existing distribution network.
No timeframe was given for the half-million goal, which was previously set for the end of 2018, when the JV was established in early-2015 (Vodafonewatch, #134). The end-2018 target was subsequently downgraded to 450,000, but that is still unlikely to be achieved until the second half of 2022 at the earliest.
Speaking to Ireland's Independent in early-January, John Keaney, Chief Executive (CEO) at SIRO, said he thought the JV would pass between 420,000 and 430,000 premises by mid-2022, which implies a slightly slower rollout rate than was achieved during 2020.
He added, however, that the SIRO business was now "bang in line", and that 2020 would be a profitable year. The JV had 19 service provider customers at the end of 2020 — a "good number", remarked the CEO — which translated to 80,000 connected customers on the SIRO network.
Keaney maintained there were "many more opportunities for the rolling out of fibre" — although he was coy about naming locations — and that discussions were underway with Vodafone and ESB about what "phase two" might look like.
Keaney gets waspish
When asked why SIRO has been unable to meet its own fibre rollout targets, Keaney flagged difficulties in getting contractors "up and running", so they can work safely with electrical equipment. Working with councils was also more difficult than anticipated. "They have processes and we probably didn't know what they were, so we ran into problems", he said. "That was ignorance on our side".
The CEO also has some words of criticisms for wasps, which attacked a SIRO employee when undertaking a survey. "There are so many different aspects you are ignorant to at the start", he said.
EU recovery fund
In an opinion piece for Business Post, Keaney called on Ireland's government, which is looking to receive over €800m from the European Union's (EU) €750bn COVID-19 recovery fund, to not overlook the importance of digital infrastructure. "At SIRO, we believe that it is vital that monies are ringfenced for a dedicated digital funding programme akin to the annual National Roads Programme", he said.
Keaney was not pitching to receive any recovery fund money, although he was keen to see a more level playing field in Ireland when it came to broadband access.
" Trends in a range of diverse areas such as remote learning and ecommerce have suddenly been supercharged and shortcomings have been revealed. Weaknesses in the digital ability of SMEs, inequality in broadband access and gaps in the online delivery of public services need to be addressed to future-proof the economy. "

Keaney.
Ireland must submit proposals to the EU's COVID-19 recovery fund by 22 April.

Ken has been writing about developments in the fixed and mobile markets for over twenty years. He has been a contributor to TelcoTitans since 2015.