Kenyan operator continues to edge towards its northern neighbour for next expansive step, with Ethiopia opening its markets to two new mobile competitors.
Vodafone and associates reaching out to investment groups to back bid.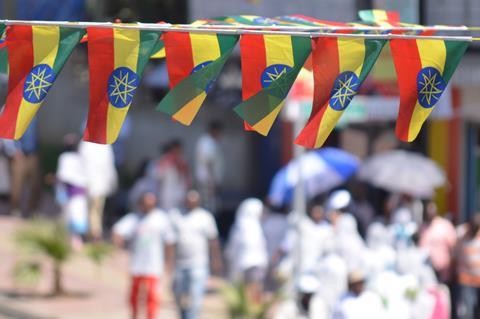 Safaricom Chief Executive (CEO) Peter Ndegwa confirmed the operator had submitted an expression of interest in the Ethiopian mobile licence auction alongside Vodacom and Vodafone.
Speaking to The Standard, Ndegwa described Ethiopia as "one of the few remaining opportunities for telecoms" in the region, joining a host of Vodafone Group executives to talk up Ethiopian prospects (Vodafonewatch, passim).
Following Ndegwa's comments, twelve parties were said to have participated in the first stage of the licence auction process, including Safaricom, Vodacom, and Vodafone under an entity called "Global Partnership for Ethiopia". Etisalat, MTN, Orange, Saudi Telecom Company and Telkom South Africa were among the others.
It was not immediately clear whether third-parties are involved in the Vodafone-led Global Partnership for Ethiopia. A Bloomberg report suggested Vodafone had engaged with UK development finance institution CDC Group and US private equity group Cerberus Capital Management on supporting its bid, but did not confirm whether they are other partners had agreed to sign up.
Supply side picture remains muddy, too
The Ethiopian Communications Authority (ECA), only established in August 2019, recently invited prospective bidders to declare an interest in the spectrum rights, as it begins the "liberalisation and privatisation" of its national telecoms infrastructure.
According to the ECA, this process will introduce competition to the market by adding two new players by the end of 2020 (although this appears subject to slippage, owing to potential coronavirus delays and other factors) and making a proportion of incumbent Ethio Telecom's shares available to private investors, while retaining a majority stake itself.
The invitation for Expressions of Interest was published in May 2020, with a deadline of 22 June 2020 said to have implemented for submissions by the ECA. Ndegwa speculated that the licence auction itself could be pushed to 2021, but added that no confirmation had yet been given from the ECA. "We are very committed and interested" despite the potential delays, Ndegwa assured.
Currently, the government has a monopoly in the sector via Ethio Telecom. With Ethiopia being the second-most populous country on the continent, it represents a significant market to break into. Ethio claims to have 44 million mobile and one million fixed‑line customers, and reported ETB 36.3bn (£837m/€934m) revenue in the year to July 2019. In the same year, the operator introduced "drastic" mobile tariff discounts — of 40%–50% — to expand its subscriber base, which resulted in 15% growth. Ethio puts the country's "tele‑density" at 44.5%, so there remains room for substantial growth.
M‑PESA remains an unanswered question
Further questions remain as to how Safaricom and Vodacom would approach Ethiopia in terms of go‑to‑market and portfolio if they are successful in the bidding process. One of the more pressing matters, Ndegwa reiterated, was a new law that forbids foreign‑owned entities from operating money transfer operations in the country. "We are trying to clarify what implications that has on our ability to have both a GSM and a money transfer business should we go into Ethiopia", Ndegwa said. A potential workaround would be to tie with a local partner (Vodafonewatch, #186).