Vodafone partner to start installing micro wind turbines on German towers in September.
Energy prices and macro challenges putting mobile network operators under more pressure.
Mix of wind, solar, and battery will be required to meet needs of all towers.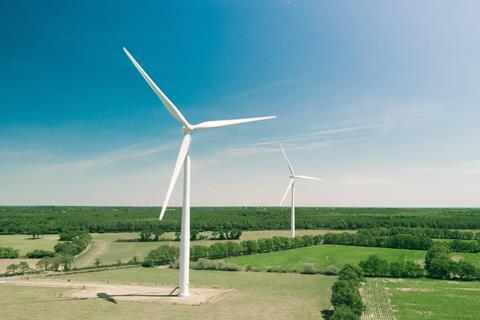 Vodafone cleantech partner MOWEA revealed that its flagship deployment with Group infra spinoff Vantage Towers is starting "this month" with previously announced plans to deploy around 752 micro wind turbines on 52 of the business unit's towers in Germany.
Speaking at the NGMN Industry Conference & Exhibition in September, Robert Johnen, Managing Partner at MOWEA, indicated that the modular wind power system provider also aims to enter other markets this year and has a target of producing 50,000 micro wind turbines by 2027. Its aim is to drive the adoption of its wind-powered micro-turbines on telecoms masts and other infrastructure.
The startup recently secured a deal with Austrian motorway operator ASFINAG, set to see eight turbines placed on the 777m-long Europa Bridge south of Innsbruck, to power toll stations. It also tested its products at the Lichtenegg Energy Research Park, a measuring and testing facility for small wind turbines in Austria.
The elephant in the room
During the event, Johnen and Nick Primavesi, Head of Strategy at Vodafone UK partner Crossflow Energy, highlighted how the energy price crisis, and the unpredictability of the macro energy environment, present a particular challenge to mobile network operators as high-end users of energy.
Indeed, they see the broad implementation of green and renewable energy sources, or clean power, as an essential requirement for the future sustainability of mobile networks.
Johnen, who noted that his company's products "can basically generate up to two thirds of the tower needs over a year", referred specifically to the nuclear power crisis in France, which he described as "the elephant in the room".
A year ago, "no one was thinking that France was actually going to have a big crisis in terms of availability of electricity, but also in terms of pricing", he said.
Primavesi also pointed out that diesel is "not only getting more expensive, but it's also getting more volatile". While he conceded that the new clean power systems are "relatively expensive upfront", he said the internal rate of return (IRR) is "very compelling over a 15-year lifecycle".
"We are targeting operators and tower companies who have a 20-year horizon on their investments in sites", he added. Vodafone UK already has a tie-up with Crossflow Energy to deploy wind turbines, solar panels, and batteries to mobile masts in the UK.
The upfront cost is far from the only challenge. Johnen emphasised that it took about four years to achieve technical acceptance with Vantage Towers after the first proof of concept, for example. Primavesi cited various issues such as the design of the turbine itself, as well as the reliable integration of the energy outcome into a "vertically integrated tower site".
Both executives also indicated that a hybrid system, or a mix of wind, solar, and battery, will be required to meet the needs of different types of tower sites depending on where they are located, and to address changes in weather throughout the seasons.
A greener future
Vodafone aims to reach net-zero across its "full value chain" by 2040 (Vodafonewatch, #198). As well as the partnerships with MOWEA in Germany and Crossflow Energy in the UK, Vodafone has deployed an energy data management and analytics system across eleven Europe markets, with smart meters at 45,000 sites.
Back in June, Vantage announced a solar-powered EnergyContainer mobile base station, co-developed with Kohler and IMT Innovative Metalltechnologien, which leverages solar panels alongside a hydrogen engine to provide power in emergency scenarios.
In Africa, deployment of IoT.nxt's Raptor energy management platform is continuing. Smart meters and time-of-use tariffs were installed at rural South African base stations, and 1,088 mobile sites had solar panels installed at last count at the end of FY21–22. More recently, Vodafone Group joined Vantage Towers, Vodacom Group, and innovation joint venture Tomorrow Street to begin a hunt for on‑site energy solutions to power mobile masts.
MOWEA began life after being spun out of Technische Universität Berlin, and formed ties with both Vodafone and Deutsche Telekom during the early stages of its setup as a business. It featured in Vodafone's UPLIFT accelerator programme and collaborated with DT's hubraum innovation and incubation unit as it worked to adapt its turbines for mobile masts and other telecoms sites (Deutsche Telekomwatch, #101; Vodafonewatch, #194). Ties with DT have since gone quiet, however, and the telco is not listed as a partner on MOWEA's website. It raised about €500,000 in a Series-A funding round during 2018, according to Crunchbase. More recently, it brought in over €1m in crowdsourced funding.