Political ructions after Chancellor appears to green-light Huawei involvement in 5G.
Ametsreiter wants evidence-based approach to Huawei; describes current security debate as "thoroughly unprofessional".
Complications spread to Hungary.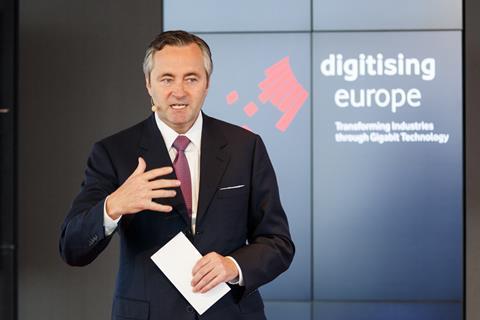 Vodafone Germany (VfD) senior executives expediently kept their heads down after Angela Merkel, Germany's Chancellor, kicked up a political storm by tacitly allowing Huawei Technologies to supply 5G network equipment.
Tempers flared after Berlin released a new "security catalogue", drafted by the country's Federal Office for Information Security. No explicit mention was made of Huawei, but critics bristled at the thought that all suppliers need only sign a "no spy" clause in order to respond to 5G tenders.
Merkel came under fire at home and abroad, with some senior politicians from her own party, the Christian Democratic Union (CDU), claiming that her unilateral decision played fast and loose with Germany's cybersecurity, and was prompted by fear of trade retaliation from China.
Norbert Röttgen, a CDU member of parliament and Chairman of the Bundestag's Committee on Foreign Affairs, told Politico that Merkel should submit the decision on Huawei to the Bundestag, Germany's federal parliament, rather than take matters into her own hands. "The last word is far from spoken and I'm also cautiously optimistic that this matter can be decided in the Bundestag in the coming weeks or months", he said.
Bruno Kahl, President of Bundesnachrichtendienst, Germany's Federal Intelligence Service, gave Merkel a stern rebuke. He told a parliamentary committee in late-October 2019 that Huawei was rightfully under suspicion. "Infrastructure is not a suitable area for a group that cannot be trusted fully", he said. Kahl added that Huawei might play some role in 5G rollout but should be kept away from all areas that touched on German "core interests".
Rob Strayer, Deputy Assistant Secretary of State for Cyber & International Communications Policy at the US State Department, raised the spectre of growing strain between Washington and Berlin if Huawei got its feet under the 5G table. "If there is technology that is untrusted deployed in [German] 5G networks, then we'll have to reassess how we share information with countries like Germany", he said.
There was no public reaction from Vodafone Head Office or VfD, as far as Vodafonewatch could gather, but top brass will no doubt be quietly satisfied with Merkel's continued resistance to US-led calls to ban the Chinese supplier on the grounds of posing a risk to national security — something which Huawei strenuously denies. There is likely little appetite to rip out existing Huawei equipment, or have 5G supplier choices narrowed.
For its part, Huawei welcomed the German government's approach. It "creates a level playing field for 5G network vendors", said the supplier.
Show me the evidence
Only days before Merkel made her move, Hannes Ametsreiter, Chief Executive (CEO) of VfD, gave a spirited defence of Huawei. In clear echoes of comments by Group CEO Nick Read, Ametsreiter repeated demands for evidence-based assessment of any potential security risk that Huawei might pose. "To date", he insisted, "no evidence has been found that Huawei abuses its technology for espionage".
Ametsreiter urged European Union (EU) regulators to punish data misuse instead with hefty fines, "no matter which country the supplier comes from". This would do the trick, he argued, in deterring would-be offenders. "Scare without proof was totally unprofessional", remonstrated the CEO.
In Read's view, core and radio access network equipment have become conflated in the Huawei debate, but should be treated separately (Vodafonewatch, #172 and passim). Any security investigation, he indicated, should focus on the core where there is greater scope for cyber shenanigans. In January 2019, Vodafone attempted to lower the temperature in what is often a febrile debate by putting on "pause" the installation of Huawei's core 5G equipment in Europe.
Huawei hopes may still be dashed
The EU does not appear as sanguine as Merkel about Huawei being a safe pair of hands. The organisation struck a cautionary tone in a recent report, titled "EU coordinated risk assessment of the cybersecurity of 5G networks" — which emerged from implementation of a European Commission (EC) recommendation, adopted in March 2019, to ensure a high level of cybersecurity of 5G networks across the EU. Although Huawei and smaller rival ZTE were not mentioned by name, the two were clearly in EU thinking.
"Among the various potential actors, non‑EU states or state-backed [businesses] are considered as the most serious ones and the most likely to target 5G networks. In this context of increased exposure to attacks facilitated by suppliers, the risk profile of individual suppliers will become particularly important, including the likelihood of the supplier being subject to interference from a non‑EU country. "

— EC, Finland (current holder of rotating EU presidency).
Huawei found some crumbs of comfort in the report, however. "We are pleased to note that the EU delivered on its commitment to take an evidence‑based approach, thoroughly analysing risks rather than targeting specific countries or actors", it said.
Feeling the smartphone pinch
At first glance, Huawei appears to be riding the storm of US sanctions and earnest lobbying by Washington to restrict use of its 5G equipment in countries deemed America's allies. Despite being put on a so-called 'entity list' by President Trump, which effectively cuts off the Chinese vendor's US supply chain, Huawei recorded 27% growth in sales during the quarter to 30 September 2019. The supplier's smartphone business, which makes up the majority of Huawei's revenue, is nonetheless under enormous threat. "The worst is yet to come for Huawei", said Lv Junkuan, an analyst at Gartner, who anticipated a downturn in international sales for the supplier's new smartphone models.
Joy Tan, President of Global Media and Communications at Huawei, admitted to the Financial Times that the unwelcome entity-list status was hurting the supplier's handset business. Although Huawei can use the Android operating system, since it is open source, new handset models cannot use popular Google apps and services that run on top of it, such as Google's Play app store, Google Maps, and email. Huawei is developing an alternate OS ecosystem, dubbed Harmony, but that will take time to build. Tan said the effort could take years. One plus side for Huawei is that some US suppliers are reportedly lobbying Washington to renew links with the Chinese supplier. "Many of our suppliers are talking with the US government, including Google, I'm sure", asserted Tan.
Due to uncertainty over Huawei's smartphone roadmap, Vodafone UK took the step of dropping the 5G‑enabled Huawei Mate X from its device roster ahead of its 5G launch in July 2019 (Vodafonewatch, #173).
What's the cost of banning Huawei in Europe?
Vodafone has often appeared to push back against anti-Huawei forces in the ongoing power play surrounding the vendor's role in future network supply. One undoubted reason why is the cost and time required to rip out legacy equipment deemed a security risk and to source new (and likely more expensive) vendors. Reuters reported in July 2019 that it had seen Huawei-funded analysis undertaken by the GSM Association (GSMA), which reckoned that a ban on buying telecoms equipment from Chinese firms would add €55bn (£48bn) to the cost of 5G networks in Europe and delay the technology by about 18 months.
A report by Denmark-based advisors Strand Consult, released in September 2019, painted a much less painful picture for operators should Europe elbow out Huawei and ZTE. According to Strand Consult, most of Europe's networks are around three to five years old and ready to be replaced, and this was not factored into the GSMA calculation. "There is a sunk cost to network upgrades which must be subtracted from the total cost of using Huawei", said John Strand, the consultancy's founder. Strand calculates that the cost of replacing recently deployed Huawei and ZTE equipment, in order to 'clean' networks before 5G deployments take place, would be $3.5bn. "[That's] equal to a one‑time cost of $7 or €6.5 per mobile subscriber [in Europe]", said Strand.
The report takes a sympathetic view to Washington's hardline stance against Chinese suppliers. "Those sceptical of the claims that Chinese-made telecom equipment poses a threat to security should ask themselves whether they would be okay with NATO buying a fighter plane made in China", a provocative Strand told Forbes. "Why is there universal agreement that military equipment from China should be restricted but not telecom networks where vital information is transported?", he asked.
Hungary's auction abruptly delayed amid geopolitical swings
Washington's hardline stance on Huawei continues to throw up inconsistency and uncertainty across Vodafone's European footprint.
The Hungarian government, which has forged closer economic ties with China than most other European territories, recently said no evidence had been found that Huawei posed a threat to national security. Péter Szijjártó, Minister of Foreign Affairs & Trade, reportedly told an event in China in early‑November 2019 that Huawei will be involved in Hungary's 5G rollout. In an email response to media questions, Vodafone Hungary incumbent rival Magyar Telecom (MT) said telecoms regulator Nemzeti Média- és Hírközlési Hatóság had already registered Huawei as a participant in 5G tenders.
In an October 2019 report by the UK's Sunday Times newspaper, British Prime Minister Boris Johnson was apparently inclining to a view held by his predecessor Theresa May — namely that Huawei be allowed access to the "non-contentious" parts of the network (Vodafonewatch, #175). However, subsequent reports suggested Johnson might take a tougher line, following lobbying by Trump. The UK sits within the Five Eyes security alliance from which much of the pressure on Huawei is emanating. The alliance comprises Australia, Canada, New Zealand, the UK, and the USA.