German coalition cabinet reportedly approves measures in IT security bill that, if passed, will effectively ban Huawei from 5G RAN market.
Revision looks set to hurt Vodafone's planning in largest market.
Vodafone Greece also looks set for disruption as Pompeo visit increases pressure for a local ban.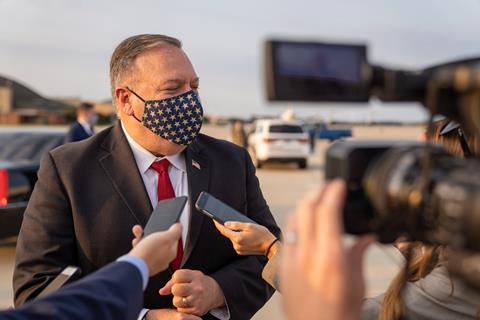 A Handelsblatt report highlighted the intention of Germany's coalition government to effectively block Huawei Technologies from the country's 5G radio access network (RAN) market, and cast a shadow over Vodafone Germany's (VfD) rollout plans for the next-gen tech.
VfD put on a show of stoicism, however, saying it will "continue to monitor the situation and will always comply with regulations".
How reliant VfD is on the Chinese supplier for 5G RAN is difficult to determine, but Strand Consult estimated that more than half of the OpCo's 4G RAN footprint was Huawei gear at the end of 2019 (see table). This may give a guide to the extent of 5G RAN commitment to Huawei.
Huawei 4G RAN
Non-Huawei 4G RAN
4G RAN reliance on Huawei in Germany (end-2019)
Source: Strand Consult.
Vodafone Germany

55%

45%

Telekom Deutschland

65%

35%

Telefónica Deutschland

50%

50%
Of Germany's three established mobile network operators, Telekom Deutschland looks to have been the most optimistic about Huawei's chances of surviving political scrutiny, recently signing a new 5G RAN contract with the Chinese supplier (Deutsche Telekomwatch, #95). By the end of July 2020, Telekom claimed its 5G services were available to 40 million people (about half of Germany's population). It is understood that the majority of coverage is enabled by Huawei antennae.
A bit of politics
The coalition government, despite being led by Angela Merkel — who has often shown resistance to US pressure for an all-out Huawei ban — reportedly gave the nod to new measures in Germany's long-gestated IT security bill that, in all probability, will force the Chinese supplier to pack its bags.
According to Handelsblatt and subsequent reports, the revised IT security bill introduces a two-stage approval process for telecoms equipment. The first stage is a technical check of individual components, followed by a second political assessment phase of weighing up the supplier's "trustworthiness".
One member of the German parliament, quoted by the Financial Times, argued that the second stage will well and truly scupper Huawei's chances of survival in the country. "How can Huawei, a company with suspected links to the Chinese, pass a political trustworthiness test?", remarked the unidentified source.
For its part, Huawei vehemently denied (again) the allegation that it posed a risk to national security. "We cannot identify any comprehensible reasons for restricting our market access", Huawei's German spokesperson said.
Perhaps one flicker of hope for Huawei, and Germany's network operators that use its RAN equipment, is the bill is not yet passed into law.
In the meantime, it seems reasonable to assume that all three will redouble their lobbying efforts, although Markus Haas, Chief Executive (CEO) of Telefónica Deutschland, has seemed the most sanguine about Huawei being shown the door.
Speaking in July 2020, amid preparations for the operator's 5G launch, he said supplier contingency plans were in place if Germany issued a blanket ban on the Chinese supplier. "We have contracts with all the main vendors and would be in a position to make a switch within a few weeks", claimed Haas.
By 31 March 2021, VfD aims to have 8,000 5G-capable antennae at 2,800 locations. As of July 2020, 1,000 5G antennae were up and running at more than 350 locations. If all goes to plan, VfD will reach ten million customers with 5G by the end of 2020, and 20 million by the end of 2021. Helping to boost the OpCo's 5G coverage is Ericsson's Dynamic Spectrum Sharing (DSS) technology using 700MHz, launched in April 2020, which allocates the low-band spectrum resource to LTE and 5G according to demand within the cell (Vodafonewatch, #186).
Greece succumbs as Pompeo does the rounds
Elsewhere, Vodafone Greece (VfGr) became the latest Group OpCo to learn that its national government is moving towards excluding equipment provided by Huawei from 5G networks.
During an official visit to Greece in late-September 2020, US Secretary of State Mike Pompeo reiterated in an address that the Greek government, under Prime Minister Kyriakos Mitsotakis, has elected to join the US-created "Clean Network" programme — which essentially means Greece has declared an intention to eschew the use of equipment from China-based for 5G.
It seems doubtful that VfGr would currently be classified as a "clean telco" under the US government's definition, and the business is unlikely to welcome added political pressure over 5G plans only weeks before the country's latest multi-band spectrum rights auction. The OpCo began testing 5G during December 2019 in the city of Trikala as part of e-Trikala, the city's digital initiative. The programme was supported by Huawei and software developer Luxoft (Vodafonewatch, #182). The OpCo has indicated it is ready to commercially launch 5G services in the first quarter of 2021, once the spectrum auction has been completed. It expects to start offering 5G services in the cities of Athens and Thessaloniki, before expanding elsewhere. The country's National Post and Telecommunications Commission has already started accepting applications for the tender and is expected to complete the auction by the end of 2020 (Vodafonewatch, #186 and #190). The frequencies on offer are 700MHz, 2GHz, 3.4GHz–3.8GHz, and 26GHz.
OpCo embracing open RAN but will it need a stopgap?
VfGr CEO Haris Broumidis spoke to journalists just ahead of the Pompeo visit. According to Greek news site Liberal, he said Vodafone Greece was moving away from Huawei and plans to implement open RAN technologies in the next two years, in line with Group strategy (although at what scale was not revealed).
Whether this longer term shift tallies with the Greek authorities' planned timeline for Huawei kit replacement is not yet clear. According to MoveD, Broumidis indicated that VfGr will continue to work with Huawei in the short term, as a change in supplier for the RAN would delay the launch of its 5G network. Strand Consult has suggested that the operator's 4G RAN is fully based on equipment from Huawei.
Broumidis said VfGr uses a wide range of suppliers, including Huawei, however. He also said the operator's core network is based on Ericsson technology.
Vodafone Group has already confirmed that it is removing Huawei equipment from core networks across Europe at an anticipated cost of €200m (£183m) and over a five-year timeframe (Vodafonewatch, #183 and passim).
Regarding rivals, Strand Consult indicated that the Wind Hellas 4G RAN is 100% based on Huawei kit, while Cosmote Greece (VfGr's network-sharing partner) relies on Ericsson and Nokia for its 4G RAN. In March 2020, Cosmote selected Ericsson as its exclusive 5G RAN supplier (Deutsche Telekomwatch, #90 and #93).
Between a rock and a hard place
Greece, like many European countries, has been trying to maintain good diplomatic relations with both China and the USA, but finding it increasingly difficult. As described by The National Herald, Greece finds itself at a crossroads between wanting not only more Chinese investment but also US military support amid rising tensions with Turkey.
According to Nikkei Asia, Huawei could be one of the losers after Greece and the USA sealed stronger ties with enhanced cooperation in the area of defence and security.
In his remarks to the press, Pompeo said he had raised US concerns over Chinese technology during the talks with the Greek prime minister. "We are very proud that Prime Minister Mitsotakis and his team are developing and promoting Greece's digital frontier, including on 5G, and we're happy that they have joined the Clean Network as well", he said.
Who needs Zoom?
US puts boots on the ground in Clean Network power play
Adding political weight to the Clean Network push was a key focus not just of Pompeo's Greek stop-off but also a quick-fire round trip of some southern European capitals during late-September 2020 and early-October 2020.
In Athens, the junket saw Greece not only join the Clean Network programme but also form a revamped Science and Technology Agreement with the USA. It also took in high-level discussions between Pompeo and political leaders in Croatia and Italy, and the politician subsequently met Romanian Foreign Minister Bogdan Aurescu in Washington D.C.
Despite the commitment it has already made — including removal of Huawei kit from its core networks in Europe — Vodafone evidently still has a significant amount of exposure to the US push against Chinese vendors. The Group is not currently on the US State Department's list of 50 "Clean Telecommunications Companies", although oddly, "Ziggo in the Netherlands" — half of the VodafoneZiggo (VfZ) joint venture, ostensibly — has been given a place.