Startup's relationship with Vodafone lies in German UPLIFT scheme.
Vendor aiming to branch out in Germany and form relationships with other in-country tower businesses.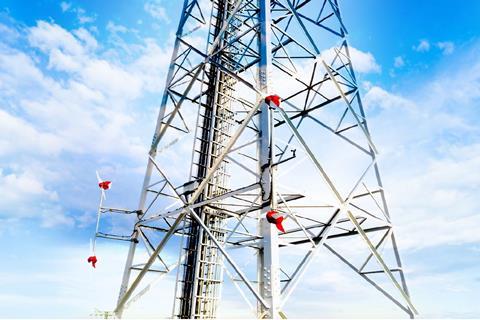 MOWEA, a Germany-based modular wind energy solution provider, is hoping to foster collaboration with Vodafone Group after an early-stage link-up on its technology.
Robert Johnen, Deputy Manager at MOWEA, told TelcoTitans that the aspiration is for "further rollout" with Vodafone, building on an existing tie-up with Vodafone Germany (VfD), which saw it attach four of the startup's micro-wind turbines on a mast in Torgelow, northern Germany.
The late-2019 project formed part of a pilot project under UPLIFT, VfD's Internet of Things (IoT)-focused accelerator programme, and was "the first time" MOWEA's green-tech solution — a purportedly low-cost, off-grid means of powering base stations via renewable energy — had been deployed.
Get with the programme
The trials with MOWEA were premised on Vodafone's ongoing sustainability efforts. Group Chief Executive Nick Read has long said cutting its carbon emissions is a highly important part of its long-term strategy. Carbon emissions will be increasingly scrutinised and regulated over "the next ten, 20 years", he told analysts in February, adding that "inaction" will ultimately cost the telco big-money contracts with government, and multinational corporate clients.
Some of Vodafone's key sustainability goals include:
Purchasing 100% of electricity from renewable energy sources by 2025. The aim is to achieve this across Vodafone's European footprint by July 2021, with the target said to have been met in Germany, Italy and "three other Europe markets" at the end of 2020.
Cutting greenhouse gas emissions by 50% (against a 2017 baseline) by 2025.
Becoming a net-zero carbon emissions business "no later than 2050".
Helping restrict global temperature increases to 1.5°C above pre-industrial levels in line with objectives set by the United Nations-backed Science Based Targets (SBTi) initiative. The Group joined SBTi in July 2019 (Vodafonewatch, #178).
Vodafone also recently identified "green" projects valued at €1.35bn (£1.2bn) that are compatible with its sustainability goals and qualify for funding under its Green Bond initiative (Vodafonewatch, #188).
The next step
Johnen said that talks were taking place with Vantage Towers — the Group's European TowerCo, based in Düsseldorf — about deploying MOWEA's solution in as many as "50" locations across Germany, but nothing is rubberstamped.
Johnen also said the startup is in "contact with other Vantage destinations", and mooted a possible future engagement with the Group's Indian joint venture Vi.
The startup was co-founded in 2016 by Till Naumann (Chief Executive) and Andreas Amberger, two Technische Universität Berlin graduates. It received a €500,000 investment from an undisclosed backer in mid-2018, and last year partnered with hubraum, Deutsche Telekom's (DT) tech incubator (Deutsche Telekomwatch, #101).
MOWEA turbines can be mounted on office blocks or stand in open space, but have been specially tailored by Vodafone for masts. Via a "built-in" data connection, turbines are monitored and controlled via a smartphone device. IoT-based connectivity, moreover, serves as a means of error-detection.
According to MOWEA, one USP is the size of its turbines, enabling deployment in highly-congested urban areas. The startup also says its wind-based system can be powered by solar panels (reducing reliance on battery capacity and lowering costs).
Other players in the market include US-based mini-turbine manufactures Sauer Energy and TechnoSpin, but their focus is largely on smaller-scale residential application. DT and Ericsson said this week they are looking at ways to power base stations entirely by renewable energy.

Sam Patterson is a Staff Reporter for TelcoTitans, contributing telecoms news analysis since September 2020 as part of the TelcoTitans Editorial team.