Vodafone's 5G ecosystem sees drastic changes, Ericsson holds its lead.
Nokia slips into dogfight with Huawei, TIP and Samsung.
Mavenir heads challenging pack with ZTE on its heels, pursued by Qualcomm, Parallel Wireless, Altiostar, and several others.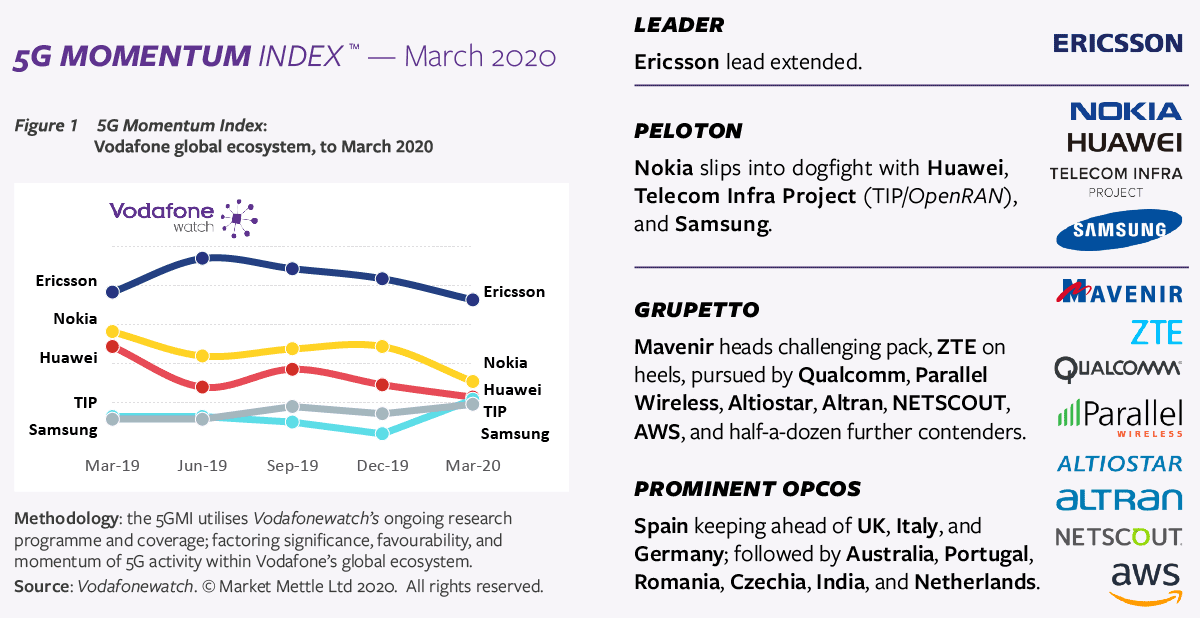 Vodafonewatch's 5G Momentum Index (5GMI) to March 2020 is dominated by an Ericsson empowered by Huawei's demise, tailed by a tight peloton of key players vying for standing where the Chinese vendor was toppled. Most striking is the lack of concerted fightback from Nokia, which has failed to capitalise on its eastern rival's fall from grace.
Huawei has to an extent weathered global political and regulatory storms within Vodafone's 5G ecosystem, helped largely by the Group's reliance on the vendor's kit in defiant markets that have not (yet) fallen in line with US-led security concerns and arm-twisting.
Established network equipment providers that would be expected to take Huawei contracts have also seen a decline; a reflection, perhaps, of the greater impetus placed on vendor-agnosticism and diversified supply chains within the Vodafone ecosystem. This means Nokia and Samsung are finding themselves battling with Facebook-germinated collaborative development platform Telecom Infra Project (TIP) and its acolytes, which have forged a significant presence through the OpenRAN project.
There is also a sense that the Huawei furore has led to confusion and delay amongst operators, with earlier 5G Momentum Indices having shown Huawei leading Ericsson and Nokia. Operators and European governments may have anticipated, or at least hoped, the US antipathy towards Huawei would fizzle out as a sideshow of its global face-off with China, but this does not appear to be the case and the UK now appears to leading a strategy of firewalling so-called high risk vendors from smart, sensitive and dominant elements of the network, including subscriber big data. This may not be the predicted or desired outcome for groups like Vodafone, but it may provide clarity on which to plan and execute network investment.
Amongst the contenders and fellow-travellers, OpenRAN-proponent Mavenir burst onto the scene with rival Altiostar in tow, alongside a dozen others making up a competitive grupetto of players of all sizes, broadly pinning their ranking on a number of smaller rollouts and enabling roles in various collaborative efforts, including those under TIP and O-RAN Alliance auspices. Players considered to be in this grupetto include:
| | | |
| --- | --- | --- |
| | | |
| | | |
| AWS (Amazon Web Services). | | |
| | | |
| | | |