SA's Vodacom considering creating multi-territory tower business.
No sale planned in weak investment climate.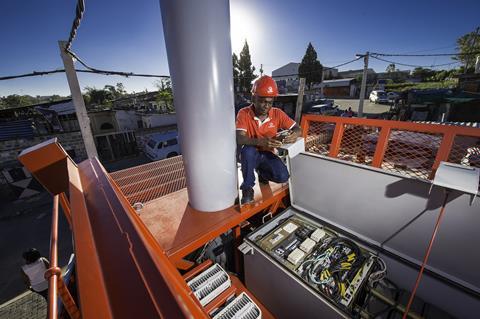 Vodacom Group is "constructing a team" to explore business development opportunities around its wireless infrastructure assets, mirroring elements of Vodafone's ongoing tower revamp in Europe, according to Chief Executive (CEO) Shameel Joosub.
Joosub said the operator was considering creating a dedicated TowerCo to improve how it runs wireless infrastructure across its African network footprint. "What we are looking at is 'do we create a TowerCo or do we create a multi-TowerCo that could go across our countries?'", he said during Vodacom's latest quarterly results presentation (via CQ FD Disclosure). While still in its "early days", the plan will see the operator study how to boost revenue, through increased mast tenancies, and cut costs on maintenance. "We're looking at that quite carefully", he added.
Unlike Vodafone — which is seeking both business improvement and monetisation opportunities via creation of its European TowerCo (Vodafonewatch, #184 and passim) — Joosub said Vodacom was not interested in "selling our towers". He did not go into whether Vodacom could tie with in‑country rivals or independent tower players on a network-sharing partnership or joint venture (JV), however. Vodacom has already been formulating alliances to extend its network footprint in South Africa (SA), such as via recent partnerships with Liquid Telecom and Rain (Vodafonewatch, #183 and passim).
India's Indus not a influencer
Somewhat curiously, Joosub said Vodacom was taking learnings on tower management from the "Vodafone experience in Europe" — rather than the Group's long-running Indian joint venture Indus Towers (which hopes to soon become the largest TowerCo outside of China, through its pending merger with Bharti Infratel). Nor did he cite any interest in upping collaboration with Africa‑focused specialists such as Eaton Towers (a partner of Vodafone Ghana/VfGh) or Helios Towers Africa (Vodacom Tanzania). Helios was mooted to be seeking a closer partnership with Vodacom, covering SA, in 2019 (Vodafonewatch, #86, #160, #165, and #173).
A multi-market Vodacom TowerCo would cover Democratic Republic of Congo, Kenya, Lesotho, Mozambique, SA, and Tanzania — as well as potentially taking over the infrastructure assets of VfGh, which is now coming under Vodacom management as part of dismantling of Vodafone's Rest of the World Region (Vodafonewatch, #183).
Immediately on the map
It is not clear how many towers Vodacom Group owns, overall, but the operator claimed to have 20,139 base station sites in operation across DRC, Lesotho, Mozambique, SA, and Tanzania, as of 31 March 2018. In Kenya, Safaricom indicated its 2G/3G network reached 5,000 sites at 31 March 2019. VfGh has not disclosed recent site footprint data.
If bundled together, this footprint would put the Vodacom TowerCo around par with emerging markets infrastructure group IHS Towers, which is seen as the largest independent player in Africa, with 24,000 towers across Cameroon, Côte d'Ivoire, Nigeria, Rwanda, and Zambia (plus a smaller footprint in the Middle East and South America). IHS is 23%‑owned by Vodacom arch-rival MTN Group, but the latter is attempting to divest its holding. IHS, Eaton (which has about 5,000 towers), and Helios (around 7,000) have been attempting to float or privately sell their businesses in recent years, but have seemingly struggled to woo investors — perhaps accounting for Joosub's reticence regarding monetisation opportunity.
Vodafone and Vodacom's new deal
Mulling of an African TowerCo adds yet another dimension to a recalibration of Vodafone's relationship with Vodacom, in evidence since Nick Read's 2018 move into the Vodafone CEO job. A new quid pro quo appears to have been found for what has often been an awkward alliance, whereby Vodacom has been freed to pursue business expansion (such as through interest in Ethiopia, the takeover of control of Safaricom and VfGh, and a pending acquisition of M‑PESA intellectual property) and Joosub given renewed backing by Read (promotion to the Group's Executive Committee, and emphasis of Vodacom's core position within Vodafone, despite retrenchment elsewhere). On the other side of the equation has been Vodacom's increased acquiescence with ways-of-doing business that are favoured by Read, as per infrastructure reshaping, digital transformation, and data-driven operations. It remains to be seen whether Read sees Vodacom as a key part of Vodafone's long-term future, perhaps carrying the torch for a refreshed approach to emerging markets — or merely an asset to build up for sale.