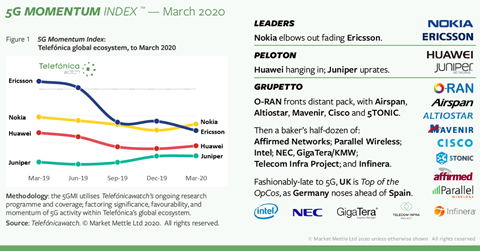 Telefónicawatch's 5G Momentum Index (5GMI) for the year to March 2020 reflects Telefónica strategic decision to be best not first at 5G globally, with a shuffled pack of suppliers showing that work is well underway.
Arguably most significant is the high-profile swap at the top, with Nokia finally nudging ahead of Ericsson at the head of the Group's 5G ecosystem. With only a slight lead, boosted in March 2020 by the launch of Berlin's 5G campus networks, Ericsson still remains very much in contention despite its fall‑off.
Deeper in the network, Juniper Networks is maintaining its position as an unshowy, but serious, player in Telefónica's 5G supply chain.
A busy grupetto sees some new logos rubbing elbows with several of the old guard. The O-RAN Alliance fronts the group (demonstrating with the others rise of open and disaggregated challenger options), with Altiostar and Mavenir battling Cisco. Affirmed Networks, Airspan, Parallel Wireless, Intel, NEC, GigaTera/KMW, Telecom Infra Project, and Infinera bring up the rear.