Partner Prosegur sees JV outpacing growth of its standalone alarms business.
Security group open to alliances in areas where it is not already present.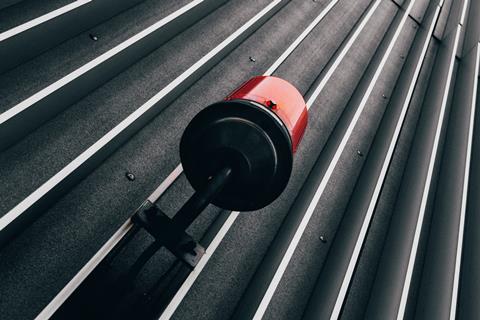 International security services group Prosegur laid out ambitions to double the size of its connected-alarms joint venture (JV) with Telefónica in the next two years, indicating the business has largely put behind it the problems encountered during the coronavirus pandemic.
Movistar Prosegur Alarmas (MPA) — which sells a range of connected cameras, motion detectors, and 'smart-security' devices, linked with Prosegur's Alarm Receiver Centre and a smartphone app — added 38,000 net new clients during the six months to 30 June 2021 (H1 FY21), taking its total base to 289,000.
Prosegur previously reported that the JV, which the two partners debuted in 2020 (Telefónicawatch, #149 and passim), added 17,000 new clients in the first quarter of the year. Including MPA, Prosegur reported a total installed base of 639,000. The group also said MPA earnings before interest, taxes, depreciation and amortisation (EBITDA), and before subscriber acquisition costs or SAC, amounted to €30m in H1 FY21, up from €28m a year previously.
Jaime Ron, Director of Corporate Strategy at Prosegur and board member at MPA, reiterated that strict lockdown measures had restricted the JV's sales capacity in the months after it began trading in March 2020. "Once lockdown eased during the second half of the year, new acquisitions multiplied by five compared to those that Prosegur achieved in the same period of the previous year", Ron said.
"We are very happy with these results", Ron said during his presentation at Prosegur's Capital Markets Day on 29 June 2021. He indicated that the JV is on track to reach the "very ambitious growth and value creation" targets set at the outset of the venture.
Notably, Prosegur expects growth to accelerate at a faster pace for MPA compared to its own Prosegur alarms business owing to the additional capacities of the JV with Telefónica. MPA was estimated to account for 2% of Prosegur's total business in 2020, and this share is expected to double to 4% by 2030.
According to a Prosegur slide (below), MPA is expected to reach between 500,000 and 600,000 subscribers by 2023 and between one million and 1.5 million by 2030.
Prosegur's standalone business is forecast to account for around 400,000 clients by 2023 and 500,000 to 700,000 by 2030.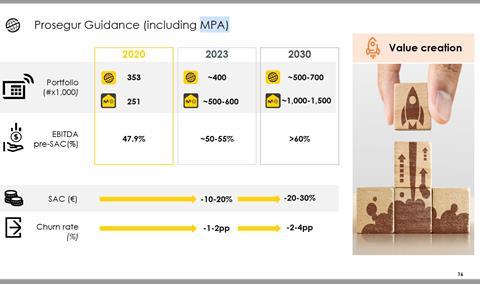 Wider scope
Telefónica recently extended its tie-up with Prosegur into Colombia with the local launch of a new home security alarms and "anti-intrusion" system product line.
The new commercial alliance forms part of plans outlined by Prosegur's senior management to expand its collaboration with the Group beyond MPA, and into Latin American markets in which the two businesses' footprint overlap (Telefónicawatch, #154).
Beyond Colombia, other LatAm markets where this is the case are Argentina, Chile, Paraguay, Peru, and Uruguay.
Ron confirmed that Prosegur is looking for partners from other industries that can accelerate its growth, and continues to explore new opportunities with Telefónica in markets where they are both present. He also indicated that Prosegur could be open to opportunities with Telefónica where it does not already have a presence, depending on the business case.
"The stronger relationship we have between Telefónica, MPA, and Prosegur would certainly allow us to explore other markets", he said.
Both Ron and Francisco Lanzuela, Chief Executive of Prosegur Alarms, were asked about the potential impact on MPA by the recent forays of Telefónica rivals into the alarms and security services market. For example, Vodafone Spain formed in late-2020 a commercial tie-up with former Telefónica partner Securitas Direct, while MÁSMÓVIL has teamed with retail chain El Corte Ingles on domestic alarms.
Lanzuela welcomed such alliances as "good news for our industry" as they prove interest from other sectors. However, he cautioned that having the channel is not enough. "You need the capabilities", he said, adding that he regards such alliances more as "an opportunity than a threat".

Anne Morris is a freelance journalist, editor and translator. She has been working as a reporter and news analyst for TelcoTitans since 2016.