Venture falls foul of harsh winds of reality, failing to reach commercial viability.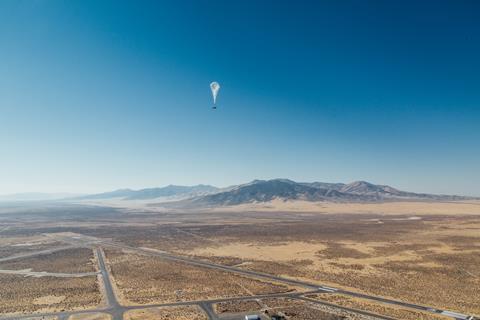 Project Loon, the business aimed at delivering mobile connectivity via a constellation of high-altitude balloons, is to be wound up just two years after it emerged from Alphabet Inc's 'moonshot' unit, X. Telefónica had been a partner on testing of the technology since 2014 (Telefónicawatch, #117 and passim).
Alastair Westgarth, Chief Executive (CEO) of Loon, made the decision public via a blog on publishing platform Medium, stating that, while the company had won the support of a "number of willing partners", it was proving too much of a high-cost gamble. This was echoed by Astro Teller, Head of X, who attributed Loon's closure to a failure to achieve "commercial viability".
Both nodded at long-time operational issues, such as difficulties with ensuring the mesh network of "fragile balloons on the edge of space" — powered by an onboard solar panel — could withstand "harsh" stratospheric winds and thus remain aloft for a set period of time.
Teller added that focus had now turned to wrapping up Loon operations "safely and smoothly", although no detail was provided on plans for specific markets such as Peru.
Loon was spun out of Alphabet's main research division, X, in 2018, but had been conducting trials of the technology since at least 2011 with operators such as Vodafone New Zealand (Vodafonewatch, #130). Its mantra was to 'connect the unconnected' and tackle the digital divide in underserved areas of the planet using a fleet of 'floating towers' — operating 20km above sea level — to transmit a mobile operator's signal directly to smartphones. The project came to particular prominence in 2017 after the technology was used to provide connectivity to people affected by Hurricane Maria in Peru, and has since been leveraged in other disaster-hit regions (including in partnership with Telefónica Peru after an earthquake in 2019 — Telefónicawatch, #117 and #136).
Popped balloons
The Loon venture has been tied with Telefónica in Latin America for the best part of six years, and in 2019 entered an agreement with the Telefónica-backed Internet para Todos (IpT) joint venture — a rural mobile infrastructure operator in Peru — to bring mobile connectivity to parts of the Loreto region in the Peruvian Amazonia (Telefónicawatch, #117, #145, #147, and #149). Further news on progress has been scarce since then, however.
In Africa, Vodafone's Vodacom Mozambique had eyed a launch of commercial services using Loon before the end of 2020, although there had been questions marks over the technology's reliability (Vodafonewatch, #186 and #190).
Innovating right to the very end
On Medium, Loon CEO Westgarth also stated that insights derived from the project could pave the way for further innovation in the hybrid terrestrial and non-terrestrial network technology space. He said Loon's in-house-developed communication payload — the connection point between balloon, smartphone, and other grounded smart devices — was an "important technical contribution", for example.
Indeed, the Loon payload has already been integrated into the fixed-wing aircraft Sunglider, an ongoing project of another stratosphere-based comms system player: Loon's strategic ally HAPSMobile — backed by Telefónica's R&D unit Investigacion y Desarrollo and a host of other operators (Telefónicawatch, #148).
The aim of HAPSMobile's Sunglider solution — similar to low-earth orbit satellite ventures such as the Elon Musk-founded Space Exploration Technologies as well as to Loon — is to eventually become the de facto standard for airborne overlays to 5G networks and beyond.
Loon is expected to remain (for the short term at least) a leading member of the HAPS Alliance, aimed at pushing Sunglider towards commercialisation. Ken Riordan, Head of Product Management at Loon, is currently the President of the initiative, and HAPSMobile confirmed to Telefónicawatch that it will continue to "collaborate with Loon until its business closes".

Sam Patterson is a Staff Reporter for TelcoTitans, contributing telecoms news analysis since September 2020 as part of the TelcoTitans Editorial team.