Group ups corporate social responsibility efforts by dedicating real estate to societal pursuit of digital adaption.
Talent Hub aims to re-skill 100,000 people per year.
Internal skills upgrade high on Group agenda.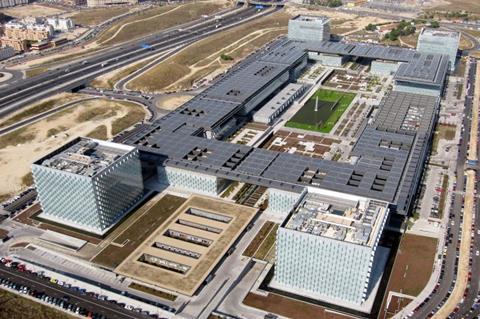 Telefónica Group is to refurbish its headquarters in the Las Tablas area of Madrid, turning the 140,000 square metre space into what it called an "Innovation and Talent Hub".
The Talent Hub — set for completion in 2024 — will accelerate Spain's digital transformation and help prepare the country's workforce for future challenges and working environments, such as teaching in "hybrid classrooms".
Every year, it aims to equip 100,000 adults with the skills and knowledge deemed essential for the "future of work". It will become a base of operations for Fundación Telefónica, the Group's charitable organisation. For example, it will run Escuela 42 computer programming courses — designed to help the telco uncover new talent. Universitas Telefónica will organise training and workshops too.
It will also play host to a community of technology enthusiasts and support innovation through the provision of 5G, as well as AI, cloud, gaming, holographic, and IoT platforms. A new "Wayra lab" will be set up to assess, and potentially develop, startup proposals that help digitise healthcare, industry, the media, and retail.
The common good
The refurbishment — on which Telefónica is spending €100,000 (£84,310) over the next three years — was announced at the enlightED 2021 conference by Group CEO José María Álvarez‑Pallete this week. There, he framed the provision of digital skills training as central to Telefónica's efforts to tackle "inequalities" within the domestic job market, a trend accentuated by digital transformation and the pandemic. The rhetoric used by Álvarez‑Pallete was similar to that of Telefónica's Digital Deal — the operator's mission statement updated in October 2020 to push digitisation as key to post‑pandemic economic and social recovery (Telefónicawatch, #146).
The creation of Talent Hub looks to align with Telefónica's commitment to the pan‑European Re‑skilling for Employment initiative, a project designed to provide adults with an enhanced digital skills set and facilitate opportunities for possible career redirection. As a "first‑wave" enabler, the Group is responsible for helping to improve Spain's "re‑skilling ecosystem" via a collaboration with public entities, "high‑quality re‑skilling providers", and "innovative startups", among others.
From within…
For Telefónica, the up‑skilling of its staff is a "priority objective" for the Talent Hub, with a firm focus on its own digital transformation objectives. TM Forum has identified skills availability as one of the top‑four barriers to digital transformation since surveys began in 2017.
Internally, the Group launched SkillsBank in 2020, a digital platform operating across its entire footprint to identify gaps in capability and fill these gaps, and also "propose training actions". Several up‑skilling "academies" have already been established by individual operating businesses to disseminate the "highest level of technical knowledge" to employees in roles involving cybersecurity and network automation, for example.


Sam Patterson is a Staff Reporter for TelcoTitans, contributing telecoms news analysis since September 2020 as part of the TelcoTitans Editorial team.