CFO Abasolo reportedly open to the idea of letting go of direct Telxius control to enable faster growth as an independent business.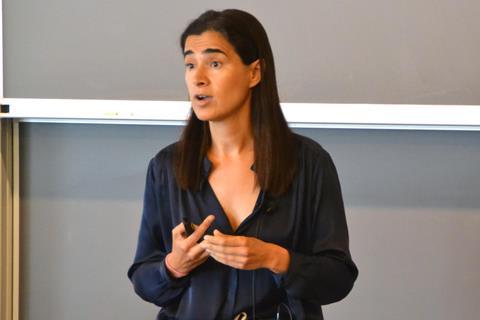 Spanish press reports suggested that Telefónica Group is considering the sale of a further stake in its Telxius infrastructure business, and did not appear to rule out surrendering majority-control of the operation as it seeks to build Telxius as a more independent business supporting a wider range of non-Telefónica clients.
The news, reported by newspaper Expansión, followed a presentation from Telefónica's Chief Financial & Control Officer Laura Abasolo to analysts at Bank of America, where she indicated that the Group is open to the idea of future stake sales. While it may be possible to generate income from new investors in the infrastructure asset through a sale of part of its stake in the holding company that owns 60% of Telxius, any move will mean that its direct interest in the asset would fall below its current 50.1% level.
Currently Telxius shares are divided between holding company Pontel Participaciones, which has a 60% stake, and investment fund KKR with a 40% stake. Pontel, in turn, is shared between Telefónica Group, with an 83.35% stake, and Pontegadea, the holding company of Zara billionaire Amancio Ortega, with a 16.65% stake. Through Pontel, Ortega has a 9.9% stake in Telxius, which reduces Telefónica's directly controlled share to 50.1%.
Although maintaining a majority stake in Pontel may mean that Telefónica would have effective voting control over Telxius, the Expansión report appeared to suggest that Telefónica would be willing to consider steps that would effectively surrender its majority. The paper noted several arguments that might explain the logic behind the Group giving up control. There is said to be a belief that the growth of the business is being stymied due to its close associations with Telefónica, with rival operators said to be reluctant to rely on the business while under the operator's sway.
Telxius' international growth plans may also be hampered by the weight of Telefónica's debt limiting its ability to raise funds for inorganic activity (although it should also be considered that Telefónica giving up Telxius control may also have a negative impact on the Group's leverage).
Playing in minor keys
The prospect of Telefónica becoming a minority shareholder in Telxius might be overstated, however, with recent management statements declaring satisfaction with the progress of the business, after it bulked up through the acquisition of Telefónica towers in Germany.
A more likely outcome might be Telefónica Group taking minority stakes in new businesses that feed into Telxius and its Telefónica Infra division. The Group has indicated that should plans progress on the creation of rural fibre infrastructure business in Germany, Telxius could be a minority stakeholder, with investment funds, and potentially Germany's other operators, also among the shareholders. Monetising its interest in Cornerstone Telecommunications Infrastructure Limited, the UK towers JV with Vodafone, is a well-flagged possibility.
Telefónica is also progressing with the creation of more independent infrastructure entities in markets including Chile and, with the Group looking to pull back from the Latin America region beyond Brazil, handing Telxius management of a series of minority stakes in such new businesses would be an unsurprising outcome.

Neal Doran is a Senior Analyst for TelcoTitans. Neal's industry knowledge and experience as a telecoms analyst and writer spans three decades, and he has been a key part of TelcoTitan's Editorial team since 2001.