Operator bringing connectivity, storage and security capabilities to a partnership fostering an accelerated path to medical diagnoses in Spain.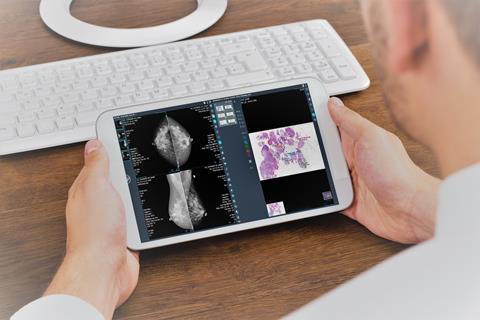 Telefónica renewed its efforts in the ICT health sector with a Spanish partnership with sector specialist Dedalus. The pair are to support development of "digital pathology" for hospitals and health centres, which is expected to help reduce the time taken for patients to receive a diagnosis, enabling prompt treatment.
The field of digital pathology entails the analysis of digitised specimen slides, along with associated data, to deliver diagnoses for patients. The digital images are considered less at risk of degradation, and able to be shared more effectively between professionals.
The Dedalus software to be promoted by the partners will underpin a laboratory information system capable of meeting the requirements of digital pathology, while providing a visual interface for pathologists. It will have specific tools developed for different pathology specialities, while providing opportunities for collaboration across medical fields.
Telefónica will be responsible for centralised secure storage of digital tests and results for a period of years, and for ensuring that tests will be available to medical practitioners across locations on a range of devices. The operator will manage accessibility for two key purposes: access for patients during active treatment; and subsequent access for consultation and study purposes.
It was noted that in addition to improved resource and knowledge sharing, the digitisation of pathology will provide opportunities for the application of artificial intelligence platforms in the field, which is seen speeding up decision-making and helping to provide more accurate diagnoses.
While the initial agreement covers Spain, Telefónica suggested there may be opportunities to expand into other national markets.
Private equity-owned Dedalus was founded around forty years ago in Italy, and currently operates in 30 countries, with its Valencia headquarters managing Spanish and Latin American operations.
An on-again off-again treatment
Telefónica Group has been relatively quiet in recent years on the potential for telcos to play a role in the development of eHealth solutions, after a period from the initial creation of Telefónica Digital up to around 2017 that saw a series of partnerships with health technology service providers and health sector businesses.
The operator acquired Brazilian healthcare management business AxisMed in 2013, undertook academic research in Spain on disease monitoring, and partnered healthcare businesses including Grupo Init (Telefónicawatch, #97, #114, passim). However, the sector appears to have faded as a key market for the Group's services beyond connectivity.
More recently, work in the sector has been largely left to the Innovación Alpha 'moonshot' unit (which recently saw some bad press for its work with the NHS in the UK — Telefónicawatch, #140).