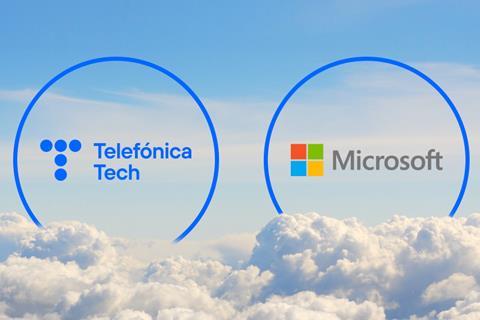 Telefónica expanded its strategic alliance with Microsoft to deliver confidential hybrid cloud solutions to public administrations and regulated sectors.
Digital services subsidiary Telefónica Tech will work closely with the technology giant, aiming to bolster monitoring and encryption across Microsoft's Azure, 365, and Dynamics 365 products — all three of which possess "high-level" National Security Scheme certification.
The pair said they will help companies "advance their digital transformation plans" while ensuring they comply with data protection provisions and recommendations.
Microsoft has a contractual commitment to "legally oppose" access to its enterprise and public sector customers' data. Under its EU Data Boundary initiative, it allows its customers to store and process their personal data within the EU.
Telefónica Tech is playing a part in all aspects of the process, from consultancy to implementation to operation. It will also offer consultation for the design, deployment, and operation of big data platforms on Microsoft Azure Cloud capabilities, aiding with the definition and implementation of partners' data and AI strategies.
Additionally, the company will combine its 5G connectivity solutions with that of Microsoft's cloud services to deliver specific "high-security" solutions for the defence sector.
Telefónica Tech CEO José Cerdán said the alliance represents a "giant step" in enabling the digital transformation of the public sector.
Azure thing
Telefónica's ties with Microsoft run deep. Most recently, in June 2021, the pair joined forces to develop private 5G network offerings for enterprise customers (Telefónicawatch, #154).
The pair first unveiled their strategic alliance at Mobile World Congress 2019. In addition to the alliance on edge zones, they have now collaborated in a number of areas, including: the marketing of Microsoft Azure cloud services; Telefónica's cognitive intelligence Fourth Platform; the AURA digital assistant; and use of the Microsoft Azure AI platform to design new services (Telefónicawatch, #133).