Virgin Media O2 owners agree new 50:50 JV with investment firm to fund greenfield FTTP rollout.
Aim to provide second "national" fibre network, and better compete with Openreach for wholesale business.
Liberty Global CEO says new vehicle is "well positioned" to capitalise on further consolidation in the UK fixed market.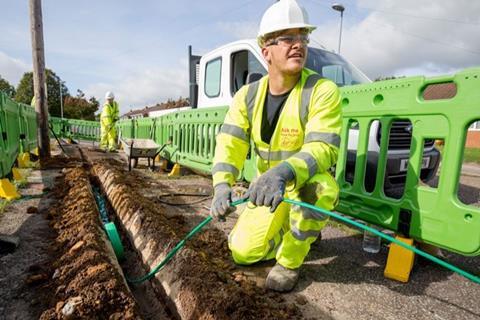 Telefónica and Liberty Global, joint owners of Virgin Media O2 (VM O2), announced the agreement of a long-mooted joint venture in the UK with a third-party investor to roll out fibre access to greenfield premises.
Under the terms of the arrangement, Telefónica, via its wholly owned infrastructure arm Telefónica Infra, will form a 50:50 'HoldCo' with Liberty Global. The HoldCo, in partnership with investment firm InfraVia Capital Partners, will then hold a 50% stake each in the new JV ('NetCo').
HoldCo and InfraVia Capital Partners have together committed to finance the NetCo to the tune of £1.4bn (€1.7bn), with Telefónica and Liberty Global each chipping in with £350m. Speaking on the company's latest earnings conference call, Liberty Global CEO Mike Fries said the funds "will be invested over the next four to five years".
InfraVia Capital Partners makes up the remainder of equity financing. The JV has also obtained £3.3bn of "fully underwritten debt financing" from a consortium of banks.
VM O2 free cash flow "improves from day one"
Assuming the JV gets regulatory approval, expected by all parties concerned to happen before the year is out, it will take all VM O2 greenfield network capex off‑balance sheet. "This will improve VM O2's free cash flow [from] day one", said Fries.
VM O2's Project Lightning (its FTTP rollout programme), along with "new projects", will also come under the JV's purview. "[We're] well positioned to capitalise on further consolidation in the [UK] fixed market if, or when, that happens", Fries added pointedly.
The JV is targeting five million greenfield FTTP homes by 2026, with an option to increase that number to seven million by 2027. "Attractive build costs" in the region of £550–£650 per premise, and "strong returns" were referenced in Liberty Global's presentation of latest financial results.
VM O2 will not be a passive spectator to the NetCo, providing "managed services" in the shape of construction, IT, technology, and corporate services. It will also be the JV's anchor wholesale tenant for 25 years.
VM O2's footprint passes 15.9 million premises. The overwhelming majority is hybrid fibre-coaxial (HFC), all of which VM O2 aims to upgrade to FTTP by 2028. Project Lightning is responsible for the roll out of FTTP using radio frequency over glass (RFoG), which is when the coax portion of the HFC network is replaced by a single-fibre passive optical network. As of 30 June 2022, the Lightning footprint passed 2.9 million premises.
Wholesale talks
In an interview with Bloomberg, VM O2 CEO Lutz Schüler indicated that the prospect of the FTTP footprint-enlarging JV will re-energise efforts to drum up wholesale business (something that has been lacking so far for VM O2).
"Obviously, it's now highly attractive for possible wholesale partners because if they enter in the deal with the fibre joint venture and Virgin Media O2, they get access to a minimum of 21 million fibre homes", he noted.