ADVA and Edgecore moving forward with TIP‑driven disaggregated gateways for 5G traffic management.
Telefónica co‑opetition with Vodafone in full flow through OpenRAN group, with early partners named, including Parallel Wireless.
Operators' joint CrowdCell work could lead to the next big thing in small cells.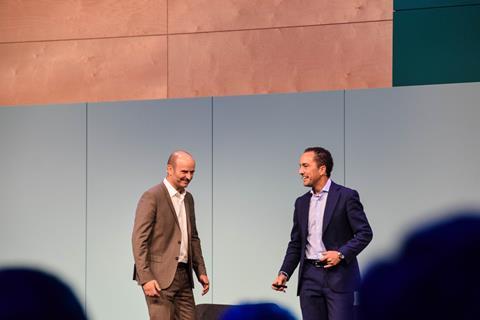 Telefónica Group and operator partners in the Facebook‑backed Telecom Infra Project (TIP) have displayed some success in their calls on suppliers to join them in advancing the disaggregation of hardware and software in future optical IP networking and radio access network solutions.
During the TIP Summit '18 in London during October 2018, ADVA Optical Networking and Edgecore Networks were unveiled as two suppliers that have started working on the design and contribution to TIP of an open-networking cell site gateway that conforms to the disaggregated cell site gateway (DCSG) specification developed by Telefónica, Orange, TIM Brazil, and Vodafone Group within TIP.
The two vendors began work on the Odyssey‑DCSG project in anticipation of a forthcoming request for information (RFI) from the four operators. TIP is now encouraging other vendors to join the DCSG initiative, which was initiated by Vodafone as part of the Open Optical & Packet Transport (OOPT) project group within TIP.
ADVA said its commercial solution to support the DCSG group within TIP is expected to be generally available in the second half of 2019. The aim of the product is to give mobile network operators a "simple and complete solution" to what is regarded as a key problem with 5G rollouts: how to deploy hundreds of thousands of cell site gateways to meet 5G traffic demands in a cost‑effective manner.
Edgecore is helping to design and build the hardware as part of ADVA's integrated solution. The vendor said its contribution will be available for evaluation in the first quarter of 2019 and is expected to be generally available in the third quarter. Edgecore added that it also recently introduced what it described as the industry's first open and disaggregated cell site gateway, in conformance with the cell site router gateway specification that AT&T contributed to the OCP Telco Project — part of the Open Compute Project (OCP).
OCP was founded by Facebook to open up data centre development and create infrastructure to meet burgeoning demand. The OCP Telco Project was established to focus on data centre technologies for telecoms companies and shares many of the same members as TIP (which may now be taking over from OCP to lead on more telco-specific data centre projects).
In addition to the DCSG announcement, ADVA said its disaggregated packet optical solution based on Voyager, an optical 'white box' developed within the TIP OOPT group, is now commercially available. Vendors Celestica and Cumulus Networks were also namechecked as key developers of the Voyager technology, which has already been tested by Vodafone in Spain (Vodafonewatch, #164).
TIP Summit '18 was the event's third annual incarnation, following smaller US predecessors, with perhaps 1,000 attendees and around 30 exhibitors (including demonstration booths and startups affiliated to TIP Ecosystem Acceleration Centres). TIP continues to look European-centric, in terms of tier-1 operators (notably BT, Deutsche Telekom, Telecom Italia, Telefónica, and Vodafone), but with significant presence also from Asia-Pacific (SK Telecom, NTT, etc.) and developing markets (e.g. Reliance Jio, MTN, Bharti Airtel). TIP vendor-spotting is as much about who is not visible (most majors, though Cisco may be creeping in to join early-bird Nokia) as who is on show (mainly challengers, startups and sherpas, plus systems integrators that naturally scent opportunity in a disaggregated world). Mid-to-large suppliers to namecheck include ADVA (brazenly targeting adjacent segments), Aricent and Tech Mahindra (repeatedly flagged as key integrators), Intel, and Radisys. Accenture and Deloitte were also prominent. Interlopers such as Accelleran, Edgecore, Fairwaves, Lime Microsystems and Parallel Wireless are clearly securing credibility, traction and visibility through their involvement in and around TIP. Facebook, as TIP progenitor and continuing chaperone, is omnipresent, and clearly appreciates TIP as a place where it is respected and valued, at a time when its reputation is being battered elsewhere. As an entity, TIP is growing its membership and advancing its projects, but it may now also be at a critical juncture as it matures; needing its operator members to continue to collaborate when projects move beyond pilots towards production and commercialisation, and for larger suppliers to step up. It was interesting to hear different speakers from the same operators and vendors, with some living the TIP dream, whilst compatriots warned of real-world operational dangers.
Telefónica beds down in TIP
During the summit, TIP declared advancements in other areas with Telefónica involvement. Telefónicawatch attended the event, and a fuller review of the developments that emerged will feature in a subsequent issue. Key updates include:
Telefónica and Vodafone issued separate RFIs to the vendor community in June 2018 in relation to technologies based on OpenRAN principles (Telefónicawatch, #128). Since then, the operators are said to have contributed a joint specification to the OpenRAN Project Group and have now selected three vendors as the leading candidates to produce interoperable RAN solutions: Altiostar, Mavenir, and Parallel Wireless. The next step will be to trial OpenRAN platforms with Facebook alongside Telefónica in Latin America (see separate report on Internet Para Todos trials in Peru) and Vodafone in Turkey and Africa. The partners indicated that OpenRAN in trials is proving substantially cheaper than traditional solutions and works "pretty well".
In August 2018, Telefónica and Vodafone released RFIs for TIP's CrowdCell relay technology concept, which is intended to boost indoor 4G coverage. The aim of the CrowdCell project, which is already being rolled out in a closed format by some operators, is to create an alternative to small‑cell technology at a lower cost. The prospect of using the subscribers' devices as an alternative to fixed small cells, which will require greater maintenance, land rental, and other costs, is to be explored further. The project has now selected Alpha Networks and Lime Microsystems to provide an end‑to‑end CrowdCell platform, with Aricent given a notable mention. Lime, which was lauded as having the 'most-compliant' end-to-end platform, has its own large ecosystem of collaborators (13 were flagged, including Intel).
Telefónica and Japan‑based operator NTT DOCOMO formed a new sub‑group of OOPT called Converged Architectures for Network Disaggregation & Integration (CANDI). The aim of the sub‑group is to construct an end‑to‑end reference IP and optical converged network architecture that is "conducive to disaggregation". It will also evaluate logical integration points among disaggregated components within the reference architecture. Víctor López, Business Developer Strategic Partnerships at Telefónica, was named co‑chair of OOPT.
Media reports suggested TIP may consider joining forces with the ORAN Alliance on openRAN research. Telefónica joined the ORAN board in June 2018, along with Bharti Airtel, China Telecom, Korea Telecom, Singtel, SK Telecom, and Telstra. Existing members are AT&T, China Mobile, Deutsche Telekom, NTT DOCOMO, and Orange.
Telefónica and its Internet Para Todos supplier Clear Blue Technologies shared their experiences and advances around power supply in remote areas (see also separate reports), and looked at how this area can be advanced through TIP.