Fusión brand set to be replaced after a decade as totem for Group's convergence strategy.
Move comes with convergent ARPU and acquisition in stall.
New service to draw on Group's prolific recent recruitment of partners such as Microsoft, Prosegur, and Teladoc.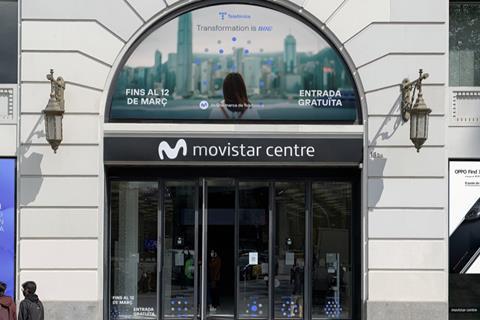 Telefónica España is reported to be close to initiating a major overhaul of its consumer service line-up that may see the retirement of flagship brand Movistar Fusión as it comes up to its tenth birthday.
Business newspaper Expansión reported that the operating business is set to debut a new, all-in-one portfolio of services "in the coming days". It is expected to put much more of the commercial spotlight onto the multitude of digital tie-ups Telefónica has cultivated over the past two to three years, as it seeks to extend beyond its telco roots.
Convergence 2.0
The switch — first trailered by El Economista in February (Telefónicawatch, #162) — effectively appears a shift by Telefónica's domestic business from a triple-/quad-play to a myriad-play strategy, when it comes to targeting a bigger share of family budgets.
The new packages' branding has not yet been unveiled, but reports indicate the Fusión marque — first launched in September 2012, as Spanish telcos made an abrupt shift towards converged services (Telefónicawatch, #69) — is set to be swapped out for a new brand. The more straightforward Movistar Familia has been mooted as a candidate, but Expansión's report indicated another brand was more likely to underpin the new plans.
Expected to be worked into the revamped service suite are the fresh set of vertical offerings Telefónica has recently been developing through partnerships and joint ventures. These include link-ups with:
BBVA Allianz Seguros and Seguros Santalucía, which help enable the Telefónica Seguros insurance proposition.
Prosegur, on home security JV Movistar Prosegur Alarmas.
Repsol, on a fledgling solar energy solutions JV announced in March.
Teladoc Health, with a strategic partnership on digital health offering Movistar Salud (Telefónicawatch, #148, #159, and #162).
The more expansive strategy, which uses converged services as a platform upon which a broad range of value-added services can be offered to end users, appears an evolution of longstanding attempts to position the operator as a trusted partner in the home, through Living Apps and the Movistar Home hub. While reports on the success of these offerings have been muted at best, the 'home-as-a-computer' philosophy behind them, as advocated by Chief Digital Officer Chema Alonso, would support the opening up of Telefónica's customer relationships, billing, and other systems to partners in industries beyond connectivity.
The latest moves look to be more focused on the commercial element of partnerships, rather than the technology underpinning them, and may reflect the influence of Mark Evans, former O2 UK CEO, as Head of Group Strategy and Development. Appointed to the role in summer 2021, Evans was expected to bring greater commercial nous to the digital development plans hatched by Alonso.
Microsoft's game
The reports suggest alarms, health, and gaming — where Telefónica already offers Microsoft's Xbox consoles and passes as part of Fusión — will be the first to be introduced into the new packages, alongside the stock converged line-up of broadband, mobile, and TV.
Telefónica and Microsoft announced an expanded strategic alliance on digital services in late-February (Telefónicawatch, #162), and are now reportedly set to provide discounted streamed gaming services to consumers, building beyond the standard-rate offers on Fusión. The gaming tie-up could also now be extended to other Telefónica operating businesses beyond Spain. The IT giant is already a key contributor to Aura, the cognitive intelligence platform that powers Telefónica's existing Living App services.
Previous reports have suggested the packages' remodelling may also reflect changes to content offered under Telefónica's pay-TV platform Movistar Plus+, and see the Spanish business consider offering clients pay-per-view TV content. A shift towards content aggregation was previously heralded in the early days of Cristina Burzako's role as CEO of MovistarPlus+ (Telefónicawatch, #156).
Fusión packages have undergone a number of changes since they were first introduced. In 2021, Telefónica integrated handsets and other types of devices. A range of added-value content such as inclusive Netflix and UEFA soccer coverage, as well as access to the DAZN and Disney+ streaming platforms, has also been added.
Fusión losing energy
The facelift is yet another signal of the intense competitive challenges facing Telefónica and its telco rivals in Spain, both from discounters and digital-native streamers.
Growth in the operator's domestic base of "convergent clients" has stalled in recent quarters, with customers falling from 4.82 million to 4.65 million over the course of 2021. At the same time, Telefónica has also seen erosion of average revenue per user from that set of clients, to €89.2 (£75.2) in 2022 from €91.4 a year earlier.
The Group has welcomed the prospective Orange Spain– MÁSMÓVIL merger (Telefónicawatch, #162) as a way to lance pressure — and potentially free Telefónica from some of its various regulatory obligations as Spain's dominant telco — but whether any deal will get past national and regional watchdogs, at least without major concessions to competition, is not yet clear.