Early-stage consideration reportedly underway on partnership that would see Telefónica bring in new investor for domestic pay-TV platform and international production interests.
North American Spanish-language media merger may provide template for closer links between platforms and content.
Movistar+ rebranding underway to further differentiate service from core offerings.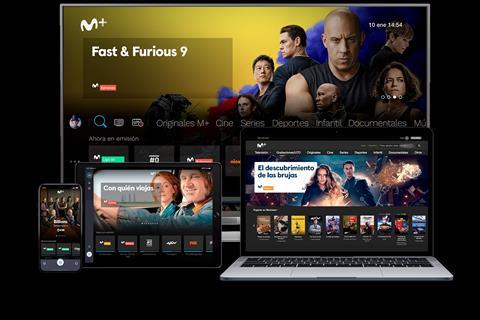 A report in Spanish newspaper El Economista claimed that Telefónica Group is on the hunt for an industrial partner for its Movistar+ pay-TV business in Spain, as it continues to seek ways to boost its value-add offering in the market, while pursuing a strategy focused on capital efficiency.
The search is said to be in its early days but it has been suggested that a stake in a business unit comprising the Movistar+ platform, sports broadcast rights, and the operator's content production interests could be on the block. The nature of the partners being considered is unclear, although the report highlights the recently completed $4.8bn (£3.6bn/€4.3bn) merger of Spanish-language television network Univision with Mexican video content provider Televisa as a template for bringing together a broadcast platform and content production on a larger scale.
Telefónica has made no official comment on the reports, and El Economista indicated that no meaningful talks have yet taken place. Further reflecting the early stages of the proposals, it appears that no firm valuation has been attached to the assets involved, and no decision made on the size of any stake that could be up for sale.
Movistar+ emerged following the Telefónica acquisition of the Canal+ pay-TV platform in 2015, and has become a critical element of the operator's converged services play in Spain. It has been transitioning the customer base from satellite services to OTT connectivity, and the Movistar+ platform is also used for Telefónica's evolving Living Apps smart home proposition.
Telefónica has been able to maintain a unique identity for its pay-TV platform through the development of Spanish-language content, alongside the delivery of its own branded channels for broadcasting the entertainment and sports content for which it holds rights, and any collaboration would be expected to boost this differentiation.
In the UK, BT Group, which has its own minor pay-TV platform BT TV, and a higher profile sports broadcasting business BT Sport, is in the process of considering buyers for its broadcast rights and associated sport channels with the business valued at about €720m (£600m).
Telefónica structure continuing to evolve
The corporate structure of Telefónica's content interests and video production assets has been changing of late, with the holding company for media businesses, Telefónica de Contenidos, re-named as Telefónica España Filiales, to reflect that it had become a management company for a wider range of Telefónica investment interests, including its home security joint venture Prosegur Alarmas and the retail channel business Telyco.
This change could be seen as reflecting the Group's willingness to create a range of joint ventures across its footprint — for example, with its fibre infrastructure JVs, which are managed by Telefónica Infra, and through emerging plans to bring investors into its Telefónica Tech division.
Under new management in the past year, the Movistar+ business has been redefined to focus on becoming a broader content platform providing access to the Telefónica customer base, and despite continued modest declines, the pay-TV service has approaching four million customers. Movistar+ has carriage deals with major streamers including Amazon Prime, Disney+, and Netflix, with which a five-year renewal of their 2017 partnership was signed in January 2022.
Accentuating the positive
The branding around Telefónica's Spanish pay-TV service has also changed recently as part of efforts to distinguish the offering more clearly from the broader Movistar communications service. The business is now referred to as Movistar Plus+ rather than Movistar+.
The change is apparently intended to overcome problems where online text managers or style criteria would otherwise prevent the use of the '+' symbol. Aurally, the brand remains "Movistar Plus", while the abbreviation M+ is also still to be used featuring the stylised Movistar 'M'.

Neal Doran is a Senior Analyst for TelcoTitans. Neal's industry knowledge and experience as a telecoms analyst and writer spans three decades, and he has been a key part of TelcoTitan's Editorial team since 2001.