Movistar Prosegur Alarmas JV started operations in March 2020.
Prosegur becomes minor Telefónica Group shareholder as part of transaction.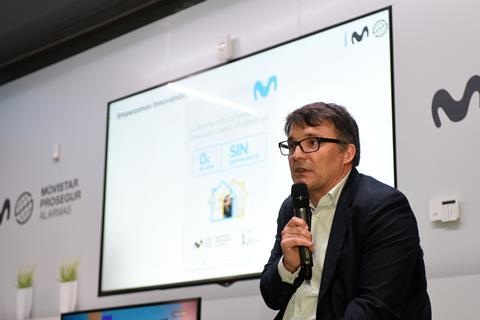 Telefónica España realised an ambition of re‑integrating security services into its connected‑home strategy with the early‑March 2020 launch of a joint venture (JV) called Movistar Prosegur Alarmas, selling security alarms and other services to residential and business customers.
Creation of the new JV — the product of an agreement announced in 2019, enabling Telefónica Group to acquire 50% of Prosegur Alarmas, the Spain‑based alarms business of private security services provider Prosegur (Telefónicawatch, #138 and #140) — was completed in late‑February 2020, following approval by the European Commission (EC). The EC cleared the deal unconditionally, concluding that it would raise no competition concerns in the European Economic Area. Telefónica paid €305.6m in the form of 49.5 million of its own shares, said to represent around 0.95% of its share capital — making Prosegur a minor shareholder in the operator.
Open security
Movistar Prosegur Alarmas services are now being marketed via the Movistar online store as well as a dedicated website (movistarproseguralarmas.es), at a fixed price of €45 per month. According to Enrique García López, Chief Executive (CEO) of the JV, the aim is to avoid locking in customers with permanence clauses, "breaking one of the most established rules in this market".
Digital diversification
Although the JV's portfolio includes physical alarms and video surveillance systems, it is keen to emphasise its digital capabilities with the Movistar Prosegur Alarmas mobile application. The app is described as a "key element of the service" that will enable users to remotely manage the security system. As part of the launch offer, the Acudas service that sends a security guard to a customer's house is provided free of charge for six months.
García López claimed the security alarm market in Spain has experienced significant growth in recent years, and expects this upward trend to continue over the next few years. "Our aim is to capture this opportunity, with a clear vocation to lead the growth of this sector and transform it. Movistar Prosegur Alarmas will extend the range of residential and business security services. Our ambition is to continuously innovate to bring the newest solutions to the market", the CEO said.
Antonio Rubio Merino, Chief Financial Officer (CFO) of Prosegur, said the group is confident the tie‑up with Telefónica will "unlock a large amount of inherent value in our alliance business and, in a short period of time, will position Movistar Prosegur Alarmas as the leading alarm company in Spain".
Speaking during the presentation of Prosegur's 2019 financial results, Rubio Merino pointed to the low household penetration of alarms in Spain compared with other European countries, estimating it at "less than 9%". According to the Statistica website, household penetration of the smart home security segment is around 4.3% in Spain, ranking it 27th in a worldwide comparison. Antonio De Cárcer, Head of Investor Relations at Prosegur, estimated the target market at six million potential clients.
Take two for Telefónica in connected-security
The formation of the JV represents a more robust approach by Telefónica España to integrate security services into its wider offering. The operator was forced to shutter a former Movistar VeriSure Hogar smart-security solution in 2018, apparently prompted by the withdrawal of services from Prosegur rival Securitas Direct (Telefónicawatch, #98 and #127).
Prosegur Group reported revenue of nearly €4.2bn in 2019, an increase of 6.6% compared to 2018. The alarms unit contributed €278m, which was 6.2% higher year‑on‑year, and increased its total connections by 6% to 578,000. However, the alarms business covers nine markets worldwide, including Iberian‑American states as well as South Africa and Portugal. Prosegur's CFO Rubio Merino said almost 375,000 alarms in these regions will continue to be managed by Prosegur. The other two main group divisions are Prosegur Security and Prosegur Cash.
The Movistar Prosegur Alarmas security service portfolio includes: an alarm connected to an alarm reception centre; a video camera with two‑way audio, video recording for residential customers, and 24‑hour video recording for business customers; the Movistar Prosegur Alarmas smartphone application; three hours' back‑up power supply in the event of a power outage; and the Acuda service.