Group edge computing activity picks up pace with use‑cases aimed at both consumer and enterprise customers, including a new cloud gaming platform.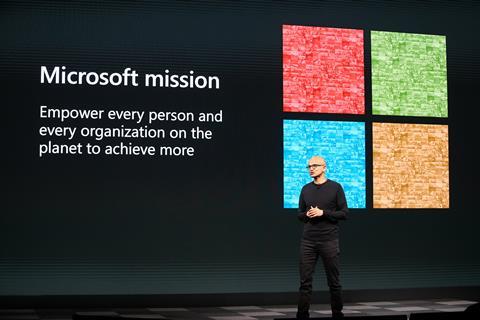 Telefónica took its partnership with Microsoft in the field of 5G and edge computing to the next level with plans to jointly develop private 5G network offerings for enterprise customers.
Telefónica Tech said it had signed a collaboration agreement with Microsoft on Azure Private Edge Zones. The aim is to combine the Group's private 5G connectivity expertise with the software giant's edge computing capabilities to create on‑premise private 5G networks.
In March 2020, Microsoft indicated that Telefónica had committed to using Microsoft Azure Edge Zones and Azure Private Edge Zones, and was testing various 5G use‑case scenarios as part of an extensive "preview" of their capabilities (Telefónicawatch, #142).
It would seem that the two partners are now ready to commercialise solutions based on Azure Private Edge Zones for industrial and smart factory use‑cases. The broad aims are to "drive the digital transformation" of enterprise customers and "enable the automation and control of their industrial processes".
Few other details are as yet available. Gonzalo Martín‑Villa, Chief Executive of IoT and Big Data at Telefónica Tech, explained that the plan is to offer customers a "framework for the creation, deployment, and operation of industrial solutions and their private communications in an integrated way inside and outside the factory".
Zoning in
The Microsoft zones, initially developed in partnership with AT&T, are designed to boost 5G application performance with ultra‑low latency times. Microsoft flags online gaming, media streaming, content delivery, real‑time analytics, inferencing via artificial intelligence (AI) and machine learning, and rendering for mixed reality as typical use‑cases for Azure Edge Zones, which are owned and operated by Microsoft and currently available in Los Angeles, Miami, and New York.
Azure Private Edge Zones are focused on on‑premise private networks and can be either 5G‑ or LTE‑based. Azure Edge Zones with Carrier are also offered in partnership with AT&T. They are deployed in mobile operator data centres and connected to the Microsoft global network.
As well as Telefónica, Azure Private Edge Zone mobile network operator partners include CenturyLink, Etisalat, NTT Communications, Proximus, Rogers, SK Telecom (SKT), Telstra, and Vodafone Business. System integrator partners include Amdocs, American Tower, Expeto, Federated Wireless , Infosys, and Tech Mahindra.
Microsoft also lists several suppliers that are involved in edge zone development including Affirmed Networks (which it acquired in April 2020), Celona, Druid Software, Expeto, Mavenir Systems, Metaswitch Networks (which it acquired in July 2020) , and Nokia Digital Automation Cloud.
Gaining the edge
Telefónica continues to underline its intention to drive network edge computing as well as private network developments through industrial collaboration.
Recent edge‑related activities include: participating in discussions with the European Commission about a €10bn project for building federated cloud infrastructure and services with a focus on edge computing and industrial data sharing; opening a Wayra 5G/Edge Lab in Spain; and expanding a partnership with Nabiax to explore "new joint opportunities" around new services, edge computing, and "[data centre] automation" (Telefónicawatch, #151–#152). In May 2021, Telefónica agreed with Nabiax owner Asterion Industrial Partners to sell four more data centres (two each in Spain and Chile) to Nabiax, which has already acquired eleven of its centres, in exchange for a 20% stake.
Telefónica is also part of the Telco Edge Cloud (TEC), linked to the GSM Association's (GSMA) Operator Platform, together with BT, China Unicom, Deutsche Telekom (DT), KDDI, Orange, Singtel, SKT, and Telecom Italia (Telefónicawatch, #141), as well as the Telecom Edge Cloud TF, along with BT, China Unicom, DT, KDDI, NTT DOCOMO, Orange, Singtel, SKT, and Telecom Italia.
As part of the TEC, the GSMA has flagged that Telefónica and BT are collaborating on a "multi‑operator and multi‑location" pilot, using an edge computing platform from DT spinout MobiledgeX running on top of edge infrastructure provided by the participating operators.
In terms of private networks, Telefónica leads the 5G Private Networks solution group at the Telecom Infra Project, and has also built up a portfolio of 5G private network efforts in Spain. The Group is partnered with Ericsson in Madrid on a healthcare use‑case; Gamma Solutions in Extramadura for medical training; and Nokia in Andalucía for security and city management (Telefónicawatch, #146). A tie‑up with leading Spanish retail group El Corte Inglés was also established in 2020, under which the operator is working with Ericsson to pilot a private 5G network with edge computing technology to automate in‑house machinery (Telefónicawatch, #148 and #153).
Spreading its bets
Telefónica and Microsoft first unveiled their strategic alliance at Mobile World Congress 2019. In addition to the alliance on edge zones, they have now collaborated in a number of areas, including: the marketing of Microsoft Azure cloud services; Telefónica's cognitive intelligence Fourth Platform; the AURA digital assistant; and use of the Microsoft Azure AI platform to design new services (Telefónicawatch, #133 and passim).
Like other operators, Telefónica is not limiting itself to only one cloud services provider. It has also teamed up with Google Cloud on the joint development of mobile edge computing solutions for 5G in Spain, for example (Telefónicawatch, #144). Furthermore, IBM and Red Hat are its partners in the recently upgraded Cloud Garden joint digital service offering (Telefónicawatch, #150).
In 2018, Telefónica Business Solutions announced a strategic collaboration with Amazon Web Services to target enterprise customers (Telefónicawatch, #125–#127).
Playing the cloud game
Meanwhile, a more consumer‑focused edge project called Ludico Edge has been under development at Telefónica and appears to have emerged from an internal Innovation Call programme in 2018.
Framed as being designed "by gamers and for gamers", the aim of Ludico Edge was to create a cloud gaming service based on edge computing. Little has been revealed about the project so far, and Telefónica remains tight‑lipped on its plans, although it appears Movistar Game may be the likely commercial brand for the emerging service.
The Group did confirm that Ludico Edge emerged from an Innovation Call, and that the idea was to "make a hands‑on exploration of the cloud gaming space". "Ludico is an overarching internal code name that we use for all the gaming activities", a Telefónica spokesperson said. "Telefónica is exploring the cloud gaming space. We can't comment on future plans".
There are some clues about progress to date. For example, a Madrid‑based user interface and graphics designer called Pablo Sanchez wrote a blog on his involvement in a four‑month Ludico Edge Demo in 2019. The remit of the project, which Sanchez said involved the gaming team within the Core Innovation department of Telefónica, was to help develop the prototype of a gaming product with edge computing technology, creating the brand identity and interface, and carrying out initial tests with Telefónica users.
Sanchez, whose company is Lenoir Graphics, named two project managers for the 2019 demo: Rafael Pajarón Pérez and Juan Vazquez Barco. Both Pajarón Pérez and Vazquez Barco took part in the 2018 Innovation Call, when they presented the idea for a new streaming video game service. They were eventually selected to take their idea to the next level.
Pajarón is currently listed on LinkedIn as Co‑Founder & Product Manager of Movistar Game at Telefónica — a position he has held since January 2019. This suggests that Ludico Edge has morphed into Movistar Game. Indeed, Pajarón describes Movistar Game as the new cloud gaming platform at Telefónica and indicates that the project is now in the "prototyping phase", to be followed by a beta.
Vazquez Barco is now listed as Product Innovation Manager of Gaming On at Telefónica, but from December 2018 to February 2020 he held the position of Co‑Founder & Product Manager of Edge Gaming Platform at the Group. Gaming On is described as a tool that enables users to view and control their gaming connectivity, especially in cloud games.
More recently, in February 2021, the Telefónica‑backed innovation lab 5TONIC flagged that cloud gaming tests were being carried out within the scope of the Ludico project (Telefónicawatch, #152). The Madrid facility, founded by Telefónica and research foundation IMDEA Networks in 2015 (Telefónicawatch, #102), said the work involved testing Ericsson‑supplied kit and the performance of gaming platforms from Google (Stadia), Microsoft (XCloud), and NVIDIA (GeForce Now).
María Jesús García Vicente, Senior Manager for Delivery of Entertainment Platforms at Telefónica, is understood to be responsible for coordinating the Ludico project, and said at the time that Telefónica sees cloud gaming as a "natural evolution of our current entertainment solutions", although conceded that the Group still has "some challenges to solve". On LinkedIn, García Vicente is listed as Head of Division at Telefónica I+D.
According to Telefónica, Innovation Calls were introduced in 2012 as a way to allow teams to present their ideas and, if selected, put 100% of their time into developing these ideas, becoming what the Group describes as "intrapreneurs" and using the 'lean startup' methodology to create new business areas.