Empresas is raising its public profile with the unveiling of collaborations and partnerships to support its enterprise portfolio.
Aiming to flourish as an enabler of smooth adoption of digitalisation strategies by corporate customers.
Efforts appear grounded in the Telefónica domestic market, but potential for international expansion.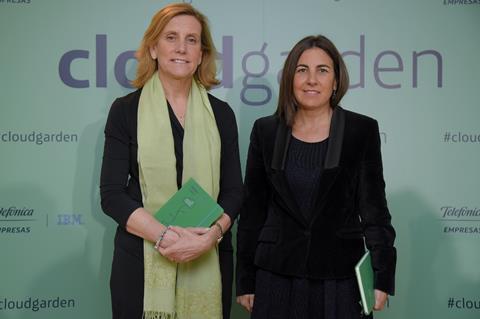 Telefónica Empresas teamed up with longstanding partner IBM to develop a digital service offering called Cloud Garden, further tightening the Group's relationship with the supplier.
The overarching aim of Cloud Garden is to provide private and public entities with the tools to implement their digitalisation strategies. The service groups together IBM technologies including artificial intelligence/AI (IBM Watson), blockchain, and hybrid cloud (the combination of private and public cloud), and integrates them with Telefónica's cloud platform.
The new service could be seen building on Telefónica and IBM's existing collaboration on applying blockchain technology to help reduce the complexity of internal telco business processes (Telefónicawatch, #131). It certainly appears to be the fruit of a heightened level of cooperation between the two entities. As noted by María Jesús Almazor, Chief Executive of Telefónica España, "this is the first time the two partners have collaborated this closely".
Telefónica Empresas said the launch of Cloud Garden forms part of its recently unveiled strategy to expand and strengthen industry alliances to provide a broad digital portfolio to private and public sector entities (Telefónicawatch, #132).
The B2B unit also recently unveiled a partnership with Samsung Electronics to incorporate the Knox Mobile Enrollment service into its "digital workplace" offering (see separate report).
Cloud Garden is based on Kubernetes, an open-source platform for container orchestration (the management of applications built out of multiple, largely self-contained runtimes called containers). The service is offered with flexible payment terms and is expected to provide a commercial fillip for Telefónica Empresas, which pointed to the growing use of containers by companies around the world.
Almazor explained that the underlying concept "is the need to provide companies, regardless of their size, with a tool that allows them to be faster in their processes and to modify them if the results are not as expected".
Telefónica Empresas said the services and technological capabilities offered by Cloud Garden will enable companies to develop advanced applications and innovative use‑cases, such as incorporating AI capabilities into any process and creating new communication channels with digital assistants based on Telefónica's own AURA platform and the Watson Assistant.