New marque is the first corporate identity refresh this century for the operator.
Executive Chairman Álvarez-Pallete outlined symbolism behind the change at Group AGM.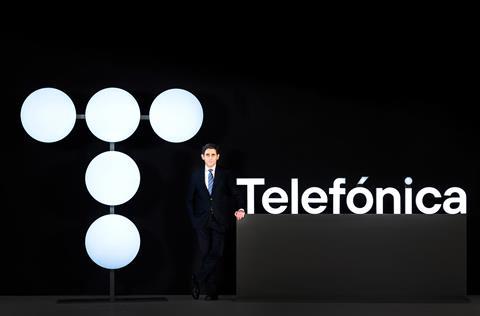 Telefónica updated its logo and corporate branding for the first time in 24 years.
Speaking at the operator's 2021 General Shareholders' Meeting, Executive Chairman José Maria Álvarez-Pallete said the logo "reflects a new Telefónica ready for the next 100 years", ahead of the Group's 100-year anniversary in 2024.
It incorporates a new Telefónica Sans typography and five circles, which are, according to the operator, "full of symbolism" (see below).
The branding is said to reflect a shift to "more flexible", "simpler" operations at the operator, and comes with a renewed mantra: "connect, better, faster". "It reflects where we came from", Álvarez-Pallete added, noting that the new logo in essence an update to the one first used in 1984.
The corporate identity will be extended across the Telefónica ecosystem.
It was developed with support from Lambie Nairn, a division of marketing consultancy WPP. WPP was also responsible for the respective identity updates for the O2, Movistar, and Vivo marques over the past decade.

The power of five
In somewhat typical style for the Group, which has previous for setting up a punchy list of goals or objectives, but then embellishing them with another set of goals within goals (Telefónicawatch,#141), the logo's circles are being attributed with multiple purposes.
At different points in the Telefonica material discussing the new branding they are said to represent:
The "five strategic axes" of its transformation plan, first unveiled as the New Telefónica in 2019. These axes are it's a focus on core markets; creation of Telefónica Tech; monetise assets though Telefónica Infra; operational separation of Telefónica Hispanoamerica; and an organisational rethink to move corporate functions towards an agile mindset.
Five key words: Telecommunications, representing the Group's history; Technology, representing the future focus of the business; Transformation, reflecting the commitment to innovation and transformation in the company's "DNA"; Talent, representing the people within the Group; and Purpose, to emphasise the significance of the Group's actions.
The Group's "diversified business model", which has changed substantially since its previous logo was drawn up. Then, Telefónica was a voice and data company. Now, the logo's five circles are said to represent the Group's five key technology interests of artificial intelligence, cloud, connectivity, cybersecurity, and Internet of Things.
The five geographies in which Telefónica operates, incorporating its core markets of Brazil, Germany, Spain, and the UK, as well as its Telefónica Hispam unit. A reference to the Group's geographic range is notable in that it is deconsolidating its UK assets through the planned Virgin Media merger, and even though a major regional spin-off now appears unlikely, the Group is still theoretically supposed to be open to offers for the Hispam business (Telefónicawatch, #152).