DIRECTV internet services customer base and spectrum to be acquired under agreement, pending regulatory approval.
Deal indicates "commitment" to Colombia despite rumblings of an exit, says CEO Hernández.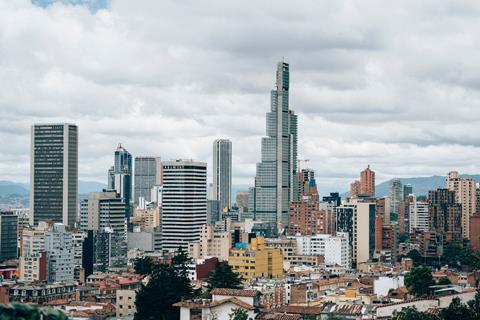 Telefónica Colombia (Movistar) is to acquire DIRECTV's internet services business to bolster its network and commercial position.
The agreement — described by Movistar Chief Executive Fabián Hernández as proof of Telefónica's "commitment to the country", despite the Group's recent pruning of Hispanoamérica assets — will see Movistar take ownership of and operate DIRECTV's network infrastructure, as well as inheriting both its spectrum holdings and internet access contracts with 200,000 DIRECTV customers. The deal, whose value has not been disclosed, is expected to be completed in the second half of 2021, pending regulatory approval.
Sixty percent of the 200,000 DIRECTV customers are on converged subscription packages featuring internet and TV services. The agreement envisages that these packages will be split, with Movistar taking on the internet access subscriptions and responsibility for avoiding any disruption to billing, rates, or service channels for its new internet-only customers. DIRECTV will retain its pay-TV customers, and will continue to operate solely as a pay-TV and over-the-top digital content provider, with an increased focus on regional streaming platform DIRECTV GO.
DIRECTV is a subsidiary of AT&T Latin America-owned digital entertainment services provider Vrio. It has been subject to its parent's recent portfolio review, which has seen stake sales and spin-offs of non-core assets (content and video assets, primarily). A deal was agreed with private equity firm TPG earlier this year to spin-out DIRECTV into a standalone company called DirecTV, with AT&T holding a 70% majority.
Mid-band add-on through the back door
The spectrum component appears a useful component of the deal, helping Movistar build out its network platform within financial constraints and without buying resource from the government, amid ongoing squabbling over rights allocation and valuation in the market.
DIRECTV holds 30MHz FDD and TDD blocks in the 2.6GHz band, on which it has operated a 4G network since 2014. Should the acquisition go ahead, those blocks will be taken over by Movistar, giving it its first batch of spectrum in that frequency range. It currently operates its 4G network in the 1700MHz band.
Movistar opted to abstain from the country's most recent spectrum auction, which took place in early-2020 and covered 700MHz, 1900MHz, and 2.5GHz rights. At the time, the decision was said to be based on the cost of licences, and influenced by the Group's efforts to reduce its financial exposure in the region.
Adding further pressure on resource is that Movistar's access to 15MHz of 1900MHz frequencies is coming up for renewal in October, according to Telefónica's latest Annual Report. It also indicates further auctions are in the pipeline in Colombia, covering additional 700MHz, 1900MHz, and 2.5GHz frequencies, plus 3.5GHz airwaves — although Telefónica is said to have been pushing for the authorities to both relax how they value spectrum and push back the 3.5GHz sale timetable, to give operators some breathing room.
Hernández said the DIRECTV deal will enable Movistar to better handle the increased data traffic it has experienced over the past 18 months. In 2020, Movistar's fixed network traffic increased by 98%, and mobile data consumption 87%.
The Colombian question
Telefónica's process of reducing exposure in its Hispanoamérica division has not reached Colombia, despite 2020 reports that the operating business was being eyed up by Liberty Latin America (acquirer of Telefónica Costa Rica earlier that year) and investment fund Novator Partners (Telefónicawatch, #140 and #146).
Movistar was portrayed by Telefónica as having produced a solid performance, compared with other Hispanoamérica businesses, in its last fiscal year, to 31 December 2020 (FY20), as it reduced the rate of its revenue decline over the twelve months, and the DIRECTV infrastructure acquisition was pegged by Hernández as an effort to "strengthen" the unit further.

Joseph Purnell is a Staff Reporter for TelcoTitans, contributing telecoms news analysis since 2019 as part of the TelcoTitans Editorial team.