New group effectively the political wing of operator-led efforts to develop an open RAN ecosystem, with major integrated network vendors conspicuously absent.
Nokia gatecrashes launch party.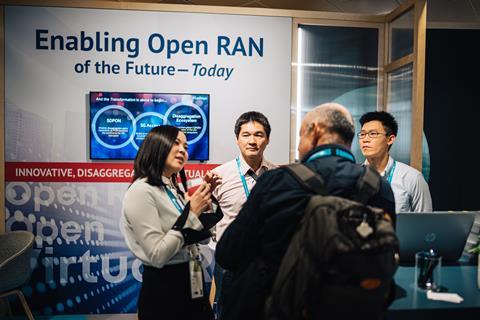 Telefónica Group lent its name to the Open RAN Policy Coalition, a new lobbying organisation that appears focused on steering US policy towards support for creating an environment where multi-vendor network set-ups will become a practical reality.
As the group was unveiled, the opening declaration called for greater network openness and flexibility in a post-pandemic world, created through open interfaces between radios, hardware, and software. Beneath that, the message appears to be 'if you don't want Huawei domination, give us alternatives'. Tellingly, the official launch of the coalition highlighted open RAN's benefits for operators that wish to "potentially move more quickly to replace or address vulnerable network equipment when reacting to threats".
The Washington, DC-based organisation is particularly hoping to attract support for its aims from the US federal government, and is seeking to draw out this anticipated open RAN backing in several ways:
Using government procurement as a tool for fostering vendor diversity.
Heightening of investment in research and development.
Securing of a degree of latitude from regulators on the nature of new solutions deployed within networks.
Lowering of barriers on network deployment for 5G services.
US and them
The appearance of Telefónica and Vodafone in an ostensibly US-focused lobbying group is tacit acknowledgement, if needed, of how American policy is having a major bearing on their operating environment in markets elsewhere (Telefónicawatch, passim). Telefónica's membership is perhaps surprising, considering both Spain's closeness to China, and its own embrace of Huawei and ZTE in multiple core markets. It also appears that open RAN developments are being considered in increasing depth by regulators and governments as part of the broader, fiery debate taking place around network supply chain diversity and security. In Germany and the UK, governments have faced considerable political difficulty in pushing through new legislation dealing with the role of Chinese vendors such as Huawei Technologies in 5G networks (Telefónicawatch, 142). In early-May 2020, Deutsche Telekom (DT) Chief Executive Timotheus Höttges indicated that a decision by Berlin on the issue had been delayed because of COVID-19, but that he expected guidance to be released imminently. As part of those discussions, open RAN is "something which we are highly lobbying and which we are committing to", said Höttges.
Absent friends
Huawei is not the only notable absentee from the list of supporting partners, with Ericsson also a glaring omission.
Nokia joined several weeks late, with hints that it might be responding to customer pressure. Traditionally, a top-table network equipment provider (NEP), the Finnish vendor has stumbled badly in recent years, notably at the ignition stage of 5G. However, whether through design, opportunism or desperation, it already appeared the more 'open' of major NEPs through association with notable challenger initiatives like the O-RAN Alliance, Telecom Infra Project, Reliance Jio's hyperscale launch in India, and Rakuten Mobile's cloud telco in Japan. It is also arguably as close to a major RAN player as the US gets, through its Bell Labs and Lucent ancestry.
Instead, the coalition largely comprises emerging vendors already leveraging the opportunity to build business with operators based on open RAN technology, such as Altiostar (where Telefónica is an investor), Mavenir, and Parallel Wireless. The big IT vendors are also well represented, as are mid-sized telecoms suppliers eying opportunities in a transformed approach to infrastructure, alongside the internet giants.
The operators in the organisation are a pretty global group, featuring: AT&T, NTT, Verizon Communications, and Vodafone. DT, as a leading European open RAN advocate and key US player, is a surprising absentee — which is presumably not unrelated to the close relationship the operator's American business T-Mobile US has with Ericsson (and perhaps also to Huawei, in Europe), and that open RAN-enabling its network is probably not at the top of its priority list, given its focus on bedding in its recent Sprint takeover.
Open RAN Policy Coalition founding members
Source: Open RAN Policy Coalition.

Airspan

Altiostar

AWS

AT&T

Cisco

CommScope

Dell

DISH Network

Facebook

Fujitsu

Google

IBM

Intel

Juniper Networks

Mavenir

Microsoft

NEC Corporation

NewEdge Signal Solutions

NTT

Oracle

Parallel Wireless

Qualcomm

Rakuten

Samsung Electronics America

Telefónica

US Ignite

Verizon

VMWare

Vodafone

World Wide Technology
TIP sends its compliments
The Facebook-fuelled Telecom Infra Project (TIP), which is well represented among the members of the lobbying group, predictably welcomed the development, describing it as complementary to its efforts on developing open specifications.
Nokia and Ericsson talk up their own open credentials
After not featuring at the launch of the new lobbying group, Nokia took steps to insert itself in the discussion of open RAN policy in the USA. Within ten days of the new group's unveiling, Nokia Americas' Vice-President of Policy & Public Affairs Brian Hendricks led efforts to highlight the vendor's role in the O-RAN Alliance and TIP, and portray Nokia as a meaningful contributor towards open standards development.
However, Nokia's support is not unequivocal, and it is also lobbying American politicians to prevent open RAN equipment from becoming the default option in all new deployments. It provided testimony to US Senate hearings on legislation that would require regional operators that are planning to switch out equipment from banned vendors, such as Huawei and ZTE, and adopt an open RAN approach in order to receive government financial support for the transition. Nokia considered that a "technology-neutral" approach should be taken instead, maximising the chance of it securing contracts attracting state-funded subsidies.
Ericsson, meanwhile, suggested that government policy would be best focused on spectrum allocation, and that existing standards bodies are best placed to oversee open standards.