Buendía Estudios elects Gayo Chair, with equal representation from Telefónica and co-parent Atresmedia.
Telefónica influence through Movistar's Oslé, Movistar Plus+'s Burzako, and HQ's Navarro.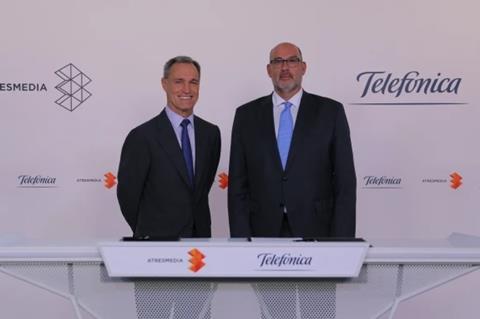 Buendía Estudios, Telefónica's Spanish-language content joint venture with Atresmedia, inaugurated a new Board of Directors.
The changes saw two additional seats added to the board, with equal representation from the two co-parents retained. Telefónica España President Emilio Gayo was elected Chair.
From Movistar Plus+, President Sergio Oslé and Chief Executive Cristina Burzako were appointed, alongside Telefónica Group's Director of Corporate Affairs & Sustainability Eduardo Navarro. The four represent some of Telefónica's big hitters, with two of the four — Gayo and Navarro — also sitting on the Group's Executive Committee.
Board members from Planeta-controlled Atresmedia are CEO Silvio González, Atresmedia TV General Manager Javier Bardají, Chief Financial Officer Fernando Costi, and Deputy Director of Content José Antonio Antón. González was named Vice-Chair.
Ángeles López Lobatón was appointed General Secretary of Buendía Estudios. López is Director of Legal Counsel at Telefónica Audiovisual Digital, the content production and management subsidiary that oversees Movistar Plus+.
Spanish-language content has been a point of interest for Telefónica in the past year, with Movistar Plus+ a particular proponent under both Burzako's current leadership and that of her predecessor, Oslé, who described the Spanish-speaking TV content market as a logical target for expansion.

Joseph Purnell is a Staff Reporter for TelcoTitans, contributing telecoms news analysis since 2019 as part of the TelcoTitans Editorial team.