Proof of concept open RAN network led by IBM as systems integrator.
Movistar test network adds to Group trials in Germany and the UK.
IBM plants open RAN flag in Spain with new Centre of Excellence.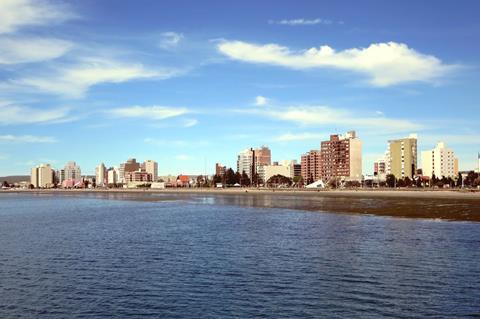 Telefónica Argentina (Movistar) launched an open RAN trial network in the city of Puerto Madryn, covering a population of 81,000, and turned to the Group's longstanding partner IBM for systems integration.
Movistar's proof of concept (PoC) is the latest of Telefónica Group's open RAN trial activities, which include test networks in Germany and the UK, and adds a few new suppliers into the mix. In Argentina, IBM is the systems integrator (SI) and brought together Altiostar (Telefónica's open RAN business and strategic partner) along with Red Hat, and established open RAN partner GigaTera Communications, (Telefónicawatch, #138). The PoC in Argentina also introduces Kontron and Quanta Cloud Technology (QCT) to the Group's known open RAN trial partners, but it is not clear whether the suppliers are technically part of the partner ecosystem announced last year.
Telefónica deepened its commitment to open RAN in March 2020 with a "strategic ecosystem collaboration" agreement with Altiostar, GigaTera, Intel, Supermicro, and Xilinx to develop 4G and 5G open RAN technology and support trials in its four main markets: Brazil, Germany, Spain, and the UK (Telefónicawatch, #141).
In Germany, Telefónica Deutschland has deployed an open RAN pilot network comprising three sites in the Bavarian town of Landsberg am Lech. For that project, Japan's NEC is the SI and the solution includes Altiostar, Dell, GigaTera, Intel, Red Hat, Supermicro, and Xilinx (Telefónicawatch, #150). In December 2020, ADVA said that it had also been selected by to participate in an open RAN PoC. Telefónica Deutschland has said it aims to deploy 1,100 open RAN sites within twelve to 18 months of launching 5G, which it did in October 2020.
Telefónica UK (O2 UK)'s open RAN trial appears to be based on a similar setup to the one in Germany, with NEC as SI and integrating technology from Altiostar, GigaTera, and Supermicro (Telefónicawatch, #140) and #150).
Adrian Di Meo, outgoing Director of Technology at Movistar (and soon to be CIO of the O2 UK and Virgin Media joint venture — see separate), said: "It is essential to evolve the network architecture towards an open Telco Cloud model based on an open ecosystem of providers, which allows generating a solid base to develop, in the future, the deployment of 5G".
IBM steps up open RAN in Europe
Signalling an ambition to play a bigger role in telcos' open RAN plans, IBM opened an Open Radio Access Network (O-RAN) Centre of Excellence in Spain in February 2021 for testing and launching applications based on O-RAN standards and architecture. The centre will have access to the IBM Cloud for Telecommunications, its "open, hybrid cloud architecture" designed to "unlock the power of 5G and edge" that has an ecosystem of more than 40 partners. IBM namechecked Altiostar and Juniper as the ecosystem partners that it will be working with in the O-RAN centre.
"The centre will focus on live implementations that are similar to the Telefónica/Movistar PoC in Argentina, but on a greater scale", wrote Steve Canepa, Global General Manager and Managing Director for Communications Sector at IBM, in a blog post.
Over the next three years, the O-RAN centre in Spain is expected to employ 500 cloud developers and telecoms engineers, with expertise in areas such as RF design, Multiple Input Multiple Output (MIMO) technology, and O-RAN delivery.
Telefónica eyes early-2022 for open RAN
Enrique Blanco, Chief Technology and Information Officer (CTIO) at Telefónica, has said that he expects a "massive deployment in one of our main cities, our main operations" in the first quarter of 2022, following pilots running throughout 2020 and 2021 (Telefónicawatch, #147). He also said that between 2022 and 2025, half of the operator's radio site upgrades would use open RAN technologies.
To support the goal, the Group signed a Memorandum of Understanding (MoU) with Japan's disruptive Rakuten Mobile in September 2020. The Group is also one of five European operators that joined forces to promote open RAN technology in early-2021 (Telefónicawatch, #150). An MoU was signed by Deutsche Telekom, Orange, Telefónica, Vodafone, and later joined by Italy's TIM, collectively pledging to work together with ecosystem partners, industry bodies (including the O-RAN Alliance and Telecom Infra Project), as well as European policy makers to make open RAN competitive with traditional mobile access network technologies to facilitate widespread deployment.

Michelle Donegan is an experienced telecoms writer and has been contributing as a reporter and news analyst for TelcoTitans since July 2020.