Alias becomes tenth addition to new investment vehicle's portfolio.
EC-backed robot "antivirus" solution to be put on show at Bavarian cybersecurity lab.
Importance of cybersecurity solutions for autonomous robots illustrated.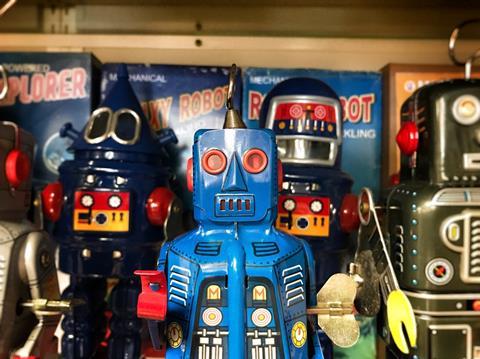 Telefónica's recently created security investment vehicle Telefónica Tech Ventures onboarded its tenth portfolio company: specialist cybersecurity startup Alias Robotics.
The tie-up follows an undisclosed investment in the Spain-headquartered Alias, which was directed by Group startup accelerator Wayra.
Collaboration between Tech Ventures and Alias will initially centre on setting up a lab in Munich, Germany, and piloting the startup's key proposition: its Robot Immune System (RIS) solution for enterprise clients investing in industrial automation.
Details are vague, but the lab — which is scheduled to open its doors in early-2021 — will apparently act as a multi-purpose space: for research; as a showroom; and as a "meeting point for stakeholders" to learn first-hand about robotic cybersecurity solutions, such as RIS. The hope, according to the startup's Chief Executive Endika Gil-Uriarte, is that the partnership will bring "our product to the next level" and increase Alias' client base (which is currently numbered at 20).
Tech Ventures' portfolio companies are said to receive strategic investments ranging from €100,000 (£90,000) and €6m (Telefónicawatch, #148). The fund is run by the Group's cybersecurity unit ElevenPaths and Telefónica Innovation Ventures (TIV), and was launched in October 2020. Its purported goal is to onboard 15 startups within its first three years. As is exemplified by the tie-up with Alias, its work is focused on forging commercial partnerships with security service startups, in line with the objectives of ElevenPaths parent company Telefónica Cybersecurity Tech (Telefónicawatch, #144).
Alias' head office is located in Victoria-Gasteiz, northern Spain, and it also has a footing in the USA. Founded in 2018, it received a €750,000 pre-seed round investment from global investment vehicle Baron Capital Management in mid-2019.
Its RIS "antivirus" solution is marketed as offering industrial robot protection, detecting, recording, and filtering out malware. Alias says RIS is functioning on robots deployed by the German automation group KUKA, a partner of Deutsche Telekom.
The product was backed by a €50,000 grant from the European Commission's (outgoing) Horizon 2020 initiative and is sponsored by a Basque Government agency, the Basque Cybersecurity Centre, which has existing ties with Telefónica through the European Cybersecurity Organisation (ECSO — Telefónicawatch, #109).
ECSO was launched in June 2016 with the goal of forging a continent-wide cybersecurity ecosystem to finance research and innovation in the sector. At the time, a swathe of Telefónica executives, including from ElevenPaths, sat on the entity's Board of Directors, but this no longer appears to be the case (Telefónicawatch, #109). Today, the Group's interests in ECSO appear to be represented by lobby group European Telecommunications Network Operators' Association (Telefónicawatch, passim).
Man and machine
In the announcement, Alias Chief Technology Officer Víctor Mayoral Vilches sought to highlight the urgency with which industrial security should be treated. "Cybersecurity", he said, "will (soon) be more relevant in robotics than in any other area".
Vilches' assertion chimes with a recent research paper from the World Economic Forum that predicts that, by 2025, industrial work will be split 50/50 between human and robot.
ElevenPaths CEO Pedro Pablo Pérez also talked up the importance of threat intelligence solutions as a key component of the Group's 'connected-factory' go-to-market play (Telefónicawatch, #149). Other moves made by ElevenPaths in this space recently include a partnership with the CIDAU Foundation on industry cybersecurity and a link-up with robotics manufacturer ASTI Mobile Robotics to develop an "integral" solution for "wireless factories" (Telefónicawatch, #148 and #149).
Telefónica Tech Ventures portfolio, December 2020
Portfolio startup
Focus
Background
Sources: Companies; Telefónicawatch.

4IQ

Spain-based startup focused on cyber-intelligence centres with defence and law enforcement applications.

Telefónica participated in a €12m Series-A funding in 2016 (Telefónicawatch, #110).

Alias Robotics

Spain-based robotics cybersecurity startup that offers threat intelligence software.

Telefónica invested an undisclosed sum in Alias in early-December 2020.

Blueliv

Spain-based cyber-threat analysis solutions provider.

Telefónica invested in 2014. Blueliv subsequently won a startup call under Go Ignite, which is backed by Telefónica alongside Deutsche Telekom, Orange, and SingTel (Telefónicawatch, #85 and #109).

CounterCraft

Spain-based cybersecurity application for threat detection.

The startup earned a share of €1.4m from Wayra Spain's 2019 investment alongside Hdiv and seven other startups (Telefónicawatch, #142).

Devo

Spain- and US-based big data security specialist.

Telefónica signed a strategic alliance to resell Devo security monitoring in 2018 and the vendor has been cited as an ElevenPaths partner (Telefónicawatch, #111, #128, and #130).

Hdiv

Spain-based web application and API protection specialist.

The vendor received a share of a €1.4m Wayra Spain investment in early-2020, alongside CounterCraft (Telefónicawatch, #142).

Kymatio

Spain-based cybersecurity risk specialist.

Wayra Spain participated in a €500,000 funding round in April 2020, and the provider was named a winner in ElevenPaths and Wayra's first cybersecurity call in 2017 (Telefónicawatch, #142).

Nozomi Networks

US-based industrial cybersecurity specialist.

Telefónica invested in mid-2020. Nozomi has a joint services agreement with ElevenPaths (Telefónicawatch, #144 and #145).

Red Sift

UK-based open cloud threat detection products.

Wayra UK invested in March 2018, and Telefónica is cited as a Red Sift customer.

Smart Protection

Spain-based digital asset and intellectual property protection platform, leveraging blockchain technology.

The vendor was cited as part of the Telefónica Activation Programme blockchain stream in 2020 (Telefónicawatch, #144).

Sam Patterson is a Staff Reporter for TelcoTitans, contributing telecoms news analysis since September 2020 as part of the TelcoTitans Editorial team.