Movistar España is aiming to protect its big-spending customer base with VIP customer service benefits, as it continues to pursue a 'more for more' strategy.
Commercial offering increasingly diversified through new digital services intended to bring Movistar customer relationship into new markets.
While protecting its most valuable exclusive content, Telefónica is working to boost the still-modest levels of pay-TV adoption in Spain with a new OTT offering available beyond its existing customer base.
B2B digital services are also being pushed into the limelight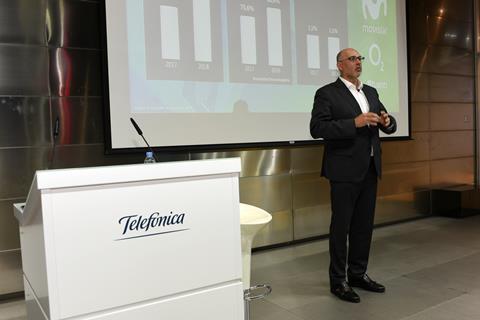 Telefónica España (Movistar España) unveiled a series of new consumer propositions intended to strengthen the momentum surrounding the operating business as it continues to boost revenue in the Group's home market.
The latest changes follow the 'More for More' approach for its existing customer base, but the operating business is also extending availability of its content offerings beyond its subscribers, and aiming to diversify with new digital offerings.
The commercial refresh will be led by a service called Priority, which will be targeted towards around 1.5 million high-end customers, promising prioritised customer service, enhanced support, and special offers related to their subscription.
Movistar is looking to add broadband lines to its base by offering relatively cheap additional connections when added to an existing Fusión account. Access at a second home is priced at €15-€30 per-month, depending on the level of Fusión service the customer is signed up for. While overall home ownership rates in Spain are believed to be declining, it appears that around a quarter of Spanish families own a second home, and so may represent a significant addressable market for a second connection service.
Movistar flagged the Movistar Money and Movistar Car offerings that have edged into view in recent months (Telefónicawatch, #132 and #134). These are to be joined by an insurance offering in the coming months.
Broadening the television base
Movistar has until now restricted access to its original television content in Spain to its own subscriber base, but is now launching an over-the-top (OTT) service that is available to all for €8 per-month. The new OTT TV offering will include access to Movistar's #0 and Movistar Series entertainment channels, and the #Vamos sport channel (while keeping premium live soccer content separate).
Speaking at the Q1 FY19 results presentation, Group Chief Operating Officer Ángel Vilá said the new OTT service does not represent a change for the local business's convergence strategy, but instead is an attempt to broaden the market for pay-TV.
Vilá said that pay-TV penetration in Spain is low by European levels – estimated in the 35%-45% range compared with 60%-plus in equivalent markets – and that, by selling its basic services to a larger base, the telco will be able to drive up adoption, and exploit up-selling opportunities to convert users to its converged bundles.
Chasing unicorns
Alongside the consumer offerings, Telefónica emphasised its position in the business sector in its home market. While promoting its new digitally-focused propositions, the telco's management noted that local revenue generated from IT-based services reached €860m in 2018. This prompted the operator to claim it was "on track to build a unicorn".
With 'unicorn' usually used in a business context to describe a nimble rising company with a valuation, rather than revenue, in the region of $1bn (€89.5m), Telefónicawatch is unclear as to precisely what the operator means by this claim, but suspects it is just an attempt to add a digital startup sheen to its IT business.
"We want to be the reference partner in the transformation of companies, with cloud services, security, big data, IoT, and digital spaces."

– Emilio Gayo, Telefónica España Chief Executive.