Operator's involvement in carmaker's "flagship", vertically-integrated EV plan confirmed.
Group to enable Industry 4.0 applications in Barcelona-based smart factory.
SEAT parent calls for more EU action to enable EV market expansion.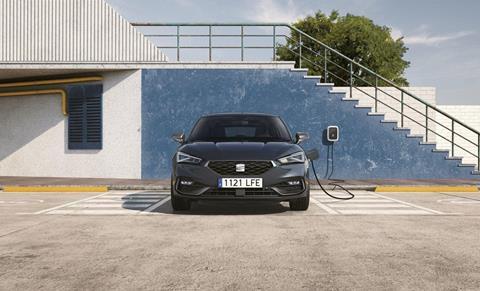 Telefónica's long-mooted cooperation with Volkswagen-owned carmaker SEAT and the Spanish government on a national e-mobility project was made public during SEAT's 70-year anniversary event on Friday.
As expected, utility Iberdrola is also involved (Telefónicawatch, #150 and #148), as is robotics engineering specialist Asti, financial services player CaixaBank, and two automotive component suppliers: Antolín and Gestamp.
During the event — held at SEAT's Martorell Production Facility (MPF) in Barcelona — the partners presented a joint plan to "accelerate the development of an e-mobility ecosystem" in Spain, saying it will help tackle climate change and alleviate the pressures of COVID-19 by fostering job creation.
The "ecosystem" will encompass the "production of small electric vehicles", mining of lithium, battery production, and the nationwide deployment of charging point infrastructure, SEAT disclosed.
According to the Spanish press (CE Noticias Financieras and Cotizalia), "5G solutions" provided by Telefónica will facilitate "intelligent manufacturing" inside a new €3bn (£2.5bn) battery production facility — which, as part of the plan, is to be established in an as-yet-unspecified location "close" to MPF, according to Reyes Maroto, Spain's Minister of Industry, Commerce and Tourism.
Telefónica is yet to provide comment, but has previously collaborated with SEAT on trials of emerging technologies in factory settings (Telefónicawatch, passim).
A mighty leap
The SEAT-led "multisectoral alliance" falls under the remit of the government's Proyectos Estratégicos para la Recuperación y Transformación Económica (Strategic Projects for Economic Recovery and Transformation) programme, which is in line to receive a portion of the €140bn allocated to Spain as part of the European Union's NextGenerationEU recovery fund.
Volkswagen's Chief Executive Herbert Diess said at the event (via Reuters) that its success will "hinge upon a clear commitment by the European Commission", indicating that further investment was needed.
Diess added colour to his remarks by predicting that the project will be "transformative" for Spain — Europe's second-biggest car producer behind Germany, according to market consultancy Statista — because there currently exists "little investment" in what is a rapidly expanding market: battery-powered electric vehicles (EV).
Volkswagen hopes to bring-to-market "30" EV models by 2025, and subsidiary SEAT reportedly plans to begin manufacturing and rolling out a small EV in Spain by at least 2024 (Telefónicawatch, #150). Josep Maria Recasens, Director of Strategy at SEAT, indicated in late-2020 (via the Financial Times) that this was entirely dependent on ensuring there is fertile ground in Spain to cater for a ramp-up of EV production. There are, Recasens pointed out, less than 100 public charging points per one million inhabitants in Spain (the European average is purportedly 500).
According to the most recent data released by the European Environment Agency, EVs account for less than 1% of Spain's total vehicle fleet — compared with 56% in Norway.

Sam Patterson is a Staff Reporter for TelcoTitans, contributing telecoms news analysis since September 2020 as part of the TelcoTitans Editorial team.