OB distributing security services in three cities, with aim to strengthen customer retention.
Telefónica supporting Prosegur's LatAm expansion plans, with large growth opportunity anticipated.
Collaboration now extends beyond Movistar Prosegur Alarmas JV in Spain.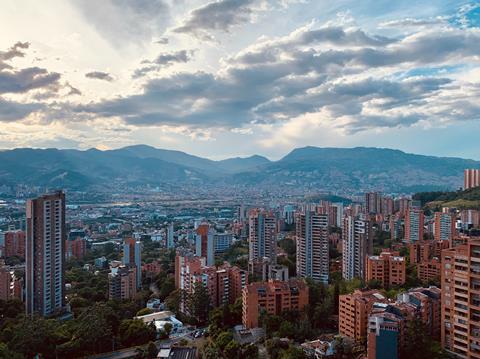 Telefónica extended its tie-up with security services group Prosegur into Colombia with the local launch of a new home security alarms and "anti-intrusion" system product line.
Telefónica Colombia (Movistar) said it had begun offering the new security services in the cities of Bogotá, Cali, and Medellín. Adopted from Movistar Prosegur Alarmas, Telefónica Group's 50:50 joint venture with Prosegur, the products will be rolled out in other "geographic areas" of the country "later on".
The move takes the form of a "commercial alliance", with Prosegur keen to leverage the operating businesses' (OB) "high distribution capacity" and sales capabilities to drive growth in a region in which there is a low household penetration of alarms (between 1% and 2%, according to the announcement).
Both parties expect the penetration rate to grow to around 10% in the "coming years".
Fabián Hernández, Movistar's Chief Executive, framed the deal as a means of differentiation, and of "enrich[ing]" its fibre-optic internet and home connectivity bundles through the incorporation of security-focused value-added services. This includes access to alarms that can be linked with Prosegur's SMART-branded smartphone application, enabling "24/7" monitoring through the provision of a "live camera feed" and archived recordings.
Getting the ball rolling
The new alliance is an early realisation of plans outlined by Prosegur's senior management to expand its collaboration with the Group beyond the recently-created Movistar Prosegur Alarmas (MPA) JV in Spain, and into Latin American markets in which the two businesses' footprint overlap (Telefónicawatch, #154).
Beyond Colombia, other LatAm markets where this is the case are Argentina, Chile, Paraguay, Peru, and Uruguay.
The apparently looser commercial partnership formed in Colombia comes despite Prosegur indicating it was keen to form full JVs with Telefónica as it expands into LatAm.
MPA, which launched in March 2020 (Telefónicawatch, #141 and passim), was the product of an agreement enabling the Group to acquire 50% of Prosegur's Spanish alarms business in 2019. The business is said to have experienced growth despite initial COVID-19-related difficulties with the provisioning and set-up of services. It reportedly added 17,000 net new clients between January and March 2021, taking its total base to around 268,000 (Telefónicawatch, #148 and #154). As is hoped will be the case in Colombia, growth in Spain has been premised on the low household penetration of alarms.
Since partnering, the two businesses have also focused on technology development. Soon after its launch, MPA bought to market a new personal security service called Contigo ("With You"), combining the capabilities of the operator's network connectivity and MPA's home alarm system.

Sam Patterson is a Staff Reporter for TelcoTitans, contributing telecoms news analysis since September 2020 as part of the TelcoTitans Editorial team.