Statements from US Secretary of State on Telefónica intentions appears to contradict ongoing Group commitments to working with Huawei.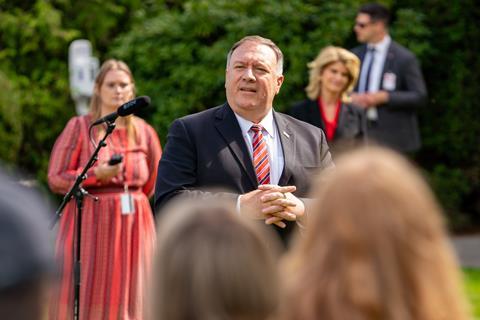 The US Secretary of State Michael Pompeo quoted José María Álvarez-Pallete as an apparent supporter of the US approach to developing 5G networks, claiming the Telefónica Executive Chairman has said that the Group is "proud to be a '5G Clean Path' company".
By this, the US foreign affairs leader means that Telefónica has declared an intention to eschew the use of Huawei equipment in its 5G networks across its core markets. While claiming that "the tide is turning" against the use of Huawei equipment across the globe, Telefónica was held up alongside several other major operators that have supposedly forsaken the Chinese vendor.
Orange France, India's Jio, Telstra in Australia, Japan's NTT, and Korea's SK and KT also joined the Spanish Group on the list. O2 UK's decision to take a pass on Huawei for 5G was particularly pinpointed, but, according to Pompeo, the Group's other major markets are to follow suit at a future point. Spain, where the operator is yet to launch 5G, is also declared "fully clean".
"Telefónica is proud to be a '5G Clean Path' company. Telefónica Spain and O2 (UK) are fully clean networks, and Telefónica Deutschland (Germany) and Vivo (Brazil) will be in the near future without equipment from any untrusted vendors."

Alvarez-Pallete, as cited by the US State Department.
Pompeo also pointed to Telefónica's Digital Manifesto, and a statement in the document that "security is paramount," as part of his declaration that Telefónica is a true follower. However, that specific quote does not appear in the manifesto itself, which is focused more on cybersecurity for digital platforms, and the protection of personal data from an ethics perspective, rather than a treatise on the underlying infrastructure.
Political pressure…
Pompeo frames the US objections to Huawei based on risks posed by Chinese law, which require companies to share information with the state, and the long association between the vendor and Chinese state entities, while also occasionally referencing an enabling of apparent human rights abuses within China itself. Pompeo also highlights the availability of alternatives, with Ericsson, Nokia, and Samsung identified as viable alternatives.
The statement on Telefónica support emerged in late-June 2020. Subsequently, on the day that the UK reinforced restrictions on Huawei for 5G networks, the State Department stated that Pompeo had called Spanish Foreign Minister Arancha González Laya. Details of the call were vague, but the State Department said that the pair discussed "the importance of secure 5G networks", among other topics.
In its global crusade to eliminate Huawei from networks, particularly emerging 5G infrastructure, the US has declared that any for any network to carry 5G traffic from its government institutions, including embassies and diplomatic outposts around the world, the network provider must commit to not using equipment from vendors not trusted by the USA in 5G networks. At present, the new rules appear to only apply to 5G communications, and only to government bodies, although the potential to require US companies to follow suit was specifically not ruled out.
Spanish political websites have noted Telefónica's distancing from Huawei in Spain, illustrated by comments from Chief Technology and Information Officer Enrique Blanco in December 2019 (Telefónicawatch, #139), followed quickly on from Álvarez-Palette's visit to New York where he was honoured as 2019 Business Leader of the Year, by the Spain-US Chamber of Commerce, and participated in events such as ringing the opening bell on the New York Stock Exchange. The implication appears to be that further meetings with US officials may have been facilitated while the Telefónica chief was on US soil, with the operator willing to accommodate some US demands while awaiting clearer guidance from the Spanish government.
… and mixed messages
The source of the Álvarez-Pallete quote is not clear, and when previously asked about the statement, the Group has declined to comment further.
Telefónica has hedged on its approach to Huawei in major markets other than the UK, where it had elected to rely on Ericsson and Nokia well ahead of the UK's implementation of restrictions (see separate report).
It is notable that the comments do not specify any vendor, and place an emphasis on 'trusted suppliers', which could be open to interpretation — only using trusted suppliers appears axiomatic. Existing European Union guidance, which does not explicitly exclude Huawei, also calls on operators to only use "trustworthy parties" when selecting components for security-critical infrastructure without (yet) specifying companies that do not make the grade.
In Spain, Huawei's presence is expected to be lessened, rather than obliterated, with an expectation that as standalone 5G core networks are developed the role of the vendor will be less critical (Telefónicawatch, #138, #139). In Germany, state guidance on what role Huawei can play is not expected until autumn 2020 at earliest, but a role for Huawei has already been identified in providing radio access alongside Nokia (Telefónicawatch, #140).
Meanwhile in Brazil, which Álvarez-Pallete has reportedly said is heading down the "5G Clean Path", local management have only recently expressed their trust in existing Huawei deployments even as US pressure builds (Telefónicawatch, #145 and see separate report).