Operator predictably wary over the potential of planned mobile infrastructure company to disrupt MNOs, despite rural-focused mandate.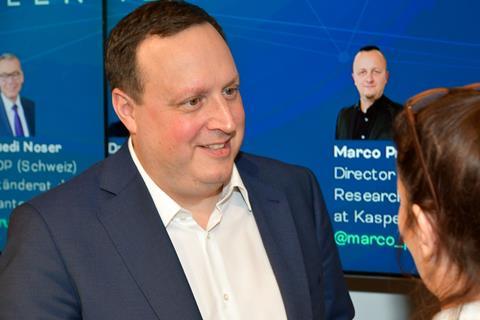 Markus Haas, Chief Executive (CEO) of Telefónica Deutschland (O2), warned that Germany's planned state-owned wireless infrastructure company should not be permitted to compete with existing mobile network operators (MNO) on infrastructure or influence (i.e. reduce) market prices.
In his response to the conclusions of Germany's second Mobilfunkgipfel (Mobile Summit), held in Berlin yesterday, Haas broadly welcomed confirmation of the government's intention to provide €1.1bn (£985m) from the Digital Infrastructure fund to build an additional 5,000 mobile masts and help eliminate "white spots" in rural areas and along transport routes. He was also appreciative of the government's objective to reduce approval times for mast-building permits to three months. The process is said to currently average around 18 months.
At the same time, Haas stressed that the state should only intervene where it is absolutely uneconomical for MNOs to build a mast under their own steam, owing to the small number of potential mobile users. The planned Mobilfunkinfrastrukturgesellschaft (Mobile Infrastructure Company/MIG) "should under no circumstances enter into infrastructure competition with the network operators or negatively influence pricing in the market" through the allocation of funding, Haas said.
A familiar refrain
Slightly oddly, considering O2's record on 4G roll out, Haas joined the CEOs of rivals Telekom Deutschland and Vodafone Germany in seeking to highlight progress made in building LTE network coverage ahead of 5G rollout plans. He said O2 had added 14,000 new mobile radio network "elements" in the past two years, and aims to build 7,600 LTE sites in 2020 in order to (belatedly) meet expansion commitments.
Hannes Ametsreiter, CEO of Vodafone Germany, said the operator has built new LTE masts, upgraded equipment to 4G, or added capacity at 14,000 sites over the past two years. During the summit, Dirk Wössner, CEO of Telekom Deutschland, said Telekom has built 2,870 masts in "white spots" over the past two years, and increased capacity or upgraded equipment at 11,000 sites.
The three German operators have ultimately committed to ensure 4G household coverage reaches 99% in every German state by the end of 2021. To help them achieve this goal, they have already announced a network-sharing arrangement on the joint construction and operation of up to 6,000 base stations, in a bid to save time and money. In return, the operators secured improved payment terms for 5G frequencies, for which they committed a combined €6.5bn in 2019 (Telefónicawatch, #136, #137, and #139). There has also been a bilateral tie-up between Telekom and Vodafone, covering 4,000 sites in 'grey spots'.
Haas was unable to resist making another complaint over the huge sums that operators have been forced to invest in spectrum over the years. He pointed out that the government is now planning to 'return' almost the same amount it reaped from the 2019 5G auction to the industry in the form of subsidies for the construction of 4G and 5G networks in rural areas.
Here, Haas is presumably referring to the €1.1bn allocated to eliminate 4G white spots and a €5bn pot provided for the construction of 5G masts in uneconomic areas, as part of the €130bn economic stimulus and technology investment package presented by Chancellor Angela Merkel in early-June 2020.
In his view, it would have been far better to have allowed the operators to invest the money directly in building their networks. He said the establishment of a separate authority with about 100 employees — Haas is presumably referring to the MIG — could take years to achieve its objectives.
Steffen Bilger, Parliamentary State Secretary at the Federal Ministry of Transport and Digital Infrastructure (BMVI), has previously indicated that the additional 5,000 state-funded masts should be built by 2024.
The role of the MIG
According to a government sta
ement from the summit, organised by the BMVI, the planned MIG will play a coordinating role in the allocation of the €1.1bn fund, working closely with market participants, regional states, local communities, and telecoms regulator Bundesnetzagentur. The MNOs have been asked to provide the company and regulator with information about potential sites for an LTE upgrade or a new LTE mast by 30 September 2020.
As indicated by Haas, it is not yet entirely clear when the MIG will be established. Netzpolitik.org reported that the new company still requires the green light from the German Federal Ministry of Finance and the European Commission, and suggested that the original target date for its creation, of 30 September 2020, now seems unlikely. What does seem clear is that the MIG's central role will be to coordinate the allocation of the 4G and 5G funding pots, and ensure that rural areas are not neglected in future.
As already pointed out by TelcoTitans, rural coverage has long been a clear area of industry failure in Europe. In Germany, all three MNOs were called out by the regulator earlier in 2020 for missing many of their regional- and transport-focused LTE coverage obligations, and face fines if they do not remedy shortfalls in the coming months.
What about fibre?
On the whole, the three German operators appeared broadly positive about the outcome of the summit, which aimed to reinforce some of the commitments set out during the first event in July 2018.
Ametsreiter said that if the summit delivers what it promises, it could represent a breakthrough for "digital Germany".
Nevertheless, the country's Bundesverband Breitbandkommunikation (Federal Broadband Communications Association/BREKO) said the summit had missed an opportunity to address the role that fibre networks will play in ensuring Germany's digital competitiveness, by failing to involve fibre network providers in the discussion.
As BREKO pointed out, a robust 5G infrastructure requires fibre networks for the connection of masts and data backhaul. Stephan Albers, Managing Director of BREKO, said more than 200 network operators within BREKO "are already making an important contribution to the expansion of mobile communications" by installing fibre networks in buildings and connecting mobile masts.
Albers called for a fibre strategy that is similar to the government's mobile strategy, with "concrete measures to accelerate and simplify fibre optic expansion in Germany".