Likening the launch to German reunification, O2 is delivering 5G in five cities from October on €40-per-month tariffs.
NSA launch paving way for more ambitious plans.
Media reports suggest Chancellor Angela Merkel will not ban O2 5G partner Huawei, although political resistance remains, and O2 is readying a back-up plan.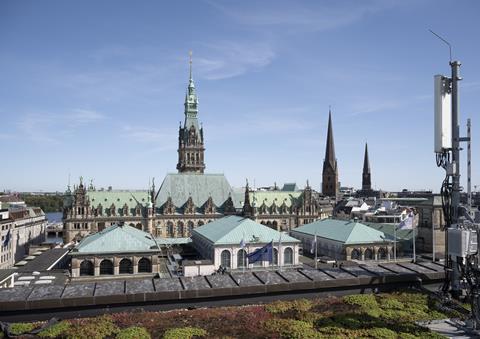 Telefónica Deutschland (O2 Germany) finally declared the imminent arrival of its initial 5G services in five major cities across the country.
The network will go live in Berlin, Cologne, Frankfurt, Hamburg, and Munich on 3 October 2020, covering a population of around nine million from 150 base stations. The operator noted, in a somewhat clumsy example of marketing, that the launch intentionally coincides with the thirtieth anniversary of Germany's reunification. It highlighted the spirit of progress and freedom as it said that, with its launch, O2 Germany "democratises high-tech".
O2 Germany has been selling '5G-ready' tariffs since spring 2020, and customers on these deals will have immediate access to the network — as will contract customers on tariffs costing €40 or more per-month. Business tariffs will not be available from launch, but are promised in the coming weeks.
O2 Germany will be using the 70MHz of spectrum in the 3.6 GHz band it acquired at Germany's 2019 auction (at a cost of just over €1bn — Telefónicawatch, #136) to provide up-to-300Mbps connectivity, with a promise of future theoretical top speeds of 20Gbps.
While the current service is essentially just beefed-up 4G, O2 Germany talked grandiosely of the transformative elements of the technology, including what it called "real-time communications" with ultra-low latency that will enable new AR and VR services, and the potential of Internet of Things applications supporting Industry 4.0. It also highlighted plans for its cloud-based core (where it is working with Amazon Web Services and Ericsson — see separate report).
Playing catch-up
O2 Germany, which is running behind its rivals on 5G, focused on how comparatively quick the start of its rollout has been, when compared to previous network iterations. The operator noted it took four years between a spectrum auction and the launch of 3G, and two years for 4G. The 5G launch, claimed to be on a larger scale than its predecessors, is underway around 16 months after the German 5G spectrum sale (Telefónicawatch, #136).
Nevertheless, it comes more than a year after Vodafone Germany and Deutsche Telekom declared take-off, the latter with the goal of reaching a footprint of 40 million people by the end of 2020 (Deutsche Telekomwatch, #86 and #93).
Huawei still in the mix as politicians manoeuvre
Vendor partners were not referenced in the O2 Germany release, although the operating business previously indicated Huawei Technologies and Nokia are its radio access partners of choice — subject to appropriate security clearances.
On that front, the 5G launch announcement appeared timely, coming just a couple of days after reports emerged in the media that German Chancellor Angela Merkel looked set to succeed in her efforts to ensure that no blanket ban on any vendor is introduced in the country. The German parliament has been debating the subject since before the summer parliamentary recess, and since its return in September 2020 conflicting reports have emerged on the likely future of the Chinese vendor's presence in the German market.
On the weekend prior to the O2 Germany announcement, anonymous stories emerging from the federal government suggested that government plans for requiring examination as to whether a vendor has links to "problematic political systems" before technology can be deployed would ultimately amount to a ban. However, subsequent Bloomberg reporting, citing three unnamed government sources, said Merkel had secured support for draft legislation that would increase government scrutiny over network equipment, but not impose outright bans. These sources indicated that even though reviews will be undertaken, the requirements are not expected to be so onerous that they would effectively amount to an exclusion order. However, subsequent reporting has suggested the stringency of the requirements may be more prohibitive than the vendor would like, and effectively see it shut out of the country.
With speculation rife, and legislation not yet published or examined, the German position could still change. However, O2 Germany's decision to launch 5G suggests Telefónica is confident its rollout will not be disrupted.
The operator has apparently prepared for any eventuality. Speaking in July 2020, amid preparations for the 5G launch, O2 Germany Chief Executive Markus Haas said supplier contingency plans were in place if Germany issued a blanket-ban on the Chinese supplier. "We have contracts with all the main vendors and would be in a position to make a switch within a few weeks", claimed Haas.

Neal Doran is a Senior Analyst for TelcoTitans. Neal's industry knowledge and experience as a telecoms analyst and writer spans three decades, and he has been a key part of TelcoTitan's Editorial team since 2001.