Nokia is muscling in on the Telefónica-research initiative that had previously been Ericsson's playground, although the Swedish vendor continues to deliver technology including standalone 5G NR.
Telefónica and partners maintain an influential role in EU efforts to explore new 5G industrial use cases.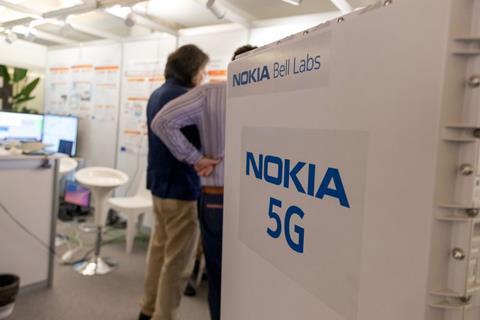 The Spanish unit of Telefónica Group's longstanding network partner Nokia was unveiled as the first Gold Collaborator for 5TONIC.
As part of its enhanced involvement, Nokia Spain and Nokia Bell Labs in Madrid will work with Telefónica on a project that falls under the remit of 5G-EVE, which is testing industrial 5G use cases with a focus on six vertical markets: Industry 4.0; tourism; transport; smart cities; utilities; and media. The project relates to media, and specifically focuses on "UHF media, on-site live event experience, and immersive and integrated media".
The objective is to help Telefónica customise and enhance the quality of 5G-supported media and entertainment services. Nokia and Telefónica are building a testbed involving the deployment of "a complete 5G network infrastructure in the 5TONIC lab", including an edge computing platform that will be tested as an alternative to content delivery networks (CDNs) for video services provided to users via 5G.
The collaboration is slated to last for the duration of the UHF media project, which is due to run until July 2021. The first version of the use case was due to be shown at the European Conference on Network and Communications (EuCNC) 2019 in Valencia, Spain in June 2019, as well as at the 5G Forum, an event that takes place annually in Spain.
"5TONIC is being instrumental in the early validation and tuning of 5G enablers, and is becoming the focal point for driving next generation network technologies through successive evolutionary leaps. Telefónica leverages 5TONIC as a key resource for open innovation in 5G, pushing for technology evolution and exploring differential services to our customers. "

– Javier Gavilán, Core Network, Platforms, and Transport Director at Telefónica Global CTIO.
Nokia has already been collaborating with 5TONIC partners on the European Commission-funded 5G-EVE and 5G-VINNI – two of three infrastructure projects launched by the Advanced 5G Network Infrastructure for Future Internet Public-Private Partnership (5G PPP) on 1 July 2018. The other is 5GENESIS. Telefónica is involved in all three programmes (Telefónicawatch, #128, #129, and #133).
5TONIC, the Madrid-based 5G open innovation and research laboratory, was founded by Telefónica and IMDEA Networks in October 2015, and is also supported by Nokia rival Ericsson (Telefónicawatch, #102). 5TONIC members include Altran, CommScope, Intel, and InterDigital. Nokia is the sole gold collaborator, while standard collaborators include ASTI, Celling 5G, trade fair organiser IFEMA, Innovalia, Luz WaveLabs, Rohde & Schwarz, Saguna, and UTEK (Telefónicawatch, #134).
Ericsson reiterates its 5TONIC presence
In the weeks following the news of Nokia's enhanced participation in the initiative, 5TONIC also highlighted that Ericsson and Telefónica have fully activated 5G New Radio Non-Standalone (5G NR NSA) technology at the 5TONIC laboratory.
The deployment features Ericsson's 6488 Active Antenna System with massive multiple input, multiple output (MIMO) technology, its Cloud Packet Core, and its User Data Management and Consolidation proposition. The setup is said to provide complete network functionality for 5G networking at the lab, located on the premises of IMDEA Networks.
5TONIC and friends showcasing achievements
5TONIC and its member organisations presented a number of demonstrations and workshops at EuCNC 2019, including: 5G-controlled, autonomously guided vehicles (AVGs) from ASTI Mobile Robotics "meeting the requirements of 10-20 milliseconds maximum end-to-end latency and 99.999% reliability" (Telefónicawatch, #128); and real-time video analytics running in the 5TONIC laboratory.
Telefónica and 5TONIC partners including Ericsson, IMDEA, and University Carlos III Madrid are also participating in a new 5G PPP project, 5GROWTH, which was launched in June 2019 with the aim of developing and validating solutions for zero-defect manufacturing within the context of Industry 4.0 – that is, developing automated and intelligent 5G solutions for vertical industries.
5GROWTH is a third phase 5G PPP project, and will build on earlier infrastructure projects such as 5G-TRANSFORMER (Telefónicawatch, #121, #124, and #133) and 5G-MoNArch. 5G-EVE and 5G-VINNI have been selected to carry out trials to demonstrate specific vertical use cases for 5GROWTH. 5GROWTH is led by a consortium of 21 partners, including vendors (Ericsson, InterDigital, NEC, and Nokia); operators (Altice, Telecom Italia, and Telefónica); vertical industries (COMAU, EFACEC, and Innovalia); enterprises (Mirantis, Nextworks, and Telcaria), and research institutes and universities (CTTC, Instituto de Telecomunicações, National and Kapodistrian University of Athens, Politecnico di Torino University, Scuola Superiore Sant'Anna, and University Carlos III of Madrid). The project received a grant of €14.1m from the European Commission.
Seven other projects were also selected as part of 5G PPP phase-three: 5G-SOLUTIONS; 5G-TOURS; 5G!Drones; 5G-HEART; 5G-SMART; 5G-VICTORI; and Full5G. The objective is to carry out advanced 5G validation trials across multiple vertical industries.