Sustainability strategy flagged at UN's COP25, including energy consumption requirements.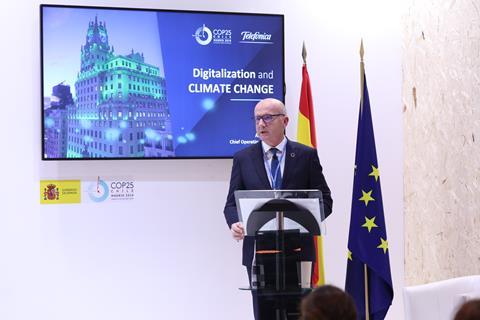 During his speech at the United Nations Climate Change Conference (COP25) held in Madrid, Spain during December 2019, José María Álvarez‑Pallete, Executive Chairman of Telefónica, addressed the company's sustainability strategy (Telefónicawatch, #139). The operator announced five new targets to reduce energy consumption and carbon emissions, having met its previous targets two financial years earlier than anticipated (Telefónicawatch, #112, #117, #121, #125, and #131).
The five new targets comprise:
Reducing its energy consumption per unit of data traffic by 85% in 2025, compared with 2015.
Using 85% of its electricity from renewable sources by 2025, and 100% by 2030.
Halving its carbon emissions by 2025, and cutting by 70% by 2030 (relative to 2015), and becoming carbon-neutral by 2050.
Reducing supply chain carbon emissions by 30% per euro purchased by 2025, compared with 2016.
By 2025, using own communications products and services to prevent the emission of ten tonnes of carbon for every tonne emitted.
Telefónica is said to have cut its energy consumption per unit of data traffic by two‑thirds over a three‑year period, seemingly balancing out a three-fold increase in data traffic over the period. Digital technologies are suggested to be able to help reduce global carbon emissions by "at least" 15%.
Telefónica Group flagged its listing in the CDP Climate A‑LIST for the sixth consecutive year (Telefónicawatch, #133). The rankings are published by not‑for-profit organisation CDP (formerly known as Climate Disclosure Project). The companies analysed receive a rating from A to D, depending on the effectiveness of the strategy to address factors contributing to climate change, with those providing insufficient information scoring an F. Out of several thousand companies submitting information, a total of 125 companies were A-rated, including Spain-based mobile infrastructure company Cellnex. Telefónica said it was one of only eight telcos in the rankings. Rivals BT Group, Deutsche Telekom, and Orange also ranked in the A‑LIST, while Vodafone Group scored A-.