La Liga generates €4.95bn in revenue from new round of concessions.
Movistar's controversial agreement on hold ahead of talks between Telefónica and regulator CNMC.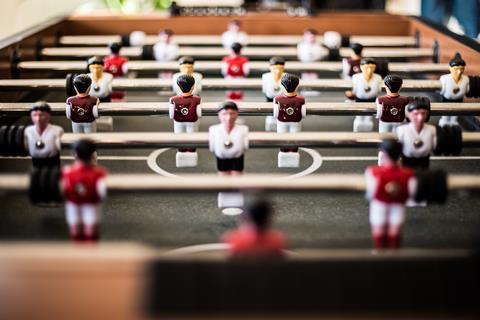 La Liga concluded the tender for its broadcast rights in Spain and Andorra across the next five seasons, securing €4.95bn (£4.2bn) from bumper agreements with Telefónica España and sports streaming specialist DAZN.
The record-breaking agreement — which starts from the 2022–2023 season — will see both buyers broadcast five games per matchday, with Movistar additionally picking up the rights for three full matchdays throughout the season.
For Movistar's part, however, the deal is not yet done and dusted. While issues regarding the first three years of the agreement are not anticipated, the part covering 2025–2027 requires an agreement with Comisión Nacional de los Mercados y la Competencia to lift restrictions on how long Movistar can form contracts for sports rights, acknowledged Telefónica in a statement.
Traditionally, La Liga — the organising body for Spanish football's top two tiers — has sold rights packages in three‑year cycles, with Telefónica's most recent purchase (2019–2022) costing a whopping €2.9bn, earning it the right to broadcast nine matches per week.
New legislation passed in 2020 scrapped these limitations. The law now simply states that the "duration of commercial contracts shall be subject to the competition rules of the European Union". However, the CNMC indicated its desire to maintain the three‑year limit — a plea the league has ignored.
EFE previously reported that Movistar cannot exclusively exploit the broadcasting rights in Spain of sports audiovisual content acquired from third parties beyond three years as a result of the commitments it made in 2015 when it bought Canal+. A term exceeding three years could be contrary to EU competition law (Telefónicawatch, #159).
The deal appears a remarkably positive piece of business for La Liga, which not only sees its revenue increased, but also secures "greater stability in the medium term" with a longer-term deal than tradition allowed. This is despite Telefónica Chief Operating Officer Ángel Vilá previously saying the operator is "aiming for deflation" on its prior rights deal (Telefónicawatch, #159).
Rights for LaLiga SmartBank, Spain's second tier, as well as the hospitality channel, are expected to be put out for tender in February–March 2022.
The news quickly follows last week's approval of CVC Capital Partners' €2bn investment in the league. 37 of 42 clubs backed the plan, thwarting an unsurprising last-minute attempt by giants Real Madrid and Barcelona to block the deal.
Reuters reported that the "La Liga Boost" agreement gives CVC an 8.2% stake in a new company that will receive revenues from La Liga sponsorship and broadcasting rights.
La Liga and CVC told Reuters in October that their objective was to recover in the medium-term the number of subscribers to pay TV football channels that were lost in Spain in recent years. Subscribers are said to have plummeted from four million in 2016–2017 to 2.5 million in 2020/21. CVC believes it can bring that figure back up to around 4.4 million.
La Liga was previously said to be hopeful of involvement from a wider spectrum of operators, and the agreement with DAZN no doubt fits the bill. A La Liga statement read: "This most recent tender has seen new broadcast players appear with disruptive distribution models adapted to the current market. This new configuration will lead to a better distribution of content, and thus provide fans with greater access to football".