Movistar makes highest bid for 5G-friendly 3.5GHz spectrum amid uncertainty over its future within the Telefónica Group.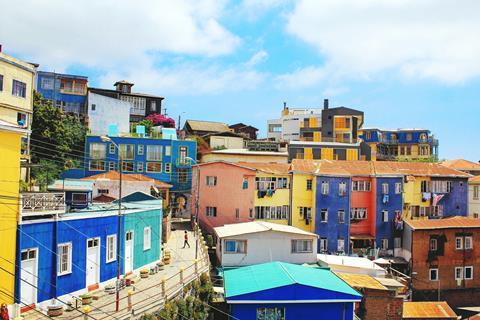 Telefónica Chile (Movistar) secured five 10MHz blocks of spectrum in the country's auction of 3.5GHz airwave rights, and said it will exploit the experiences of Group businesses in Europe when launching its own commercial 5G network.
The Subsecretaría de Telecomunicaciones de Chile (Subtel), Chile's telecoms authority, held the auction on 16 February 2021 as planned, following contests in the 700MHz band on 8 February 2021 and for Advanced Wireless Services/AWS (1700MHz/2.1GHz) frequencies on 11 February 2021.
Movistar rivals Entel and Novator Partners' WOM also gained 50MHz each at 3.5GHz, while Borealnet and América Móvil's Claro Chile came away empty handed. According to Subtel, Movistar bid about CLP 117bn (€136m) for its spectrum, while incumbent Entel paid CLP 100bn and WOM CLP 32bn.
As part of their licence obligations, the operators will be required to provide high-speed mobile data services to 366 unserved or underserved locations, and connect 199 hospitals to the new networks.
WOM wins waves
WOM paid CLP 60.77m for a 20MHz block of the 700MHz band and CLP 16.26m for 30MHz of AWS frequencies. Like Claro and Entel, WOM also expressed interest in four 400MHz blocks of 26GHz airwaves that did not require an auction process, since the available spectrum was said to be sufficient to meet the needs of all bidders. It gained one of these blocks. Regarded as the biggest winner from the auctions with a total of 500MHz, WOM now holds frequencies in all available bands.
Following the completion of all three spectrum auctions, Subtel said it has raised a total of $453m (€373m) for state coffers. It also claimed to have made the largest amount of spectrum available for bidding in the region, at 1800MHz in total. Reports seized on the fact that the amount swamps the $74m raised in Chilean spectrum auctions to date.
Betting big on 5G
Wrangles over the 5G-ready spectrum tender, as well as protracted negotiations on a settlement with Subtel on excess spectrum, appeared to have provoked some irritation at Movistar, which previously indicated it was set for minimal participation in the 5G tender and would only bid only for rights in the 3.5GHz band (Telefónicawatch, #149).
At the same time, the fact that the operating business (OB) placed the highest bid for the 3.5GHz band signals a certain level of urgency to get its hands on 5G-enabling spectrum. Roberto Muñoz Laporte, President and Chief Executive (CEO) of Movistar Chile, said the OB had focused its efforts on 3.5GHz because it has the "most developed" device ecosystem as well as greater capacity for "contiguous growth". "We will be able to start the deployment and subsequent commercial launch of 5G", Laporte said, without providing a timescale.
Beyond matters regarding its spectrum and network evolution, the future of Movistar within Telefónica remains up in the air. Recent reports on the El Independiente news site cited unnamed Telefónica sources as re-emphasising that the sale of the Chilean unit is a priority for the Group, as part of wider efforts to monetise assets in Latin America.
Telefónica Chile is valued by analysts at around €3.8bn. Finding a buyer may prove challenging from a competition perspective, however, with in-market consolidation considered undesirable by national authorities. This could hamper a bid by Liberty Latin America (which owns market-leading pay-TV and broadband provider VTR) as well any moves by Claro and Entel. Alternatively, Europe-based equity funds Novator Partners and Borealnet may provide a path of least resistance.
Telefónica has been indicating that 2021 will be the year that action is taken to monetise Hispanoamérica assets after a year of laying the groundwork, although it is also keen to emphasise that it will not be rushed into sales. Laporte's comments about using Telefónica's 5G experience in markets such as Germany, Spain, and the UK could signal that an imminent sale is not considered likely, at least by the OB.
In an interview with news site La Tercera, Christopher Laska, CEO of WOM, would not be drawn on whether the operator would be interested in buying Movistar. While suggesting that Chile is a market "for three or four players", he also said that there will be "more business opportunities" with 5G.
Telecom Argentina is reportedly considering a bid for Telefónica assets in Uruguay as it aims to expand its presence in the neighbouring country. Overall, the Hispanoamérica business has been valued at between €13bn and €14bn by analysts at Goldman Sachs and New Street Research.

Anne Morris is a freelance journalist, editor and translator. She has been working as a reporter and news analyst for TelcoTitans since 2016.