Operating business gives pay-TV service a major refresh with platform of platforms feel.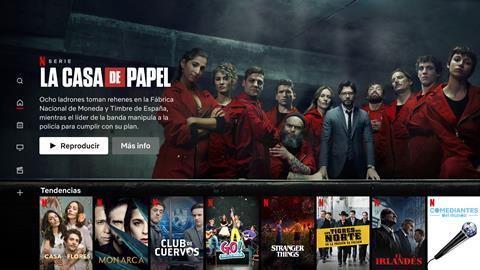 Telefónica Chile (Movistar Chile) flagged an overhaul of its Movistar TV service, unveiling new features and integrating over-the-top (OTT) providers including Amazon Prime Video, Netflix, YouTube, and YouTube Kids.
The operator said the aim was to transform its IPTV service into an "entertainment centre", with an improved user interface, 4K video content, and access to 13 more regional channels. Subscribers will benefit from direct access to the OTT services as part of new alliances with the three providers. Those who do not currently have a subscription to Amazon Prime Video will be offered a three-month free trial.
The new Movistar TV offering will be available from 29 May 2020, as part of Movistar Duo Packs, combining fibre internet access with theoretical 200Mbps, 500Mbps, or 900Mbps speeds; TV channels; the Movistar Play multiscreen service; and Smart WiFi.
Bulking up content to increase fibre take-up
Movistar Chile is clearly hoping that the integrated third-party OTT services, more intuitive user interface, and additional functionalities such as recording to the cloud and search, pause, and rewind will augment efforts to increase the subscriber base for its fibre broadband service.
The operator recently doubled fibre speeds for an estimated 80% of its subscribers as part of a plan to increase its fibre broadband base from 500,000 in 2019 to 750,000 in 2020. In the first quarter of 2020, Movistar Chile increased fibre broadband accesses by 32.5%, to 545,000.
Telefónica indicated in its recent FY19 results presentation that it expects rollout of more fibre and OTT services in Chile, as well as Peru, will reap benefits in the two countries (Telefónicawatch, #141). At the same time, the Group has been increasingly using original local content in Latin America to challenge the likes of Amazon, Disney, HBO, and Netflix (Telefónicawatch, #142 and passim).
OTT providers such as Netflix tend to be regarded as both partners and competitors. The integration of the service in Chile follows the 2018 signing of an agreement to integrate Netflix's service into Telefónica's TV and video platform in Europe and Latin America. It was rumoured at the time that Telefónica was seeking a similar, Group-wide agreement with Amazon, although it would appear that Prime Video is being integrated as part of country-level agreements. In Spain, Movistar is also the strategic distributor for Disney+ after an agreement with The Walt Disney Company earlier in 2020 (Telefónicawatch, #143 and passim).
Telefónica said pay TV accesses in the Hispanoamerica Sur region, including Argentina, Chile, Peru, and Uruguay, fell 1.3% year-on-year to 2.2 million in FY19. The Group said this was primarily because of a reduction in direct-to-home satellite-based accesses, which was partially offset by growth in cable and IPTV connections. In Chile, DTH accesses are falling as more subscribers move towards IPTV.