Proposed merger now expected to close during H2 2023, subject to regulatory approval.
Fixed-mobile heavyweight poses new challenge to Telefónica, with Vodafone Spain looking increasingly vulnerable.
Telefónica seeks to steal some of the limelight with confirmation of partner for Bluevia Fibra venture.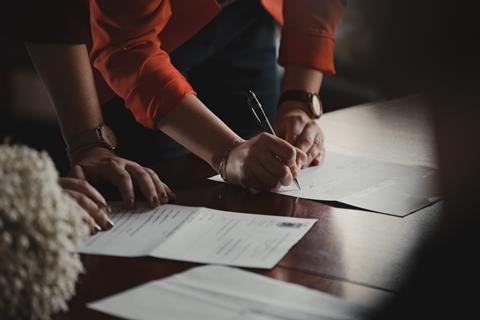 A long-awaited consolidation in Telefónica's home market of Spain took a further step towards completion after Group rivals MÁSMÓVIL and Orange announced they had signed a binding agreement to combine their operations in Spain.
As previously indicated, the aim is to create a 50:50 joint venture in Spain, although the combined enterprise value appears to have been revised slightly downwards to €18.6bn (£15.8bn). Orange Spain is valued at €7.8bn while MÁSMÓVIL, owned by Lorca JVCO following the group's acquisition by private equity firms Cinven, KKR, and Providence Equity Partners in 2020 (Telefónicawatch, #144), was assessed at €10.9bn.
The deal includes the option for an initial public offering after a lock-up period of 24 months. Orange would then have a pre-emptive right to buy MÁSMÓVIL's shares at the IPO price, enabling it to take control of the entity.
Orange noted that the combined entity would have revenue of more than €7.3bn, EBITDA after leases of approximately €2.2bn, 24.8 million mobile customers, of which 13.2 million derive from Orange, and 7.1 million fixed customers. As suggested before, that positions the JV in second place in the market, in terms of revenue, with Vodafone Spain reporting €4.2bn in FY20–21 and Telefónica España €12.4bn in FY21. In terms of mobile subscribers, the new JV would be in the lead, as Telefónica España reported 18.95 million mobile customers at the end of March 2022 and Vodafone Spain 13.59 million.
Data from Spanish market regulator CNMC shows that Movistar held a 28.24% share of the mobile market in March, followed by Orange Spain with 22.91%, Vodafone Spain with 22.26%, and MÁSMÓVIL with 20.55%. As of February, Movistar held a 35.68% share of the fixed-broadband market, followed by Orange Spain with 23.97%, Vodafone Spain with 18.76%, and MÁSMÓVIL with 18.29%.
The proposed merger has yet to gain regulatory approval, which is likely to be its biggest obstacle. The European Commission, for instance, has traditionally asserted that a reduction in the number of in-market players from four to three is bad for competition.
As things stand, Orange expects the transaction to be closed during the second half of 2023 "at the latest".
Mónica Sánchez Soliva, Head of Competition Policy & Competition Counsel at Telefónica Group, recently took the Commission to task for failing to address certain "action points" in its ongoing review of EU competition policy, specifically in regard to merger controls. She called for greater recognition of the long-term benefits of mergers, as opposed to the current focus on "short-term price effects" for consumers.
In the meantime, MÁSMÓVIL Chief Executive Meinrad Spenger has already been attempting to appease the Commission, saying that the merger "will not change the structure of the market" should it gain regulatory approval. On the contrary, he believes the deal would increase competition in Spain.
Rival viewpoints
Speaking at the Group's Annual General Meeting in April, Telefónica Chief Operating Officer Angel Vilá said any consolidation in a "fragmented market" such as Spain is welcome and described the proposed merger as "very positive" for the "sustainability of this sector".
Telefónica took some of the limelight from MÁSMÓVIL and Orange on Monday by confirming the creation of a Spanish FibreCo called Bluevia Fibra and unveiling a consortium comprising Crédit Agricole Assurances and Vauban Infrastructure Partners as its partners. Telefónica is to retain a 55% stake via Telefónica España (30%) and Telefónica Infra (25%), while the investors will pay just over €1bn for a 45% stake, valuing Bluevia Fibra at €2.5bn. The new FibreCo aims to pass five million premises in rural regions by 2024, including the 3.5 million already passed by Telefónica España. The transaction is subject to regulatory approval and is expected to close by the end of 2022. Telefónica Infra CEO Guillermo Ansaldo hailed the fact that Telefónica Infra now has fibre-to-the-premises vehicles in Brazil, Germany, and Spain, "together with Telefónica's operating units in each of those countries and in partnership with top-tier institutions such as Crédit Agricole Assurances/Vauban, Allianz, and CDPQ, respectively".
Vodafone Spain, meanwhile, would also likely benefit from a consolidated market, although the OpCo looks increasingly vulnerable compared with the potentially two much bigger rivals. Previous reports have suggested Vodafone is exploring a full or partial sale of its fixed network in Spain, as it considers future options for its Spanish operations once the planned merger of its two rivals is completed (Vodafonewatch, #206).
A tower amalgamation with network-sharing partner Orange Spain could still be on the cards, given that local Orange TowerCo Totem Spain is not to be brought into the newly consolidated entity.
Vodafone Group CEO Nick Read has largely avoided commenting on the fact that MÁSMÓVIL chose Orange rather than Vodafone Spain as its partner, simply stating that "we remain open to pragmatic alternative solutions".
Coercion from activist investor Cevian Capital for action on deal-making has been well documented in recent months, and e&'s £3.6bn stake acquisition in Vodafone has only increased the pressure on management.
Read has reiterated that in-market mobile consolidation remains a priority, and that the Group is "actively engaged in many detailed conversations". The talks are going on in Italy, Portugal, Spain, and the UK, according to Reuters.