Juniper is taking a strategic partnership role in the UK, building on its work in Telefónica Group's home market.
Potential noted for Juniper to expand its influence on additional markets, and reinforce existing deployments across the Telefónica footprint.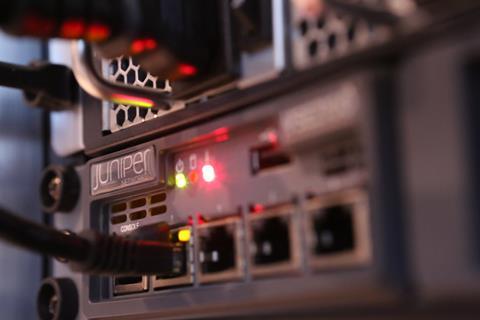 Telefónica and infrastructure vendor partner Juniper Networks signalled that they are bringing the Fusión Red digital network transformation concept to the UK market.
Fusión Red has been underway in Spain since 2015 (Telefónicawatch, #100, #104, #105, #122, and #133) and is now being implemented in the UK under the Fusión Network banner. Juniper said the first phase is already in progress, and involves migration of services. As is the case in Spain, Juniper is acting as the strategic IP network provider for the UK project.
Again, as in Spain, the project is focused on meeting the growing demands for connectivity, where 5G, digital services, and the Internet of Things are expected to test operator networks to their limits. Juniper said the aim is to combine legacy networks into a single, new IP network that is more efficient, flexible, and automated, including supporting the recent rollout by O2 UK of 5G services in six UK cities (see separate report).
"As we prepare for our 5G rollout from October 2019 with the end-goal of building a 5G economy in coalition with British industry, we need a network infrastructure that benefits customers from the outset, with better speeds, intelligent security and improved user experience. This requires a network that is sophisticated, but also simpler to deploy, operate and maintain, which is why we chose Juniper as our strategic IP network provider. This overhaul of our network provides the flexibility, scalability and performance to meet those demands. "

— Brendan O'Reilly, Chief Technology Officer, Telefónica UK.
Juniper indicated that the range of equipment it will provide includes its PTX series packet transport routers; MX series 5G universal routing platform (MX2008, MX2010, and MX2020); Junes Fusion Edge; Junos Node Slicing virtualisation; an automation framework; and professional services to support installation, migration, and maintenance.
Further international stops for Juniper…
Juniper said in its statement that it and Telefónica designed the Fusión Network, and that the initiative "has previously been implemented by Telefónica Group in other regions around the world".
While a Juniper spokesperson said Spain and the UK "are the only publicly available countries at the moment", it appears that further confirmations could be imminent.
Germany has also seen Juniper deployments akin to Fusión (Telefónicawatch, #105).
… with Nokia again in the wings?
Telefónicawatch notes that there has been a trend with Telefónica's Fusión project that declarations of contracts with Juniper tend to be followed by announcements from Nokia that it is also enmeshed in the process.
However, in core networks in the UK, Nokia does not appear to have the same level of presence as Juniper, which was highlighted as playing a leading role in the virtualisation and automation of O2 UK infrastructure in 2018 (Telefónicawatch, #130).