Telefónica Infra-Tech Q2 FY20 analysis.
Telxius set to expand its remit beyond tower management and subsea cables with ambitions to bring Group fibre deployment expertise to wholesale markets across Europe and Latin America.
Investors may be sought to monetise new infrastructure.
Telxius Q2 FY20 performance shows resilience in difficult times.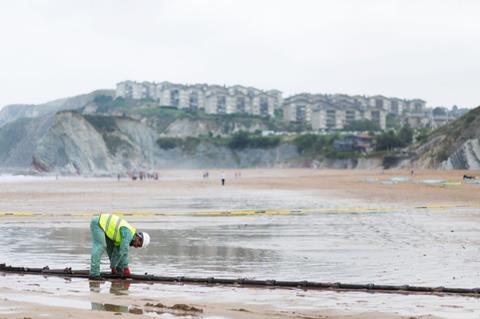 With its latest results demonstrating Telxius' ability to weather the current storm and make profitable progress as it expands its infrastructure management domain, Telefónica Group is planning to build on its early success. During the results presentation, for the quarter and half to 30 June 2020 (H1/Q2 FY20), management confirmed a bold new strategy that will see the Telefónica Indra‑controlled business develop a new approach to fibre infrastructure rollout in markets outside Spain, as previously reported by Telefónicawatch in April 2020 (Telefónicawatch, #142).
The Group has indicated that, in Germany, Telxius is already analysing the potential to create a new infrastructure venture that would bring full‑fibre networks to remote and rural areas of the country, and see it wholesale access to the wider market. The venture would be controlled by Telxius, potentially with Telefónica Deutschland (O2 Germany) as a stakeholder, with investment funds invited to participate.
Management stressed that the venture would be a neutral wholesale service provider, offering access to the infrastructure to all local players, although O2 Germany would be an anchor tenant. Until now, O2 Germany has been focused on offering fibre and ultrafast fixed‑line services through wholesale agreements with Deutsche Telekom and Vodafone Deutschland, and the mooted Telxius venture would feed into that strategy, serving customers in currently underserved regions.
A similar venture is being considered for Brazil, to sit between Telefónica|Vivo's own network infrastructure upgrades in major urban centres, and its franchising model for the most isolated parts of the country. Amid these two extremes, the Group considers that capital could be attracted into a joint enterprise delivering neutral access.
The UK may be next on the list. When the Group unveiled the proposed merger with Virgin Media in the UK, it suggested its fibre skills could be put to use in accelerating the cableco's Project Lightning FTTP rollout. While management at the H1 FY20 results presentation could not say too much about any plans they might implement when the merger is completed, they appeared quietly confident that from 2021, there may be an opportunity for the UK to follow in the footsteps of Telefónica's other major markets.
The Telefónica interest in fibre infrastructure management does not end in its core operating businesses, either, with CFO Laura Abasolo, noting that the Hispanoamérica division under her control is already on this path, with plans along the same lines in Chile.
Capex slowdown protects strong cash flow
Delivering slightly lower revenue of €208m for Q2, Infra nevertheless remains the standout contributor to Group profitability on a proportional basis, with OIBDA margin up around 6.5 percentage points for both the quarter and the half year, and landing in the region of 64%. In Q2, the division was able to maintain profitability and a strong cash flow contribution with capital expenditure down 40% when including the cost of tower acquisitions, and 13% in organic terms.
Q2 FY19
Q2 FY20
Change

Telefónica Infra (Telxius) financial and operational performance breakdown, Q2 FY20

Investment down as cash contribution rises.
Telxius estate expansion outpacing accumulation of external customers.

Notes: * Before management and brand fees.
** Does not exclude effect of M&A, including acquisitions of towers in Brazil and Peru during Q1 FY20, and Germany transaction during Q2 FY20.
Source: Telefónica.
Revenue

€216m

€208m

-3.7%

OIBDA *

€124m

€133m

7.3%

OIBDA margin

57.4%

63.9%

6.5pp

Capex **

€85m

€50m

-41.2%

OIBDA-capex **

€40m

€83m

107.5%

KPIs
Towers

17,550

20,422

16.4%

Tenants

23,889

27,363

14.5%

Non-anchor tenants

6,339

6,941

9.5%

Tenancy ratio

1.36

1.34

‑0.02
Cellnex swerves Telxius questions as it builds war chest
While Telefónica is looking to innovate with its approach to infrastructure, through expansion of Telxius and other Infra assets, speculation bubbled up on a collaboration with Spanish mast management player Cellnex.
At its annual shareholders' meeting in July 2020, Cellnex played down the prospect of taking a stake in Telxius as management discussed expansion plans, and what it might do with €4bn set to be raised for acquisition activities.
In discussing future spending, Cellnex has stressed that it is focused on investments where it can be a hands‑on manager of assets, and not merely a financial partner, with its Chief Executive Tobias Martinez stating the provider wants a "management role, not accounting". It was suggested that a minority stake in a business such as Telxius would leave little room for being such an active industrial partner.
However, this may not entirely rule out collaboration with Telefónica, considering the way in which the Group is looking to develop its Infra division through the monetisation of infrastructure across its footprint. While anything more than a minority investment in Telxius would seem unavailable, assets such as Cornerstone Telecommunications Infrastructure Limited (CTIL) in the UK may offer potential for more meaningful partnership. Cellnex has previously been linked to taking a share of CTIL off Telefónica and Vodafone's hands, although its acquisition of Arqiva's infrastructure division could cause competition concerns in the UK (Telefónicawatch, #134).
European Commission enthusiasm for region-wide infrastructure consolidation may also provide opportunities for Cellnex to collaborate with the telco described by Martinez to his shareholders as a "magnificent company with which we have magnificent relations".
Telefónica Q2 FY20
1

2

3

4

5

Currently reading

Infra ambition to fibre up the world

6

7