Government sale stirs speculation about Telefónica Colombia exit.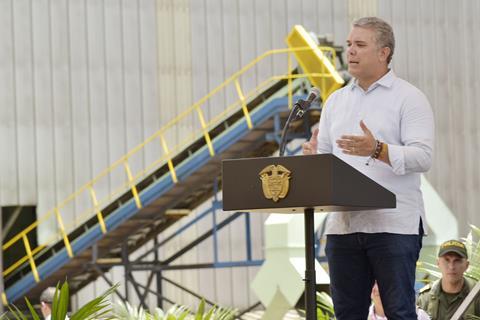 Reports that the Colombian government wants sell its 32.5% stake in Colombia Telecomunicaciones (Coltel) heightened speculation about Telefónica Group's own exit plans for its Telefónica Colombia operating business.
According to a La Información report, citing unnamed government sources, President Iván Duque's administration is looking to offload non-strategic assets, one of which is Coltel, using recent economic emergency decrees. The Colombian government tried to sell its Coltel stake two years ago but failed to attract any bidders. Now, given Telefónica's recent moves to focus on its four main markets (Brazil, Germany, Spain, UK), the report suggests a sale might be more attractive because there could be potential to buy not only the state's holding but also Telefónica's 67.5% stake.
As part of a corporate restructuring unveiled in December 2019, Telefónica carved out Hispanoamérica from the rest of Group, which includes businesses in Argentina, Chile, Colombia, Ecuador, Mexico, Peru, Uruguay and Venezuela (Telefónicawatch, #139 and #141). Telefónica notably elected not to bid in the Colombian 4G spectrum rights auction in late-2019, which took place after the revised plan for Hispanoamérica emerged, fuelling rumours that a quick exit from the market could be in the offing (Telefónicawatch, #140).
Novator inevitably in frame
The Colombian business has been most closely linked to an independent sale, with Novator Partners tagged as a potential buyer. The investment fund recently acquired spectrum in the Colombian 4G auction, and reportedly bought a majority stake in Colombia's fourth operator Avantel in July 2020. Novator also owns a controlling share of Chile's fourth mobile operator WOM, which was reportedly among multiple bidders for Telefónica's operating business in Costa Rica, after Millicom International Cellular unexpectedly pulled out of a $570m (€481m) deal to buy the subsidiary in early-May 2020 (Telefónicawatch, #143 and #145).
Coltel, which operates under the Movistar brand in the market, is Colombia's second-largest telco with market shares of 24% in mobile services and 17% in fixed broadband services, according to Telefónica's 2019 Annual Report. Its larger rival is Claro, owned by América Móvil. The third player in the market is Tigo, which is majority-owned by Millicom.
At the end of 2019, Telefónica Group announced the sale of 2,029 towers in Ecuador and Colombia to Phoenix Tower International for €289m. The towers sold comprised 1,408 from Telefónica Ecuador and 621 from Telefónica Colombia for a consideration of €202m and €87m, respectively (Telefónicawatch, #140).