Telefónica is calling on vendors to open up to interoperability as it moves towards fulfilling end‑to‑end orchestration ambitions.
Progress with UNICA approaching escape velocity as deployments spread across footprint and more vendors are brought on board.
Senior Telefónica figures keen to emphasise the opportunities for greater competition in the vendor community.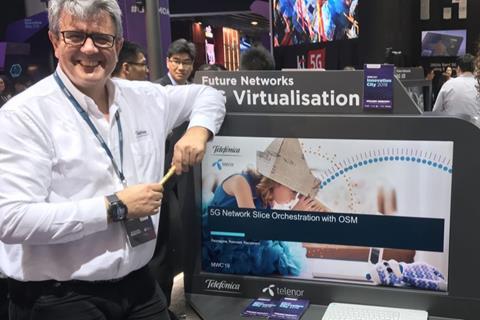 At Mobile World Congress 2019, Telefónica Group CTIO Enrique Blanco had talked up a demonstration with Telenor that saw the Open Source MANO (OSM) platform used for the end‑to‑end orchestration of 5G network slices.
At the time, Blanco suggested that, through these proof of concept trials, OSM was proving itself a key element of the evolution of UNICA.
In the wake of the event, Juan Carlos García, Telefónica's Senior Vice‑President of Technology and Architecture, underlined that belief, and asserted that Telefónica considers that the OSM platform would be "finally ready to take into production" in the near‑future.
While the MWC demo was based on the fifth release of the OSM platform, a sixth iteration is on the cards, and that version of the orchestration and management technology will be integrated into UNICA to enable Telefónica to combine orchestration of physical, virtual and hybrid network functions. The operator is currently seeking a partner to manage the process, and pressing on with a 2020 deployment.
"There are plenty of companies willing to work as distributor and integrator of the solution, and we expect to select a partner this year, and next year start deploying OSM-based orchestration. "

— García
The initial inclusion of OSM in UNICA (which until now has been kept at arm's length) is expected to enable automated orchestration of different functions from different vendors with a "northbound" (higher‑level function) interface that enables domain‑specific controllers to connect to an end‑to‑end controller.
To this end, Telefónica is now requiring companies to deliver standardised solutions for northbound interfaces in all requests for proposals.
"We can hide the complexity of different technologies underneath by asking suppliers to provide this layer of SDN controller. It is going well and the reaction from the industry is positive. "

— García
Beyond the current pragmatism on northbound interface compatibility, García was upbeat on future advances, noting the work of groups such as the Internet Engineering Task Force and Open Networking Foundation in developing interfaces that enable more fluid control between most functions, and enabling zero touch management practices. Telefónica is looking at ways to bring the more intricate "southbound" interfaces within its end‑to‑end orchestration plans, but significant work remains to be done (see below).
End‑to‑end end game with iFusión
Speaking at the Zero Touch Automation Congress in Madrid in late‑March 2019, García outlined a further ambition to create an environment where a single end‑to‑end controller would mark another evolution of virtualised networks, creating a simpler alternative to current software‑defined network environments.
García said that the project, dubbed iFusión, would focus on overcoming the "5%–10%" of the function of the 'southbound' interface between network elements that is blocking the introduction of an end‑to‑end controller
The timeframe for achieving this next phase of interoperability appears ambitious. With the earlier compromise iteration of the controller set to appear in 2020, "complete standardisation" of the southbound interface is slated for 2021.
Telefónica orchestrating industry harmony
While Telefónica is backing OSM, work will continue on ensuring that there is not a significant splintering of MANO technologies, and that there is effective interoperability with alternative platforms such as the Linux‑backed ONAP, and other proprietary options.
"For this you need to work on the standardisation of industry models. We are working on this with ONAP and the GSM Association and pushing the industry toward testing… There is still some uncertainty in some places, but this interoperability is finally going to make service orchestration explode ."

— García
Despite García's optimism, it does not appear that Telefónica has yet identified a partner that could facilitate the envisaged interoperability, although P.I. Works, a network optimising solutions provider, is reportedly playing a role in integration efforts.
Small vendor opportunities
Antonio Elizondo, Head of Network Technology and Innovation Strategy for Telefónica, recently suggested that, with adoption of OSM, Telefónica could be in a position to "provide the opportunity to every innovator in the industry to be a supplier for us".
UNICA optimising its potential, with opportunities for all
Telefónica Group's ambitions for ongoing virtualisation and smoother orchestration emerged as the UNICA project marked five years since its initial launch, and the Group has recently given a series of indicators outlining progress to date, and the next steps that can be expected.
Telefónica claims to have made "good progress" on virtualising the IMS (Internet Protocol multimedia subsystem) and EPC (evolved packet core), with ten functions certified as virtualised.
Telefónica has indicated that it is aiming to raise the number of vendors supporting UNICA projects to 18 from ten during 2019. The number of virtualised network functions (VNFs) available through the programme is also expected to reach 58 this year. Virtualisation technology is said to be in place at 25 Telefónica data centres across the world, with that number set to double by year-end.
Progress is reportedly being made on evolving the self‑optimising capabilities of the radio access network, while automated orchestration is now making an impact (see separate report). Self‑optimising network (SON) solutions provider P.I. Works has been flagged as playing a role in planning integration of OSM, OpenRAN and 5G core, with automated use-cases built on AI capabilities. Another optimisation specialist, Cellwize, is collaborating with Telefónica on the creation of open architectures for 5G that will support SON evolution, with Nokia's EdenNet SON solution said to be providing machine-learning support.
The next phase of UNICA will encompass virtualisation of central office functions, with the design phase of this transformation expected to continue through 2019.
Virtualisation of the central office would take IT resources closer to the network edge, another area where Telefónica is looking at becoming more flexible, open and efficient (see below), thus reducing latency and enabling new services dependent on ultra‑high levels of responsiveness.
One of the main challenges for the Group as this process gets underway will be the proliferation of sites under consideration. "When you move to the central office, you move from talking about tens of data centres to hundreds or thousands", noted García.