LatAm contact centre operator hires Goldman Sachs to advise on options, with sale on the table, according to Bloomberg.
Telefónica partner and former subsidiary sees share price spike on news.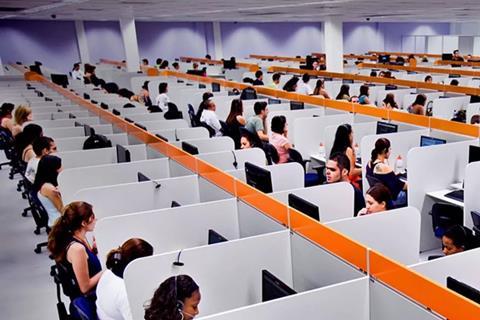 Contact centre operator and former Telefónica subsidiary Atento is exploring a sale, according to reports.
Bloomberg, which cited sources close to the matter, said Atento has hired Goldman Sachs to support the move, with the aim of identifying private equity interest.
Atento has not commented on the reports. Its next investor call is its full-year results for the twelve months to 31 December 2021 (FY21) at the end of this month, when it is sure to be quizzed on developments. Its share price jumped 21% yesterday after the news broke.
Atento was Telefónica's internal call centre arm until it was acquired by Bain Capital in 2012 as part of the Group's asset-light strategy. The deal was worth a little over €1bn (£840,000). It went public two years later, with Bain retaining a share that it sold in 2020 to a consortium of investors including HPS Investment Partners, which is now Atento's largest shareholder (Telefónicawatch, #70).
Atento shareholders
Shareholder
Stake
Source: Atento.

HPS Investment Partners

25.36%

GIC Asset Management

21.85%

Farallon Capital Management

14.87%

Santa Lucia Asset Management

5.68%
Telefónica reliance remains
When Telefónica divested Atento a decade ago, it signed a Master Service Agreement, (MSA) under which Atento provided its former parent with a host of business process outsourcing and CRM services. It was set to expire in 2021, but has since been extended in the Brazilian and Spanish markets for a further two years.
The MSA guaranteed Atento a share of Telefónica's customer experience spend, making it heavily dependent on the Group for revenue for several years. In recent financial years, however, Atento has noted growth in "multisector" — i.e. non-Telefónica — business in the Americas, primarily in the USA (Telefónicawatch, #111, #143, and #157).
Speaking at the operator's Q3 FY21 results late-last year, Chief Executive Carlos López-Abadía laid out expectations to grow multisector revenue to "more than make up for over-time decrease of the Telefónica business" (Telefónicawatch, #160).

Joseph Purnell is a Staff Reporter for TelcoTitans, contributing telecoms news analysis since 2019 as part of the TelcoTitans Editorial team.