Latest evolution of the Internet para Todos programme to see the advent of an open‑source wholesale network.
Telefónica and Facebook testing potential next‑generation infrastructure in underserved markets where the stakes for failure are lower.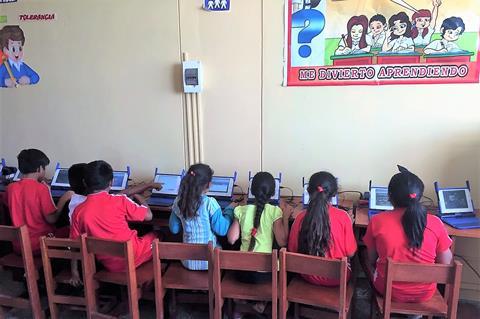 Telefónica Group is linking with social-network giant Facebook and international investment banks IDB Invest and CAF (Development Bank of Latin America) to create a new wholesale open access network in Peru that is intended to enable mobile connectivity to unserved remote regions as part of the Internet para Todos (IpT) programme.
Telefónica and Facebook have partnered on IpT since 2017, and the work of the Telecom Infra Project has also fed into development of the open access technology (Telefónicawatch, #121, #124). Now, with development bank backing, a wholesale network will be rolled out in Peru.
IpT Peru is to become an open access wholesale rural mobile infrastructure operator, working with local entrepreneurs to provide a network that can be used by the country's mobile operators to provide connectivity in areas where investment in a conventional commercial network cannot be justified.
IpT will introduce a revenue‑sharing model expected to benefit local communities. In terms of technology, the use of open systems is being stressed, with cloud‑based architecture, automated network planning and open radio access solutions central to the network.
It is estimated that there are 100 million people in Latin America — around 20% of the region's population — that do not have widespread access to mobile data connectivity.
The partners anticipate replicating the network‑as‑a‑service model put in place in Peru across the continent and in the Caribbean. Deployment is, however, still subject to regulatory approval.
Beyond the altruistic goals of the programme, from Telefónica's perspective, the project is enabling the development of new technology standards that are expected to contribute to future open networks in more commercial areas.
Telefónica is committed to open access solutions across its virtualised network infrastructure (see separate report), but is also wary of introducing new disruptive technology without testing them in areas, such as remote parts of Latin America, where expectations of ubiquitous reliable connectivity do not exist, and there is greater room for error in the initial days of deployment.
Magma in the core
The IpT network will be supported by the Magma open-source software platform, which has been developed as part of the wide‑ranging Facebook Connectivity programme which also includes the Telecom Infra Project and other open initiatives from Facebook intended to support its goals of spreading global connectivity, and growing its potential customer base.
Telefónica is a launch partner for the Magma project, which includes a distributed mobile packet core intended to enable new architecture at the outposts of standard network infrastructure. The open platform promises an automated provisioning infrastructure that can be used to implement new networks that can be integrated with existing LTE assets in a way that Facebook describes as making deploying LTE coverage "as simple as deploying a Wi‑Fi access point".