Telefónica Group trumpeted the replicability of its Spanish fibre‑to‑the‑premises (FTTP) rollout, as it claimed European leadership.
CTIO Blanco stressed that Telefónica's focus remains on services within the home, with fibre principally a means to an end.
Investment currently still capex-focused, but virtualised services to lead transition to more operational spending.
Beyond the heavy-lifting, Blanco's team of strategists and architects is coming to the forefront as network development enters a new phase.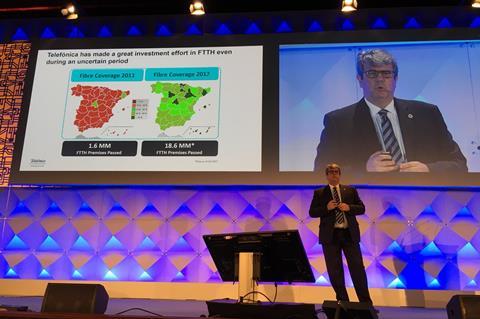 Enrique Blanco, Global Chief Technology and Innovation Officer (CTIO) at Telefónica Group, discussed Telefónica's achievements and expectations in relation to fibre services at the FTTH Council's FTTH Conference held in the Netherlands in March 2019.
While talking-up the rapid deployment progress that industrialisation of the fibre rollout has enabled, Blanco indicated that mere connectivity is not the raison d'etre of the Telefónica drive, saying that the strategy is underpinned by a desire to take end‑to‑end control of fibre‑based connectivity, and cement the Group's place as a provider of the services the technology enables.
As Global CTIO, Blanco oversees 18,000 staff who work in operations and engineering.
A fibre machine
Blanco reiterated the strength of Telefónica's fibre operation, highlighting its success in rapidly deploying full fibre in Spain, and similar progress being made in Latin America.
"If you put all the numbers together, we are number one in [FTTP] in Europe in terms of homes passed and connected, and we are number one in Latin America for FTTX/cable premises passed: This year in Brazil, we will be connecting — not homes passed, but connecting — more than 1.4 million customers with [FTTP]. Today, 2019, every month we are connecting more than 100,000, so 1.5 million this year, premises in Brazil. This is happening in Argentina, in Colombia, in Chile, and the rest of our operations. "

— Blanco
The CTIO stressed that Telefónica has been able to industrialise the fibre deployment process based on its experience in Spain, and is taking that expertise to Latin America, with the operator becoming "a big machine" for rolling out fibre.
We are controlling end‑to‑end. The customer premises equipment [CPE], the services we are offering, the vendors, the quality, the process, the model of how we control the contractors… Everything is an industrialised model that we are following, and, because of this, we are getting all the knowledge. 

We [operators] are pure knowledge companies, we try to [create] the greatest knowledge in all our operations and you can see what this means: it means we can reduce the cost of homes passed and connected, the number of complaints. We can reduce the cost of operations because we are building a single machine that is fully devoted to reducing [capital expenditure] and [operating expenditure] and driving growth by quality of experience. "

— Blanco
Blanco said that Telefónica data suggested that an FTTP‑connected household in Spain is on average carrying almost 180GB of downstream traffic per month.
Telefónica focus still on services beyond connectivity
While Telefónica is an industrialised machine for fibre rollout, once customers are connected, Blanco noted that the priorities for the telco and the customer change, and Telefónica focuses on the delivery of capabilities and services rather than pure connection speed.
As part of this, the CPE that accompanies a Telefónica subscription is considered of paramount importance. Through the home equipment, and the technology that Telefónica is developing through its cognitive intelligence platform, the operator is "building an open ecosystem of extra services that our customers can control", according to Blanco. Among these services, video is central, accounting for approaching two‑thirds of the demands placed on capacity.
"We are not selling [customers] FTTP. We are selling them Wi-Fi, we sell them, experience and services. If we were only connecting with FTTP, we are opening their homes to other competitors, and this is what we need to avoid. Because [of this] Telefónica is taking a different approach to FTTP. It is not a pure fibre connection. "

— Blanco
With Telefónica providing both fixed‑line and mobile services in many of its markets, Blanco appeared to suggest that it made little difference to the operator whether the endpoint is using fibre‑to-the‑premises or 5G, as long as there is a fibre core that can deliver the needed capacity. The development of Wi‑Fi 6 standards (with the potential of 10Gbps connectivity) is expected to lead to even greater demands on core infrastructure.
"If you put together 5G and Wi-Fi 6 at 10Gbps, we will offer additional capabilities to our customers next year in the CPE. "

— Blanco
Deploying fibre now looks like the easy part
While Telefónica is mindful of the change in customer behaviour that next‑generation networks are bringing, the operator is also focusing attention on addressing the complexity that is accompanying the development of virtualised and effectively cloud‑based networks.
Blanco noted that, in the mid‑term, this would entail continued significant capital expenditure, but suggested that investment would evolve towards operating expenditure as networks become more software‑based.
"If you look at 2020 and what's going to happen with our budget, we will still be a not insignificant part of the capex, but, in the next three or four years, we will [see] a radical evolution of the [network] topology by definition of the services. "

— Blanco
In the context of the FTTH Conference, Blanco did not expound on the intricacies of creating platforms that support virtualised networks, but the topic is at the forefront of the Technology and Innovation team he leads, as evidenced by further conference appearances and discussions from other senior executives (see below).