Telefónica confident in the flexibility of its AI approach for adapting to local requirements while maintaining Group standards and expectations.
Commercialisation of data analytics and AI capabilities gathering steam through LUCA projects with public sector bodies and multinational customers.
Baked-in 'ethics by design' seen as fundamental to developing viable internal and external services that endure in the face of ongoing challenges and concerns.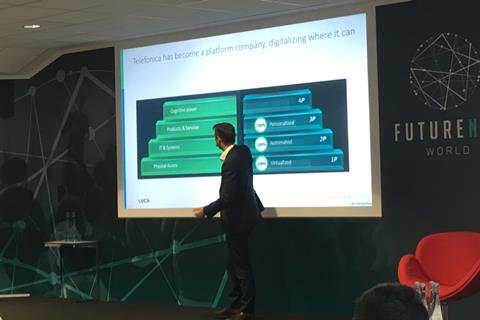 Richard Benjamins, Data and Artificial Intelligence (AI) Ambassador for Telefónica Group, gave a presentation at FutureNet World in London, and outlined how AI alongside network automation is creating new digital business models for the telco.
Benjamins highlighted the role that AI can play in making constructive use of the flood of data available to business and operators thanks to the availability of current levels of affordable processing power.
He also stressed the development of new machine-learning techniques, such as deep learning (which is being examined by Telefónica) as contributing to the rise of AI.
Despite the potential for AI, Benjamins stressed that leveraging AI remains a challenge, and highlighted the risks of relying on emerging services without a clear approach to standards and ethics.
Transferable skills proving an AI challenge
While upbeat on the potential of applying AI to big data to create a more efficient and effective business, Benjamins acknowledged the complexity of rolling out solutions and capturing the efficiency that the technology promises.
"You need to have sufficient quality data to be able to execute on some use cases, so we started to define what data we need to capture in the coming years – a roadmap for data sourcing – but it is separated in the legacy systems, in many silos, so, although you have the data, it's not so easy to access it. We moved down, trying to break silos, and then we started to become data-driven (where we use data and machine learning for our overall important decisions)."

– Benjamins
Benjamins noted that Telefónica had faced problems in replicating the deployment of data analytics systems across its footprint, based on the idiosyncrasies of local operating systems and practices, with the data recorded and accessed in different ways in different countries. He suggested that, in the early days, attempting to introduce a data-based application in one country based on experience in another provided minimal efficiency savings as, "instead of going from, let's say, six months to two months, we went from six months to five-and-a-half months, and then five months".
To make accessing and using the data more effective, Benjamins referred to the Group's work on a unified reference model (URM – Telefónicawatch, #121). "It's a data model across the group, and it's free to every country, every operating division for the systems they have, but they have to expose data in a certain format so it becomes available", he said.
The development of the URM is expected to enable operating businesses to replicate use cases from other operating businesses more effectively, reducing a timeframe of five months to two months on the second deployment, for example. "That's a big, big advantage", according to Benjamins, and the reason why the URM is being used for all initiatives related to big data and AI.
Creating the URM has not been without its challenges. Separately, at TM Forum's (TMF) Digital Transformation World held in May 2019, Daniel Vaughan, Chief Data Officer at Telefónica México, discussed the goals of the URM project and the practical difficulties experienced at operating business level.
Vaughan's perspective on the merits of URM echoed those of Benjamins, although he detailed the painful lessons learned as local operations adjusted to centralised requirements. This entailed making calls on the use cases best suited to URM, managing the complexity of ensuring that local data is consistent with global Group standards, and ensuring that moving quickly did not come at a cost to core Group values on service provision and data governance.
According to Vaughan, patience and persistence have begun providing his local operating business with efficiency benefits, and URM adoption is building a virtuous circle of knowledge and systems-sharing across the Group's operating businesses. A fuller report on the TMF event and Vaughan's experience of URM in Mexico will feature in a future Telefónicawatch.
Internal uses and external business cases
Internally within Telefónica, data is used to manage the customer lifecycle, understand the value of customers, reduce churn, and optimise pricing. For instance, as well as knowing what device a customer has, the company seeks to understand how they use it, so Telefónica can target appropriate marketing and, for example, make recommendations when they are eligible for a new device. It also uses customers' data to make recommendations for TV programmes.
Going beyond applications for personalised customer service, Benjamins noted the potential impact of using this data – in an anonymised and aggregated form – for both internal planning, and for supporting decision-making for external customers.
As with any operator, Telefónica receives a constant flow of information from active handsets, including recording how they move from antenna to antenna. Once processed, this data is said to generate "a kind of proxy for human activity and that has a lot of value for business", according to Benjamins.
Internally, Benjamins highlighted data analytics' role in planning network deployment, and to look at footfall in shops and town centres to work out the best sites and layouts for Telefónica's stores.
Commercially, he highlighted projects based on LUCA's portfolio of solutions, including Smart Steps, LUCA Transit and LUCA Store (Telefónicawatch, #121, passim). Specific case studies included:
In Barcelona, mobility data gathered across several city locations was used in planning changes to the metro system. The value of the data-based approach was underlined by comparison with the previous approach to gathering footfall data, which entailed people surveying travellers willing to stop and answer questions. "[They] literally asked the same questions 30,000 times during three days and in today's terms spent €2m, and that's how they planned the metro for the next three or five years", said Benjamins. "This mobility information is 24x7, much more precise, and twice as economic, so it's really transformed how they work".
In Valencia (a Smart City customer of Telefónica – Telefónicawatch, #87), Telefónica used roaming mobility data during a major festival to provide organisers with insight into tourists, including the ratio between domestic and international visitors; how they move around during the festival; and discover what they do afterwards – such as whether they stay in the area, go elsewhere in Spain, or return home.
In London, Telefónica has combined mobility data with demographics to make recommendations about what kind of advertisement should be placed at which location in the Underground transit system (Telefónicawatch, #104).
Benjamins highlighted LUCA Comms, which helps companies understand how they communicate internally, tracking the flow of traffic between sites, and identifying well-connected hubs. He said that the data can drill-down to departmental level, help understand the cost of the communications, predict future cost implications, and set expenditure thresholds or alerts. "It's really a new way of thinking about how we are delivering our solutions to our customers and putting a layer of value on top of that", Benjamins stated.
Social applications could be big business
Benjamins noted Telefónica's involvement in projects using data and AI to understand and respond to natural disasters, contagious disease outbreaks, and managing air pollution as part of wider public health projects.
He further indicated that social projects are garnering support across the sector, and non-governmental organisations are increasingly considering data's potential.
"More and more, we see large organisations like the World Bank and UN interested [in these approaches] we think this will be a big business in the future",

he said.
Guarding against misuse of AI, from the start
With more widespread data use, Telefónica is mindful of the concerns within society surrounding its exploitation. The Group has previously set out its code of ethics around AI, and supported European Union efforts to develop universal standards on data use (Telefónicawatch, #131).
Benjamins emphasised the need for rules in the area, and particularly warned against the perils of unconscious bias. From his own impromptu experiments on facial recognition, which illustrated machine-learning algorithms inadequately trained to recognise non-white faces, to translation errors that make gender assumptions based on job titles, and recruitment systems that favour male candidates, Benjamins said that the volume and nature of data being used in AI risks reinforcing existing biases. "It's not intentional, but still undesirable", he said.
Benjamins stressed the importance of a deeper understanding of how automation and AI works when making decisions that can have an impact on individuals' lives.
"If we recommend a movie, it's not a big deal. If we use our data for some kind of credit-scoring, and we reject a customer [wanting to move to] a contract basis, it has an impact on their lives and we want to understand how that works. AI is super-human centric: it's about humans collaborating with humans, not substituting humans."

– Benjamins.
Benjamins said that the introduction of AI principles along the lines previously outlined by the company should not be an afterthought, but an intrinsic element of the development and design process.
"It's nice to say we have those principles, but, really, the hard part is how do you make them happen in your company? So, currently, we are [embedding] those principles in the kinds of methodology that we can use for all the people within our company who are related to and work with AI to make it happen. We call it 'responsible AI by design' – analogous with 'privacy and security by design'."

– Benjamins.
AI
Benjamins entwined in Telefónica AI and data development
Telefónica Group started looking at data as an asset, and what it needed to do to extract value from it, in 2012.
This ultimately led to the creation of LUCA in 2016, a dedicated unit operating worldwide to coordinate data activities across its different businesses (Telefónicawatch, #110).
Benjamins, who holds a doctorate in artificial intelligence, was a key figure in the advent of the unit, alongside Elena Gil (Global Big Data B2B Director and Chief Executive of LUCA) and Chema Alonso (Group Chief Data Officer).
Prior to the development of LUCA, Benjamins had established Telefónica's business intelligence function, and, after the launch of the data unit, he briefly left Telefónica to take up the role of Chief Data Officer (and Head of the Data Innovation Lab) for French insurance group AXA in 2017, prior to returning to the telco in his ambassadorial role a year later.
Meanwhile, LUCA has made good progress in its first three years, with Telefónica seen as being at the forefront of European digitisation and data analytics development.
In October 2018, analysts at Forrester Research positioned LUCA as a "Leader" in its Forrester Wave: Specialized Insights Service Providers report, noting "the strength of Telefónica's offering lies in data from its 350 million subscribers across 17 countries, including call data records, detailed data records, social network analytics, location, and subscriber customer relationship management data".
AI
José-María Álvarez-Pallete, Executive Chairman of Telefónica Group, called for continued investment in artificial intelligence (AI) technology based on the Spanish language. Touching on one of the key areas in AI development, Álvarez-Pallete noted the risks of inaccuracy and cultural bias that can appear in AI technology, based on weaknesses in the data utilised. He pointed out that errors in language usage can proliferate quickly, while noting that, although Spanish is the second most-spoken language in the world after Mandarin Chinese and ahead of English, it is a distant fourth in terms of use in digital content – where English dominates. Speaking at a global congress dedicated to protection of the Spanish language, the Telefónica chief highlighted the telco's AURA programme and its Spanish language-based development as a counter to the English-dominated work underway.
Digital rights
Telefónica tops rights index, but more to do
Telefónica Group ranked first among the twelve telecoms operators assessed in the 2019 Corporate Accountability Index compiled by non-profit citizens' rights entity Ranking Digital Rights (RDR).
Based on 35 indicators, the Index evaluated 24 telecoms, internet, and mobile ecosystem companies' policies and practices affecting users' freedom of expression and privacy, and focused on the three of categories: governance; freedom of expression; and privacy.
With an overall score of 57%, Telefónica has improved by more than 16 percentage points over the last year, and in doing so overtaken peer Vodafone Group, which ranked first among the telcos in 2018.
Telefónica was said to have shot ahead of all other telecoms companies in 2019 by disclosing significantly more than its peers about policies affecting freedom of expression and privacy. Notably, Telefónica's governance score of 94% (compared with Vodafone's 81%) was the highest in the entire Index. It was also one of only three of the companies assessed to disclose that it conducts human rights risk assessments on its use of automated decision-making technologies, and one of two to commit to upholding internet-neutrality principles.
However, RDR also found that Telefónica and the others fell short in key areas affecting freedom of expression and privacy, where few scored higher than 50%, with the Spanish telco achieving 47% and 49% in the two categories, respectively (compared with Vodafone's 45% in both areas). Although Telefónica was found to have made a number of improvements to its privacy policies, it still fell short on disclosure in a number of areas, particularly around keeping users informed of the way data is shared with third parties.
Telefónica's overall score of 57% compared with Vodafone's 52%, AT&T's 48%, Deutsche Telekom's 44%, and Orange's 36%. Microsoft ranked top among internet and mobile ecosystem companies with an overall score of 62%, ahead of Google and Verizon Media, which both achieved 61%.