'Big Four' operating businesses of Brazil, Germany, Spain and UK to be the focus of the Group, with Latin America operationally isolated, and potentially spun‑off.
New divisions Telefónica Infra and Telefónica Tech created. The former handling physical assets with Telxius as its cornerstone, while Telefónica Tech will drive commercial adoption of innovation and emerging technology.
New structure accompanied by a reshuffled management committee. Chema Alonso role now less overarching with Consumer focus, as CDO position phased out. Enrique Blanco finally admitted to the top table.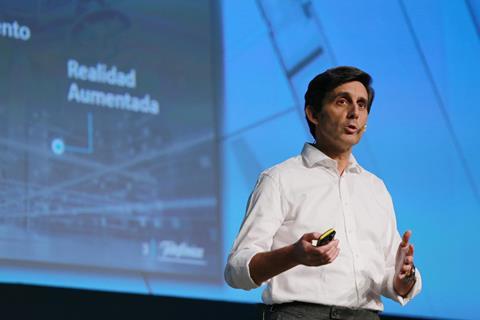 Telefónica's Executive Chairman Jose‑Maria Álvarez‑Pallete unveiled a new structure for the Group, taking more concrete action to demonstrate the longstanding commitment to digitalisation of the business.
Building on strategic priorities that have been emerging over recent quarters and years, the reorganisation is at the core of a declared five‑point plan to position Telefónica Group "for the next 100 years".
Talking 'bout a revolution
Álvarez‑Pallete took considerable time to set out a vision of the Group and the industry, exercising his inclination to paint a bigger picture and add a business school gloss to operational plans (Telefónicawatch also recalls the days, when leading the then‑growing Latin American operations of the Group, Álvarez‑Pallete was keen on mini‑lectures on the macroeconomic conditions of the region in support of his case for future growth). His assessment of the current state of the sector was gloomy, but he pivoted to optimism as he attempted to inspire greater confidence in the ability of Telefónica to reinvent itself.
In the announcement and accompanying materials, Álvarez‑Pallete and Telefónica repeatedly pushed forward the promise of growth, which has been limited of late, and the need to keep making the most of its assets to ensure it remains relevant in an evolving market. In his frank assessment of the state of the telecoms sector, Álvarez‑Pallete described traditional sources of revenue and growth as effectively exhausted. He went on to discuss the current state of the world, describing it as in the midst of revolution.
While the Industrial Revolution 4.0 theme has been referenced previously, this time the Executive Chairman talked of technology and social revolutions, while implying that artificial intelligence will play a significant role in accelerating change in both regards.
"It is up to us to envision, design, and build the company we want to be in the future. And we have done so. We have envisioned it, we have designed it, and we want to begin to build the path towards it. "

— Álvarez‑Pallete.
When being more upbeat, the new strategy announcement hit familiar buzzwords on sustainability and human‑centric technology, but, once the talk of revolutions and modern corporate responsibility were laid out, the practical steps were introduced. The five-point plan entails:
A focus on key markets of Brazil, Germany, Spain, and the UK.
Creation of a new division called Telefónica Tech.
Creation of a new division called Telefónica Infra.
Operational spin-off of Hispanoamérica.
Redefinition of the corporate centre.
The new strategy follows on from what was clearly a holding position announcement made at the end of summer 2019, when significant pressure on the Group share price and doubts on the potential for growth of the operator from new-wave services prompted the Executive Chairman and board to issue a somewhat rushed strategy update. This focused principally on workforce modernisation, and a generalised commitment to monetising infrastructure assets in the coming year (Telefónicawatch, #137).
Big Four become the focus
The number-one point made by Telefónica when discussing its new strategy was that Brazil, Germany, Spain and the UK would become the centre of attention for Group.
It was noted that these four markets comprised 63% of all Group connections and, more significantly, contributed around 80% of revenue, profit, and cash. While the Group is intent on concentrating investment on these markets, in terms of management, in situ country Chief Executives (CEOs) and leadership teams are to remain in place.
The development can be seen as confirmation of a focus that has, in practice, been in effect for many quarters. These operating businesses dominate financial reporting and news, while the trials and tribulations of the remaining Latin American markets have been downplayed amid regular intimations that units not pulling their weight could be cut loose (Telefónicawatch, passim).
Latin America cordoned off
Telefónica walked a tightrope when discussing the creation of a new, operationally separate, Latin American business. It highlighted the benefits that the region has brought the Group and its ongoing commitment to its business there, while at the same time ring‑fencing its operations almost as if for fear of a spreading contagion.
The key distinction between the plans for Europe and Brazil, and the new Latin America business, may be that while the Big Four will be expected to deliver growth in developing digital market segments, Latin America will be focused on extracting value from the assets it already has. The main goal is described as attracting investors, and examining ways to secure synergies with other partners in the market.
The focus on efficiency and value is also reflected in Group supervision. Alfonso Gómez was named the Chief Executive of the division, and he will report to Laura Abasolo, the Group Chief Financial Officer, while the other future‑focused divisions and operating countries will be under the wing of Chief Operating Officer Ángel Vilá.
Gómez's recent achievements in the region were highlighted by Telefónica, with the AT&T deal in Mexico (see separate report), earlier sale of minor operating businesses, and restructuring of operations in Colombia attributed to his leadership (Telefónicawatch, #124, #132, #133).
Latin America not gone, and not entirely forgotten
The operational spin‑off is an interesting way for Telefónica to hedge its bets for the moment on the future of its Latin America business. It is worth considering that on previous occasions, when debt and growth worries had become unsustainable for the Group, it had promised to offload assets to rectify over‑leveraging, with Telefónica UK the intended asset on the block.
This was initially to involve a sale to another UK player, but once a proposed deal with CK Hutchison fell through, the goal was a public listing, or potential private equity sale. Speculation on the UK sale continued even as it became clearer that the business was still valuable, with the proposed disposal presented almost as a comfort blanket for analysts.
Now, O2 UK has not only been taken off the market, but become enshrined as a key part of the Group's future, and the Latin America business may now take over the investor-comfort function. This will mean the Group is seen to be able to act if needed to manage its debt mountain, but, if circumstances in the region improve, it should be straightforward to adjust course to reposition the erstwhile (and currently misfiring) "engine of growth" back into the core of the Group's strategic vision.
Telefónica Tech to build — and maybe buy — the future
Telefónica Tech is described as a division "that will bring together digital businesses with high growth potential".
The new arm is expected to be outward‑looking, and focused on three key areas: cybersecurity; Internet of Things; and Big Data and the cloud. Telefónica has been tightening its focus on these areas for some time, and noted the 30% growth rate they have been consistently achieving.
Telefónica also indicated that it is open to making acquisitions to further strengthen the new division, and referenced a partnering approach to facilitate growth in the key segments. All current business units tackling the three targeted areas will be incorporated into Telefónica Tech, so businesses such as ElevenPaths and LUCA will come within its remit.
Despite the declared outward outlook, Tech will not be directly customer‑facing, instead delivering commercial propositions to country‑based operating businesses. Telefónica also referred to partnering once again as a means of bringing its propositions to markets where it does not have a local presence.
José Cerdán is to lead the new division, reinforcing the impression that it will be focused on building Telefónica's major corporate business. Cerdán was recently front and centre at the launch of Telefónica Empresas, which was created to support the growth of Telefónica as a service provider for big business (Telefónicawatch, #132).
Telefónica Infra set to embrace openness and collaboration
At the heart of the other major new division, Telefónica Infra, is the controlling stake in Telxius, and it is anticipated that the Group will continue to transfer infrastructure assets to the vehicle. Telefónica is also hoping to be able to build its business with other operators through Telefónica Infra, with third‑party revenue a key element of development plans.
The assets considered valuable within Telefónica Infra include distributed antenna systems (small cells), data centres (including edge assets), greenfield fibre projects, and submarine cables.
The Group emphasised that openness will be the watchword for the new division, and said it was willing to consider majority and minority ownership structures for the different assets under Infra oversight.
Guillermo Ansaldo, previously Chief Executive of Global Resources, will head up Telefónica Infra, which largely represents a slimmed down version of his former empire, with the commercial portfolio shifted towards Telefónica Tech, and some network and architecture functions also seemingly isolated (see separate report).
Units within units to pinpoint focus
In addition to Telefónica Tech and Telefónica Infra, three other business units are being created, and focusing on significant and growing elements of the Telefónica business.
Technology and Architecture will lead the creation and development of strategic technological guidelines for the Group. The introduction of this unit finally sees Enrique Blanco elevated to the Executive Committee, having previously been a tier or two down from the top table, despite his evident leadership role in the Telefónica digital transformation.
Digital Consumer will seek to define new models of customer relationships in the digital era, building on the Group's cognitive intelligence platform. The unit will be led by Chema Alonso, whose title switches from Chief Data Officer to Chief Digital Consumer Officer. An early sign of Alonso's approach to consumer services can be seen in the unveiling of Living Apps in Spain (see separate report).
Business Solutions is expected to identify opportunities for new enterprise and wholesale products and services based on the work of Telefónica Tech. This unit will share leadership with the Tech division, with José Cerdán heading both.
Technology and Architecture and Business Solutions would have been part of Global Resources under the previous management set‑up, and Digital Consumer within the remit of the Chief Commercial Digital Officer (now departed — see below). However, in the new setup, Chief Operating Officer Ángel Vila will be directly responsible for oversight.
New central structure for core strength
Telefónica also said it would be reorganising its operations to be focused on agility. This appears to follow on from programmes previously trumpeted by Vilá to improve efficiency and customer service through digitalisation (Telefónicawatch, #125,#128, passim).
Álvarez‑Pallete is now calling for greater ambition and the acceleration of this effort through agile work practices, and making more effective use of the scale of the Group.
The corporate centre will be realigned to serve the interests of the new major blocks. More central control appears likely as the Group aims to minimise duplication of effort currently existing within the structure of its major operating businesses (as perhaps can already be seen through projects such as the expansion of the Fusión Red project from the UK to Spain — Telefónicawatch, #138).
Tangible benefits promised
The Executive Chairman claimed the new approach would help generate more than €2bn in additional revenue over the next three years, and boost operating cash flow margin by two percentage points by 2022.
This revenue growth is expected to come from the new Telefónica Tech division. Telefónicawatch estimates that the three core segments of the new division, comprising advanced digital services, are on track to generate €1.7bn in revenue in 2019, and a compound annual growth rate of 30% would see this reach €3.7bn by 2022.
Telefónica indicated that it will revise its financial and key metric reporting in coming quarters, promising "a new way of communicating to the markets". This may reflect the challenge that the Group has so far been unable to meet in bringing analysts and investors fully on‑board with the transformation vision.
Management changes accompany the overhaul
A reshuffle of the Executive Committee was necessitated by the restructuring, and there are several notable moves.
It appears that Álvarez‑Pallete has again taken the opportunity to reduce the number of his direct reports. The last major reshuffle in September 2017 saw him take a step back from hands‑on control, while further revising management from the era of his predecessor César Alierta (Telefónicawatch, #119). At that time, he slashed his publicised direct reports from 14 to just eight.
This number is now down to seven, and largely focused on legal, financial, people, and policy considerations. Meanwhile, Ángel Vilá reinforces his COO remit, and will be closer to the development of new infrastructure technology, and both enterprise and consumer services, through direct oversight of the newly-created units dedicated to these areas.
Abasolo on the rise, Alonso on the wane?
A standout change from the reorganisation relates to Chema Alonso, whose role has switched from Chief Data Officer to Chief Digital Consumer Officer. Alonso now reports to Ángel Vilá, having previously been a direct report to Álvarez‑Pallete. The significance of this change remains to be seen, but may reflect the need to ensure Alonso is playing to his, and the Group's, strengths.
It is perhaps worth noting that the evident change in Alonso's influence follows recent reflection on his approach to the Group and how he supported change (Telefónicawatch, #137). His personal blog review could have been a justification of his work to date, or mark the closing of a chapter and an indication of how he will approach the challenge of his new Consumer-oriented role. At the time, Alonso, using Apple as an analogy, said Telefónica needed "more Wozniaks", referring to the engineering focused co‑founder of the tech giant. It may be that now, Alonso will have to reset his own mindset to be "more [Steve] Jobs'".
· Abasolo, meanwhile, is taking responsibility for the hived-off Latin America operation. This perhaps reinforces the prospect of a sale or spin‑off, but also provides her with a clear domain that may entail more proactive management than traditional financial oversight.
· As noted above, Enrique Blanco now also features in the higher echelons of the management team. Previously reporting in to Guillermo Ansaldo at Global Resources, Blanco is now a direct report to Vilá. It appears that, with Telefónica Tech and Infra appearing to share responsibility for infrastructure and the services that will run on it, clear‑sighted executive purview will be essential. It will be interesting to observe how the functions of Blanco's Technology and Information Office manage the oversight of the new structure.
Out for de Beer
The changes to the executive committee saw some departures, with the highest profile being Mariano de Beer, the Chief Commercial Digital Officer. De Beer was credited with undertaking a transformation of Telefónica's digital product portfolio, although he has been a rather behind‑the‑scenes presence during his tenure.
Bernardo Quinn, Chief Executive of Hispanoamérica Sur is also leaving the frontline in the shakeup.
Both will now take on non‑executive roles with the Group.
Fuller management restructures for Telefónica España, Telefónica Tech, and the new Latin America operation have now been published by the Group, to be covered in a future Telefónicawatch.
The Telefónica board has also had a refresh, with its new composition hitting targets for 30% female representation on the non‑executive committee, and will be covered in the next issue.